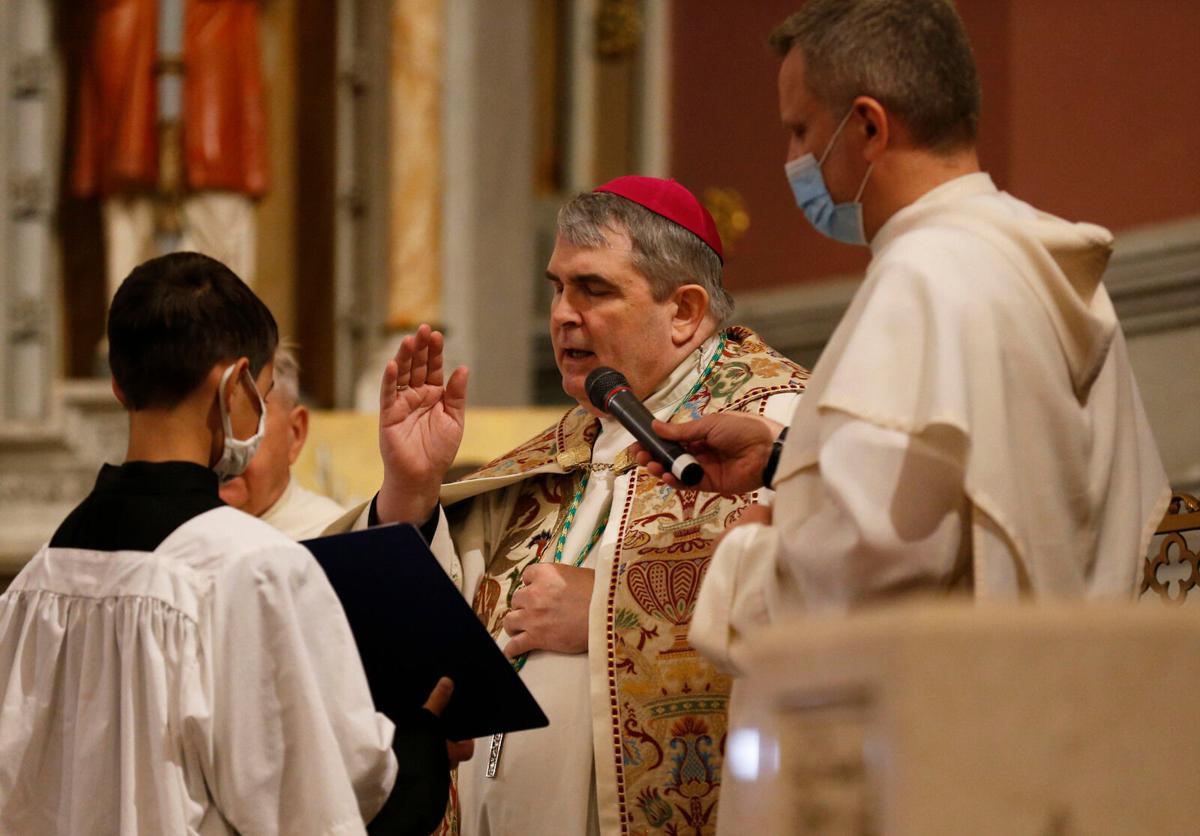 Bosses are calling employees back into the office. Area school children have returned full time to the classroom. And now Bishop Michael W. Fisher is asking 500,000 Western New York Catholics to take a seat in church again.
Fisher and three other bishops in New York State this weekend lifted dispensations from obligatory Mass attendance that had been in place since the beginning of the Covid-19 pandemic in March 2020.
St. Gregory the Great is the biggest Catholic parish in the Buffalo Diocese, but the Rev. Leon Biernat says while many parishioners were enthusiastic about returning to the building worship, others were not due to worries about the coronavirus.
Catholic churches have been open for in-person Masses since June 2020, and Catholics under normal circumstances are required to attend weekly Sunday Mass as part of practicing their faith. But even with churches open, many bishops continued the dispensation, which allowed parishioners to stay home and watch Mass by livestream if they have underlying health conditions or otherwise feared contracting coronavirus by gathering with others.
Fisher, along with the bishops of Rochester, Syracuse and Ogdensburg, said last month it was time to reverse the dispensation, effective June 5 and 6.
"With vaccination rates rising, infection numbers across the state are falling and we are seeing the reopening of every sector of society, including businesses, restaurants and sporting events. Now it is also time to return to Sunday Mass. The obligation to attend Holy Mass on the Lord's Day is a sacred one," the bishops said in a joint statement.
Pastors and diocese officials said they anticipated a gradual increase in attendance, but it was too soon to know if numbers went up Saturday.
"We know we've got our work cut out for us in terms of convincing people of the value of in-person celebration of Mass," said Monsignor Robert Zapfel, pastor of St. Leo and St. Benedict parishes in Amherst.
Zapfel said Catholic churches are very safe places to gather, and "if you can go to the grocery store, if you can go to have your hair done, you can certainly come to Mass."
This weekend on the Catholic liturgical calendar marks the Feast of Corpus Christi, a celebration of the Catholic belief that bread and wine change into the actual body and blood of Christ during Mass through a process called transubstantiation.
The Rev. James Waite said in his homily Saturday that it was a "very appropriate" occasion for the in-person Mass attendance obligation to return.
"Coming to gather to be community and to receive the body and blood of Christ is central to our identity as Christians. Central to what Jesus taught us to do," said Waite, pastor of St. John the Baptist Church in Lockport. "It is what liturgy is all about."
Any parishioner who is too frail or sick to attend Mass is still excused from the obligation, the bishops said in their statement, which also encouraged Catholics to use their "prudential judgment" in determining whether it is unsafe to attend Mass.
"For those who are healthy and not at great risk, the presumption of the faithful should be that, unless they are at an enhanced risk, sick, or caring for others who are at risk or sick, the obligation to attend Sunday Mass now resumes," the statement said.
Catholic parishes are now allowing vaccinated Mass goers to remove their masks while seated in pews. Some other Covid-19 restrictions remain in place: Holy water fonts are still empty, parishioners must wear masks entering and leaving the church and in the Communion line and the Communion cup is not being offered, to name a few.
Churches also continue to rope off rows of pews to keep social distance between parishioner families.
Zapfel said most parishes that began livestreaming Masses because of the pandemic will continue to do so, even with the return to obligatory in-person attendance.
"We have a good number of people who are homebound and it really has been a blessing for them," he said.