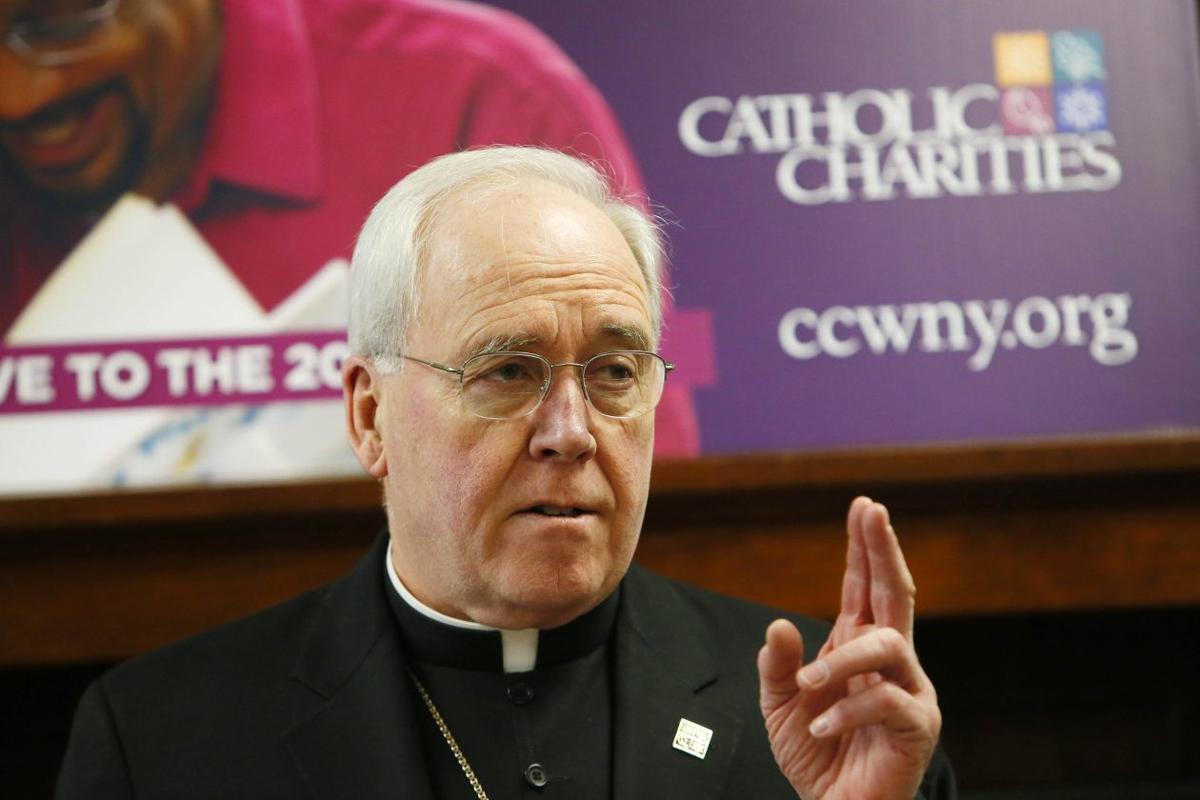 Catholic Charities of Buffalo will end its foster care and adoption program because state rules that bar discrimination based on sexual orientation conflict with church teachings, officials from the organization said Thursday.
"We're a Catholic organization, so we have to practice what we do consistent with the teaching of the church," Dennis C. Walczyk, the chief executive officer of Catholic Charities, told The News.
A same-sex couple recently applied to the agency to become adoptive foster parents, and that precipitated the agency's decision, Walczyk said.
The agency has a contract with the Erie County Department of Social Services that expires in March. The state Office of Children and Family Services licenses Catholic Charities and other providers of these services.
The state requires contracting organizations to allow same-sex couples to adopt or to raise foster children. That directive, however, goes against the church's position that marriage is between a man and a woman, the Catholic Charities officials said.
Given that tension, the agency made the decision to phase out the foster care and adoption program.
"It is with deep sadness we acknowledge that the legacy of the high quality, exceptional services which our staff provides to children and families through foster care and adoption will be lost,"  Walczyk said in a statement formally announcing the end of the services. "We are working with the state OCFS and Erie County DSS to support a smooth transition for children in foster care and foster parents, as well as those who have submitted applications to provide foster care or seek adoption."
Catholic Charities said the program currently has 55 certified foster homes, with 34 children in care in 24 of those homes.
"They will stay with their parents," Walczyk said of the children currently placed through Catholic Charities. "They will stay in their homes."
But eventually they will be under the auspices of another agency.
"A process will be initiated very soon where they will be made aware of other organizations here that provide similar services," Walczyk said.
The agency's board of directors met in a special session Thursday afternoon to discuss the matter.
Agency staff met with foster parents and other clients late Thursday afternoon to break the news to them.
Catholic Charities said the program currently has 55 certified foster homes, with 34 children in care in 24 of those homes.
Catholic Charities helps to arrange an average of five adoptions each year, most of which are cases in which children are released from foster care for adoption.
To Walczyk's knowledge, he said, a same-sex couple had not approached Catholic Charities until recently.
"The Catholic Church holds that the only marriage is between a man and a woman," said Sister Mary McCarrick, Catholic Charities diocesan director.
"That's commonly known," she said. "So it is important and to the advantage of a child to be placed in a home with a husband and wife family, a man and a woman, so that the child can experience both a father and a mother, and their love," McCarrick said.
"New York State law is clear," said Children and Family Services spokeswoman Monica Mahaffey. "Discrimination of any kind is illegal and in this case OCFS will vigorously enforce the laws designed to protect the rights of children and same sex couples.
"In New York State, we welcome all families who are ready to provide loving and nurturing homes to foster or adoptive children. There is no place for providers that choose not to follow the law," she said.
Walczyk said foster parents showed a range of emotions when they learned the news Thursday.
"A wide range of emotions were expressed during the meeting with the parents, ranging from people understanding the position we had to take and being supportive of us standing by our principles," he said. "There was a lot of sadness expressed because, first and foremost, they're going to very strongly miss a very dedicated, compassionate staff at Catholic Charities."
Catholic Charities in its statement pointed to similar decisions made by Catholic Charities in the Archdiocese of Boston, which stopped providing adoption services in 2006, and by Catholic Charities organizations throughout Illinois that stopped arranging adoptions in 2011.
Adoption was one of several services upon which Catholic Charities was founded nearly 95 years ago. Today, the agency is a $36 million nonprofit organization that sponsors 70 programs and services at 61 sites throughout the eight counties of Western New York.
In 2017, diocesan officials estimated that more than 153,000 people were helped by the organization through comprehensive counseling, social and mental health assistance and adoption and foster services.