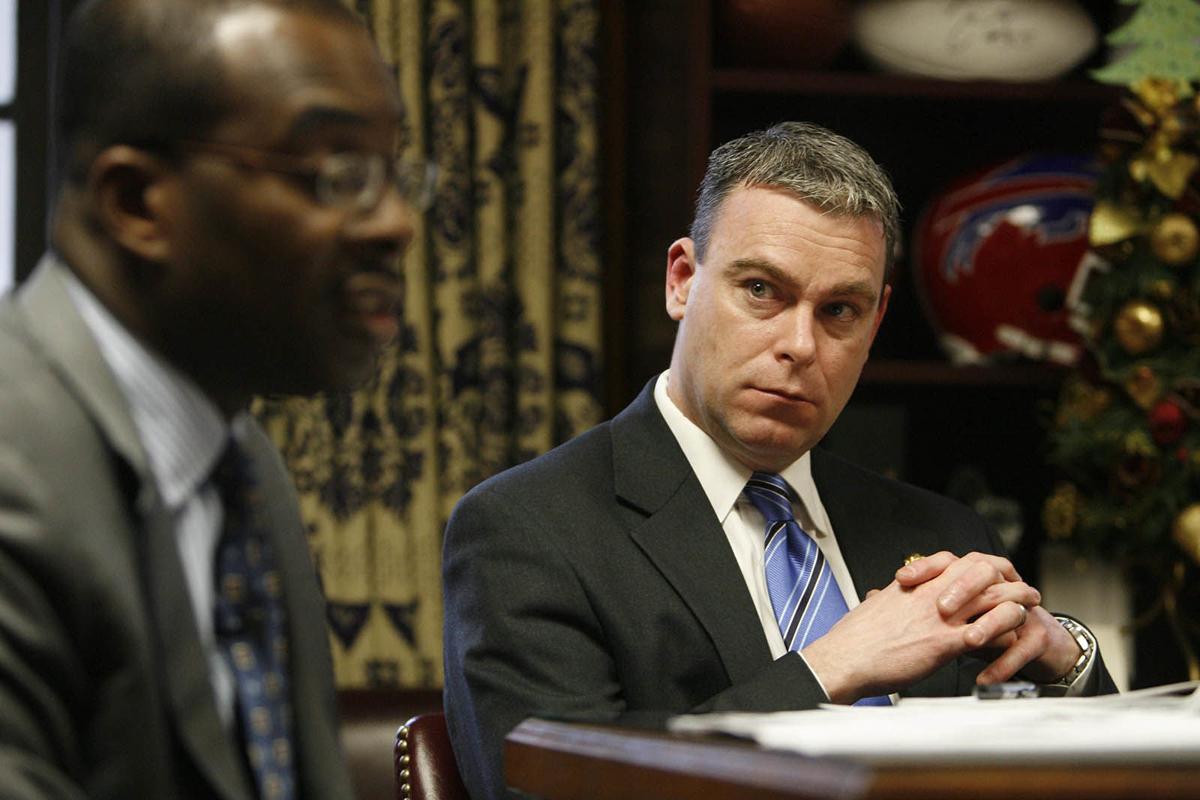 When Steven M. Casey appeared in a federal courtroom Thursday to answer wire fraud charges against his political consulting company, he may have provided a trove of potential campaign fodder aimed at his old boss – Mayor Byron W. Brown.
A former deputy mayor and longtime Brown strategist, Casey has always dwelled in the political shadows while working closely with controversial figures such as former Erie County Democratic Chairman G. Steven Pigeon – who has logged his own share of courtroom appearances since both of their homes were raided by authorities back in 2015.
The former legislator told The News that he heard allegations from an investigator that he was "never meant to win" a 2012 election for a NY Senate seat and that his decades-long friends – Steve Casey, then the deputy mayor to Byron W. Brown, and political operative G. Steven Pigeon – had coordinated with the incumbent Mark Grisanti to set up Swanick as a spoiler.
But now Casey's legal troubles are sure to figure in the challenge mounted by India B. Walton, the community activist who stunned the political world by winning the June Democratic primary for mayor. After literature promoting her candidacy highlighted Brown's ties to Pigeon's brushes with the law during the primary, it now seems likely that Casey and Pigeon – along with coinciding FBI investigations culminating in a 2019 raid on City Hall offices – will figure prominently in a general election campaign expected to dominate local politics and command national attention.
Indeed, the Working Families Party, which plans a key role in support of Walton's effort against Brown's write-in campaign, already weighed in Friday.
"Another friend of Byron Brown being federally charged speaks to the kind of company he keeps. Buffalo residents deserve real change in City Hall," Working Families spokesman Ravi Mangla said in a preview of the campaign to come.
State and federal law enforcement officials are executing search warrants to gather evidence in a probe involving former Erie County Democratic Party Chairman Steve Pigeon and former Buffalo first deputy mayor Steve Casey, according to
Casey, who left his City Hall job in 2014, figures prominently in the case settled Thursday before Senior U.S. District Judge William M. Skretny, in which his LSA Strategies consulting firm pleaded guilty to wire fraud stemming from the 2012 campaign for the State Senate's 60th District. Casey's firm acknowledged prosecution claims that LSA Strategies schemed to defraud Charles M. Swanick, the former Democratic county legislator from Kenmore who ran in primary and general elections that year.
The government charged that Casey's firm provided consulting services to Swanick, "including arranging for campaign mailings to be printed by an unnamed company." According to prosecutors, LSA defrauded the candidate by having a printing company – believed to Marketing Technologies of WNY – inflate invoices for campaign mailers. Swanick's campaign paid the jacked-up price and the printers gave Casey's firm the cash difference, prosecutors said.
Walton spokesman Seamus Gallivan did not return a call seeking comment. But a campaign source who asked not to be identified said it is not expected that Walton will dwell on the past but look more toward the future. Still, the source noted that Buffalo politics continues to draw FBI attention, and labeled the Casey situation "another example of the old regime's missteps."
After India Walton upended the local political world by defeating Brown in last month's primary election, Buffalo's tiny band of Republicans may exert some influence yet.
"Voters are rejecting the old way of politics and apparent politics and embracing something more in line with their values and needs," the source said in another hint at the Walton strategy to come.
The mayor maintained a long relationship with Casey, who has been the subject of state and federal scrutiny. In May 2015, his East Aurora home was among those raided by the FBI, State Police Bureau of Criminal Investigation and the state Attorney General's Office in connection with a host of campaigns involving Pigeon.
The Buffalo News reported in 2016 that Casey had met at least twice with the FBI as part of a public corruption probe. Sources say Casey is still thought to be cooperating with federal authorities.
The former deputy mayor also figured in a federal investigation of a proposed $12 million city project with NRP Properties of Cleveland unveiled in 2009. In a court affidavit obtained by The News in 2016, Casey said Brown pushed hard for a prominent African-American minister to be awarded the project instead. He said the mayor was upset about white out-of-town developers gaining too much work in Buffalo.
More than a few federal investigations have orbited around Buffalo City Hall in recent
Casey's statement appeared to support some NRP allegations, most notably Brown's effort to hire the minister and his instructions to kill the project.