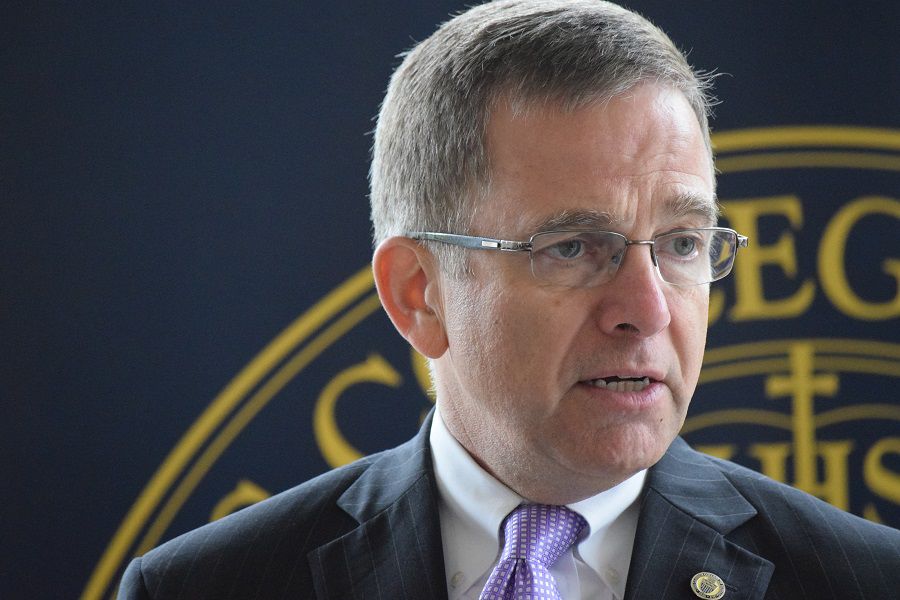 Canisius College President John J. Hurley called Thursday for a greater leadership role for women in the Catholic Church in the wake of the clergy abuse scandal in Buffalo and other communities.
Hurley expressed his outrage over the scandal in a letter sent to students, employees, donors and alumni of the Buffalo college. He said it was precipitated by revelations that sexual misconduct in the Buffalo Diocese was covered up and by a grand jury report from Pennsylvania that revealed decades of abuse of children by hundreds of priests.
In a religion that has "marginalized" women and does not allow them to become priests, a stronger role for women might help to "protect children," Hurley wrote.
"As I read the Pennsylvania grand jury report, I thought, 'Could anyone imagine women being in charge of matters like this and not doing everything possible to protect the children?' " Hurley wrote. "And yet, for centuries, the institutional Church has marginalized women in so many ways apparently ignoring that for a few hours on Easter morning, St. Mary Magdalene – a woman and the first person to whom the Resurrection was revealed – was, in essence, the Church.  It is clear that the path forward for the Church must include women in real, significant and substantial positions of leadership."
Hurley's letter did not take a position on whether Bishop Richard J. Malone should resign from his post as leader of the Buffalo Diocese.
Several prominent critics – including Rep. Brian Higgins, D-Buffalo, and Buffalo business leader and church deacon Paul L. Snyder III – publicly called for the bishop to resign last week because of his handling of clergy abuse cases. More than 60 priests who have worked in the Buffalo Diocese have been alleged to have molested children or have been involved in other improper sexual behavior.
In 2010, Hurley became the first lay president in the history of the Jesuit-run college, which was founded in 1870. He declined to comment further after The Buffalo News obtained a copy of his letter Thursday afternoon.
"What should be the response of faithful Catholics and all of us at Canisius who work in support of this Catholic, Jesuit institution?" Hurley asked in the letter. "In our mission and identity initiatives at Canisius, we have been clear that the Society of Jesus and its colleges and universities aspire to reflect a Vatican II Catholic Church, the Church of the Pastoral Constitution Gaudium et Spes, which recognized and encouraged the role of the laity in the life of the Church. There is a battle raging for the heart and soul of our Church and we, the laity, and we, Canisius College, must remain on the battlefield, fully engaged and committed to shaping its future."
Hurley, who is an attorney, added that it appears the Catholic Church in the United States "will have no choice but to open its files and fully and completely reveal the extent of the evil that exists within. This effort cannot be forestalled by promises of reform and formation of new task forces as the Church's credibility in these respects has been spent."
Hurley noted that Pope Francis in 2014 set up a "pontifical commission" to make sure that the problem of sexual abuse by priests was eliminated.
"Just three years later, the only abuse survivor on the commission, Marie Collins of Ireland, resigned, citing resistance from the Vatican and her frustration over the Church's refusal to implement the commission's recommendations," Hurley wrote. "If Pope Francis himself could not compel the Church to act, is it any wonder why the Church's talk of commissions, task forces, and review panels is met with such cynicism?"
Following is the letter by Canisius College President John H. Hurley:
Statement on the Sexual Abuse Scandal
in the Catholic Church
I want to address the Canisius College community on the sexual abuse scandal in the Catholic Church generally and in the Diocese of Buffalo in particular.

In promoting Canisius College as a Catholic, Jesuit college, we often wrap ourselves in the mantle of a Church that has at its heart the radical imperative of social justice reflected in the Gospels.  As we have vigorously promoted Canisius' mission and identity, we certainly never contemplated that the Church – at the highest levels of diocesan leadership – could be instrumental in perpetuating evil on a scale described in the Pennsylvania Grand Jury report that was released on August 15.  Since the release of that report, there has been a torrent of public comment in the general media, the Catholic media and among Catholic leaders, both lay and clerical.

While I was collecting my thoughts on what response I - as a Catholic layman with 20 years of Catholic education and as the leader of a Catholic college - might make, the news in Pennsylvania was followed by reports in Buffalo of our current Bishop's handling of two serious cases of sexual abuse by priests in our diocese.  These cases are so disturbing because they involve new claims after the faithful in the diocese were assured that sexual abuse by priests was a thing of the past.

Priests sexually abusing minors and adults while using their positions as men of God cloaked with a special status have been and continue to be an indelible stain on the Church and on their fellow priests, most of whom are decent, holy men committed to their vocation and the service of the Church.  But perhaps more troubling from the Pennsylvania report is the extent to which bishops that people had come to know, love and respect were apparently complicit in the evil being perpetrated.  Using legions of advisers, euphemisms and avoidance tactics, these bishops intentionally and systematically covered for the abusers in an effort to protect the institutional Church.  As a Catholic, Jesuit college, Canisius condemns these atrocities in the strongest terms possible.  We believe that these actions are evidence of a deep-rooted evil at work in our Catholic Church that must be uncovered, named, brought to light and then eradicated.

The Pennsylvania report is likely to prompt a call for empaneling grand juries in the other 49 states to investigate the extent of sexual abuse by priests and cover-ups by the Church leadership.  Given that the Buffalo diocese has already released the names of 42 priests determined by the diocese to be credibly accused of abuse and that there have been several more identified in the months since, it is entirely possible that a grand jury investigation of what has happened in Buffalo could reveal patterns of conduct not dissimilar from what occurred in Pennsylvania.  As horrifying as the events of the past few weeks have been, it may very well get worse before it gets better.

It appears that the Church in the United States will have no choice but to open its files and fully and completely reveal the extent of the evil that exists within.  This effort cannot be forestalled by promises of reform and formation of new task forces as the Church's credibility in these respects has been spent. Pope Francis established a pontifical commission in 2014 to insure that sexual abuse in the Church was eliminated.  Just three years later, the only abuse survivor on the commission, Marie Collins of Ireland, resigned, citing resistance from the Vatican and her frustration over the Church's refusal to implement the commission's recommendations.  If Pope Francis himself could not compel the Church to act, is it any wonder why the Church's talk of commissions, task forces, and review panels is met with such cynicism?

As I read the Pennsylvania grand jury report, I thought, "Could anyone imagine women being in charge of matters like this and not doing everything possible to protect the children?"  And yet, for centuries, the institutional Church has marginalized women in so many ways apparently ignoring that for a few hours on Easter morning, St. Mary Magdalene – a woman and the first person to whom the Resurrection was revealed – was, in essence, the Church.  It is clear that the path forward for the Church must include women in real, significant and substantial positions of leadership.

What should be the response of faithful Catholics and all of us at Canisius who work in support of this Catholic, Jesuit institution?

In our mission and identity initiatives at Canisius, we have been clear that the Society of Jesus and its colleges and universities aspire to reflect a Vatican II Catholic Church, the Church of the Pastoral Constitution Gaudium et Spes, which recognized and encouraged the role of the laity in the life of the Church.  There is a battle raging for the heart and soul of our Church and we, the laity, and we, Canisius College, must remain on the battlefield, fully engaged and committed to shaping its future.

We echo others in our call for prayers and discernment in the wake of this devastating news, but this is also a time for action.  It is not Canisius College's role to dictate what the Church must do, but for us, this is a time to reaffirm our mission, policies and actions to care for those in the Canisius family.  The college's Standards of Ethical Conduct, Whistleblower Policy, and harassment policies, including Title IX, define Canisius' position and procedures on any alleged and substantiated claims of misconduct.  Services of the college's Counseling Center, Employee Assistance Program, and Campus Ministry are available to anyone in need. Likewise, we must strengthen our resolve to stand in solidarity with those who are suffering.  Fully repairing the pain that so many have endured may never be possible, but we must continuously love, comfort and protect the students, faculty, staff and alumni of Canisius, resolve to seek justice, and care for one another, especially the oppressed, and victims of abuse and neglect.

And yes, we must continue to pray: pray that our own faith is sustained at this time of great turmoil; pray for healing for the victims whose lives have been scarred by acts of abuse; pray for the innocent priests who must carry the blame and shame of the predators in their ranks; pray for unity and reconciliation in the Church; and pray, above all, for the wisdom of the Holy Spirit in illuminating our path forward.  Come Holy Spirit, enlighten us!!

 

Dated: August 30, 2018

 

Canisius College | Office of the President | 2001 Main St | Buffalo NY 14208