With enrollment falling and a projected $20 million shortfall in a $75 million budget, Canisius College President John J. Hurley said Monday the college will lay off 96 employees, including 25 professors.
Though the college also will drop several low-enrollment majors, primarily in the humanities, Hurley denied charges by internet critics that the 150-year-old Jesuit college is abandoning its liberal arts profile.
Some of those critics are alumni who started a Change.org petition to stop the layoffs and fire Hurley. More than 3,700 people had signed it as of 4 p.m. Monday.
"I've got the complete support of the board," Hurley said, referring to the college Board of Trustees, which last month ordered him to make $12.3 million in budget cuts to reduce, but not eliminate, the red ink.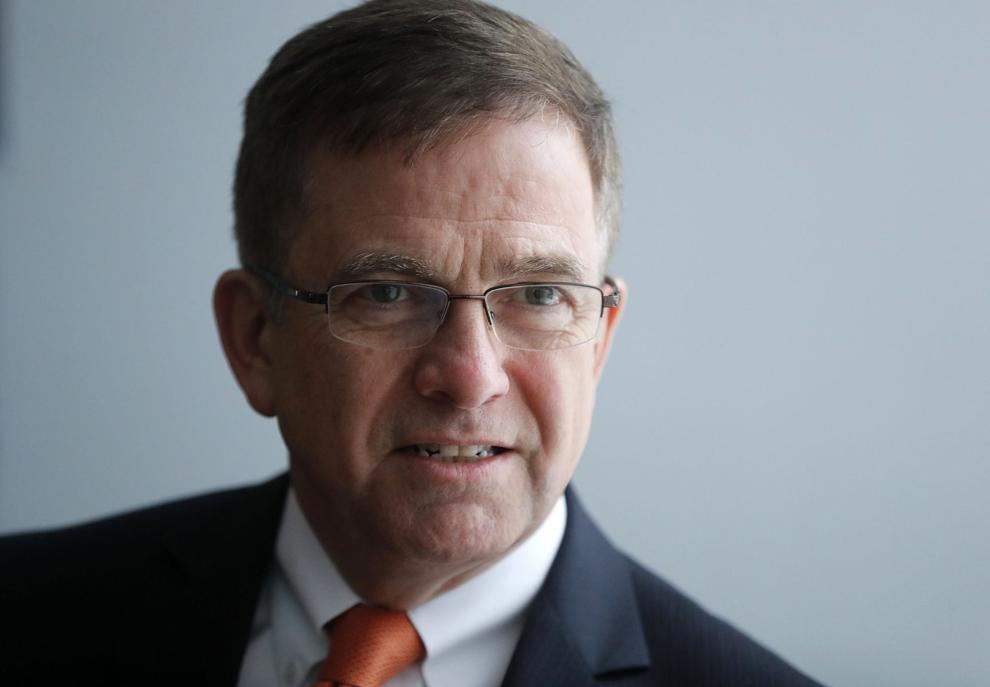 "The cuts that would have been required to completely balance the budget would have been too deep," Hurley said. "We're trying to do our best to strike a balance, maintain a high-level educational experience for our students."
"Canisius is a Jesuit school, always preaching values, but they don't live up to them," said Madelyn Reed, a 2018 Canisius graduate who created a Facebook page supporting the laid-off professors. "They are laying off the wrong people."
"We cannot remain silent while the administration disbands key majors and fires excellent teachers in the humanities," wrote the unnamed alumni who posted the online petition.
"We know this is just the beginning of the end of liberal arts tradition at Canisius — the very core of its existence. If these cuts are carried out, this will most likely mark the end of Canisius College itself, and certainly any integrity it once had," the petition said.
"We don't think we're abandoning it," Hurley said of the school's tradition. "We think the realities of the enrollment situation dictate that we make some strategic decisions, but we're going to continue to teach classes in those areas. The issue is, how do we continue to be a thriving Jesuit college?"
Tanya M. Loughead, president of Canisius' chapter of the American Association of University Professors, said almost all of the faculty being let go are tenured.
She said they have legal rights that would prevent them from being fired, unless the college declares "financial exigency" and "performs a thorough and transparent program review according to shared governance. Canisius has done neither thus far. For these reasons, the proposed cuts will provoke multiple lawsuits," Loughead predicted.
The professors are not unionized. They sign individual one-year contracts, which Loughead said give them rights.
Hurley said once the decision was made to drop majors in small departments with few students, there was little choice but to cut tenured professors, since all or nearly all of the faculty in such areas are tenured.
The 2019-20 academic year saw Canisius run a $6 million operating deficit. Hurley said about $2 million of that was incurred when the college had to refund room and board to students ousted from the dormitories when the campus closed in March because of the Covid-19 pandemic.
But the biggest hole in the upcoming year's budget was tied to falling enrollment. A memo to faculty Monday said the college projected an $8.8 million drop in tuition revenue and a $1.6 million loss in room and board revenue.
The faculty layoffs include three each in history, philosophy, management and teacher education; two each in chemistry, fine arts and religious studies; one each in classics, communications, counseling and English; and others that have not been publicly specified yet. 
In addition, a fourth philosophy professor moved into the administration.
Canisius will eliminate majors in classics, creative and performing arts, human services, physics, religious studies, entrepreneurship, urban studies, European studies and international business, according to a memo Hurley sent to faculty Monday.
"We're going to be teaching courses in all of those areas, with the exception of classics – classics is going to be phased out – but we're going to continue teaching classes in religious studies, in philosophy, in history, in English," Hurley said in an interview.
"This is a reflection of enrollment trends. These decisions are based on where the students are registered," Hurley said.
He said Canisius has awarded fewer than four degrees a year over the past six years in each of the canceled majors. Eliminating a major means not teaching the upper-level courses needed to complete a degree.
"We simply can't afford to do it with enrollments that low in these majors," Hurley said.
The most popular majors at Canisius are psychology, with 73 degrees last year, and finance, with 62, Hurley said.
"The failure to make cuts in other departments, I think, puts the strong programs at risk," Hurley said. "This is a question of making strategic choices that don't make people happy. This is not a happy day for Canisius College."
The moves will leave the college with an estimated $8 million deficit, but Hurley said it's not all a cash deficit, because about $6 million of it is accounted for as depreciation of assets.
The college will save $2.5 million by laying off the 25 professors and cutting some academic programs, but Hurley said the salary savings won't kick in until 2021-22, because all the laid-off professors will receive a full year of severance pay.
Besides the cost of more than $1 million to reopen the campus while complying with social distancing — the installation of plexiglass at counters, offering single rooms to all residents and buying protective equipment — the college was hit with sports-related revenue losses, the president said.
Canisius lost out on $450,000 when this year's NCAA basketball tournament was canceled, a figure pegged to the number of sports it offers and the number of teams from its conference likely to be invited to the tournament.
When Erie Community College announced it would cancel sports for the coming year, Hurley said Canisius lost out on $500,000 in revenue, because it had a deal to house ECC athletes in Canisius dorms.
But although the athletic budget will be cut 19%, Canisius will not drop any sports, Hurley said. It will lay off one assistant coach each for the men's and women's basketball teams, but closing down the sports program would drive away about 400 student-athletes and the revenue associated with their enrollment. Canisius offers full scholarships only in men's and women's basketball.