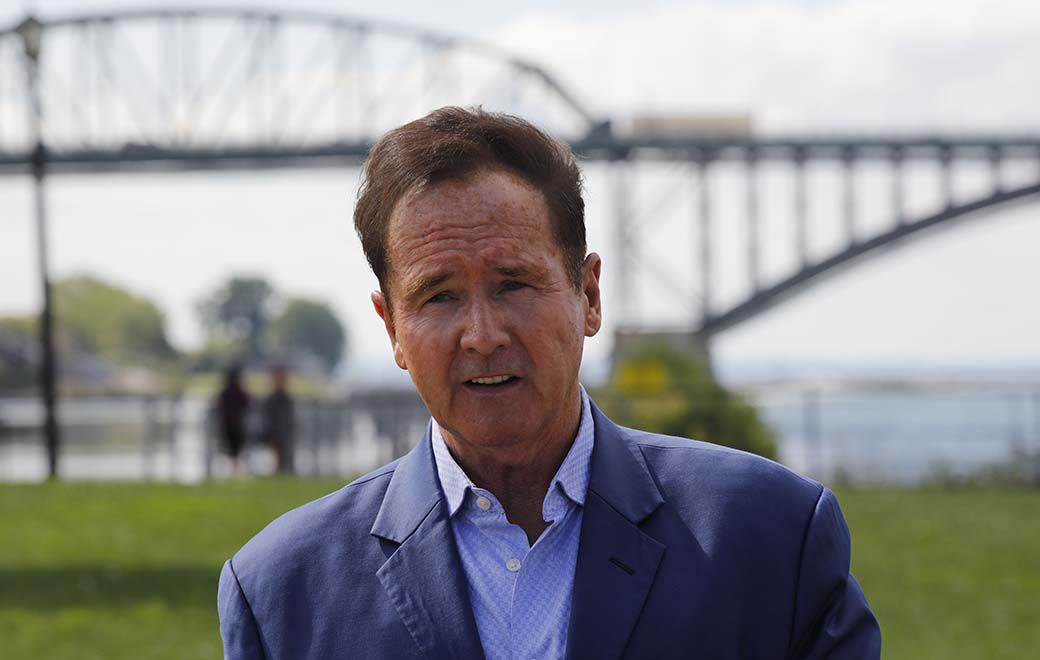 WASHINGTON – Rep. Brian Higgins has long been something of a lone wolf howling almost daily about the pandemic-inspired closure of the U.S.-Canada border.
The chorus is getting louder, thanks to a handful of influential Canadians speaking out against the shutdown, too.
Rep. Brian Higgins on Wednesday called on Gov. Andrew Cuomo to invite Canadians to New York State to get Covid-19 vaccinations they might have to wait months for back home.
Higgins on Wednesday joined two members of the Canadian Parliament in issuing a joint statement that said: "Guidance from both the U.S. Centers for Disease Control and Prevention (CDC) and Canada's COVID-19 Testing and Screening Expert Advisory Panel is clear: individuals with proof of immunity can travel safely and should not be subject to quarantine requirements. It is time for our governments to listen to the experts and together release an evidence-based plan to reunite families, safely resume normal border operations, and quickly restore our two countries' deeply interconnected economies."
The statement follows a letter that Canadian business leaders sent to Prime Minister Justin Trudeau, urging that planning begin for a border reopening. 
Higgins is hoping that pressure will counter public opinion in Canada – where a poll last week found that 48% of those surveyed want to keep the border shut until September – and force Trudeau and President Biden to agree to open the land borders between the two countries sooner rather than later.
"It is truly unacceptable at this point to have another 30-day extension with no further exceptions for those vaccinated ... and no plan," Rep. Brian Higgins said.
"I think people begin, over time, to tire of this continuous closure with no explanation and no vision about an opening," said Higgins, a Buffalo Democrat.
Proof of that, Higgins said, came when two members of the Canadian Parliament – Wayne Easter of Prince Edward Island and Nathaniel Erskine-Smith of the Toronto area – reached out to him, saying they wanted to work together to ramp up the pressure for a quicker border reopening. Easter – who along with Higgins serves as co-chair of the Canada-U.S. Interparliamentary Group – and Erskine-Smith are both members of Trudeau's Liberal Party.
The border between the countries has been closed to nonessential travel since March 22, 2020. That shutdown has been extended on a monthly basis ever since, but Easter last week told Politico Canada that the U.S. and Canada governments simply cannot extend the shutdown for another month when the latest month-long extension expires June 22.
"As you get into July 1, Canada Day, and July 4, Independence Day, then those target dates are real pressure points for wanting to be normalized," Easter said in that interview. "The heat's on, and I think we absolutely must have a plan."
That's pretty much what 59 Canadian business groups, led by the Canadian Chamber of Commerce, said in a letter to Trudeau last last month.
What started as a modest ad campaign in Buffalo in mid-May is growing into a binational, big-money effort to reopen the long-shut U.S.-Canadian border.
"To avoid rising levels of confusion and frustration, your government should collaborate with officials in the United States and other countries in setting benchmarks that would enable the easing of border restrictions and travel quarantines," the Canadian business leaders wrote. "A clear and predictable plan for a gradual and safe return to a more normal life would instill public confidence while demonstrating concern for the physical, mental and economic health of Canadians."
Trudeau, however, has insisted that at least 75% of the Canadian public must be vaccinated before the border restrictions can be loosened.
"We all want to reopen, we all want to go back to traveling to see friends, take vacations, go on trips," Trudeau said at a press conference in Ottawa on Monday. "But we don't want to have to close again, tighten up again, because there's another wave."
According to the Our World in Data Covid-19 Data Explorer, 58.31% of Canadians had received at least one shot of vaccine as of Tuesday. The pace of vaccinations accelerated rapidly in Canada in recent weeks, which is why the percentage of Canadians who have received their first dose is now higher than it is in the U.S., where that figure stood at 50.38% as of Tuesday.
The Canadian prime minister also made clear Monday that he won't be pressured into relaxing the border restrictions.
"We're on the right path, but we'll make our decisions based on the interests of Canadians and not based on what other countries want," Trudeau said.
Despite Trudeau's comments, Higgins also said that he's more optimistic about a border reopening than he was a month ago.
"It could happen in June," he said. "I think it could happen by Canada Day. I think it could happen by Independence Day – and I think there is more going on about this than has been made public."
Higgins has been pushing for a border reopening for months, stressing that the shutdown has separated couples and left cross-border homeowners unable to visit their properties. Senate Majority Leader Charles E. Schumer, a New York Democrat, last month held a press conference in Niagara Falls to call for the border to reopen, and Rep. Chris Jacobs, an Orchard Park Republican, decried the continued closure in a statement when the shutdown was last extended.
On many days, though, Higgins has been the only politician on either side of the border pressing for a quick reopening. That being the case, he said he's glad that he now has some Canadian allies in his battle.
"Look, it might be a lonely fight, but it's a very, very important fight," Higgins said.