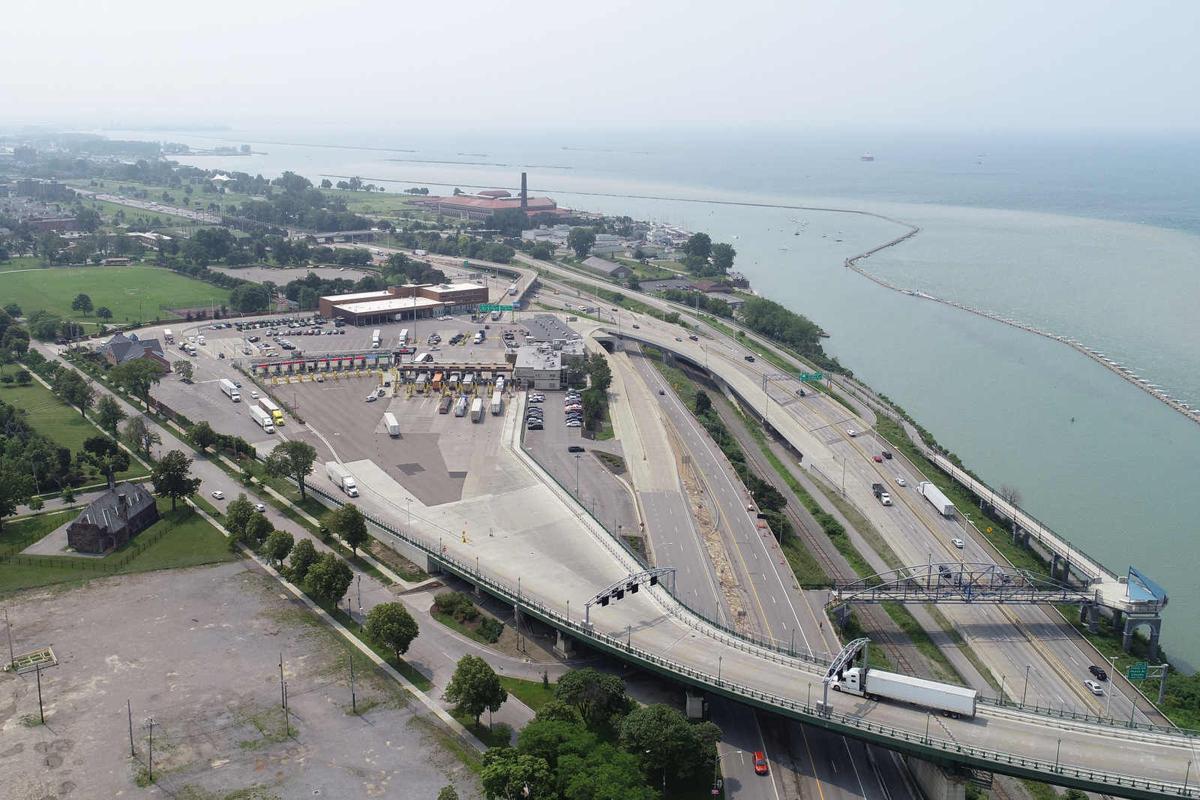 WASHINGTON – The moment many Buffalo-area residents have been waiting for since March 2020 – the moment when they can visit Canada again – will finally arrive at 12:01 a.m. on Aug. 9.
But travelers heading north that day or soon thereafter may think the Peace Bridge and other border crossings look like one-way streets, with the vast majority of traffic heading north, too.
That's because Canada will reopen its land border to nonessential travel as of Aug. 9, but the United States has not yet agreed to open its borders to visiting Canadians as of that date. 
That fact tempered the joy that advocates of opening the border felt on Monday as Canada announced its border reopening plans.
"This will allow fully vaccinated Americans separated from their families and property in Canada for a year and a half to be reunited in three weeks," said Rep. Brian Higgins, the Buffalo Democrat who has led the fight to open the border. "This measure can't come soon enough."
Meanwhile, though, Higgins said he was frustrated that the Biden administration has shown "a lack of urgency to make any progress on this side of the border toward lifting restrictions."
Canadian officials appeared frustrated, too. At an online press conference announcing their plans to reopen the border, they repeatedly stressed that the U.S. had not yet agreed to do the same.
Yet for many Buffalo-area residents – who, for decades, have regarded southern Ontario as something of a suburb as well as a part of a foreign nation – Canada's move on Monday prompted a sense of relief.
"This is better news than I thought it was going to be," said Ben Dunkle, a Canisius College professor with a family place in Crystal Beach. "I'm looking forward to going over and seeing our property. ... Now that there's sort of a light at the end of the tunnel, I'm happy."
Canada's announcement brings to an end a partial border shutdown that began at the start of the Covid-19 pandemic and that has been extended on a monthly basis ever since.
Starting on Aug. 9, American citizens and permanent residents will be eligible to enter Canada so long as they have completed their vaccinations at least 14 days before crossing the border.
Americans traveling to Canada will also have to:
• Provide Covid-19-related information electronically through Canada's ArriveCAN app or web portal, including proof of vaccination prior to arrival in Canada.
• Receive a negative Covid-19 test result within 72 hours prior to their arrival in Canada.
• Show no symptoms of Covid-19.
Unvaccinated children under the age of 12 will be admitted, too, Canadian officials said, but they must avoid group settings such as day care centers and youth camps for 14 days after their arrival.
"Canadians have worked hard and sacrificed for each other, and because of that work, we can take these next steps safely," Canadian Health Minister Patty Hajdu said.
Those steps came as a relief to Sandy Pearce of Fort Erie, a Hamburg native who wants her elderly parents to be able to cross the bridge to visit her.
"Wow, finally some good news," said Pearce, who formed a group called Families Are Essential, which has been holding weekly protests at the Peace Bridge to call for a border reopening.
Pearce and several others took issue, though, with one provision in the new Canadian border policy: its testing requirement.
Canada previously required its returning citizens to pass Covid-19 tests both before and after arriving back in Canada. That prompted many U.S. officials to fear that Canada would impose the same requirement on visiting Americans, but as of Aug. 9, Canadians and Americans alike will only have to get one Covid test before arriving in Canada.
Instead of requiring a second test upon arrival, Canada will randomly test people arriving via the land borders or by air. There will be no charge for those tests.
But even the remaining testing requirement will be enough to dissuade tourists from visiting Canada, said Dottie Gallagher, president of the Buffalo Niagara Partnership.
Commenting on Canada's opening announcement, Gallagher said: "It's a good step for family visits and for property owners but for rebooting the tourism economy, not so much."
Canada's move also appeared to increase the heat on the Biden administration to open the border to visiting Canadians.
Biden administration officials had little to say about the issue Monday.
"We are continuing to review our travel restrictions," said White House Press Secretary Jen Psaki. "Any decisions about reopening travel will be guided by our public health and medical experts. We take this incredibly seriously but...I wouldn't look at it through a reciprocal intention."
Meantime, several members of Congress paired their praise of the Canadian move with a call for President Biden to reciprocate.
"Canada's policy change is long overdue and has the potential to be terrific news for thousands who have loved ones, property or commercial interests across the border," said Senate Majority Leader Charles Schumer, a New York Democrat. "The United States must now immediately follow suit, make our policy uniform and further energize New York's recovery."
Rep. Elise Stefanik, a Republican who represents New York's North Country and who serves as chair of the House Republican Conference, agreed – and criticized the Biden administration for not loosening its travel restrictions.
"Today's announcement is a positive and long-overdue step forward by the Canadian government," Stefanik said. "The fact that after 16 months of restricted travel the Biden Administration has still not announced a plan for restoring travel into the U.S. is unacceptable."
Rep. Chris Jacobs, an Orchard Park Republican, expressed similar sentiments.
Reacting on Twitter to Canada's move, Jacobs said: "It's about time, but this new change still comes with barriers. Now, the Biden administration needs to finally break its silence and move to reopen our side of the U.S.-Canada border."
Still, the Canadian announcement came as good news to the thousands of Americans who have loved ones or second homes in Canada, including John Adams, a retiree from Florida who has been raising funds to buy TV ads attacking both the U.S. and Canadian governments for keeping the border closed.
Adams started his ad campaign out of anger over being barred from visiting his summer home on Vancouver Island. But on Monday, he said in an email that he's willing to keep his ad campaign going even if he can visit his Canadian property in August, and even if future ads have only one target.
"President Biden: Why are you holding Canadians hostage?" Adams asked.