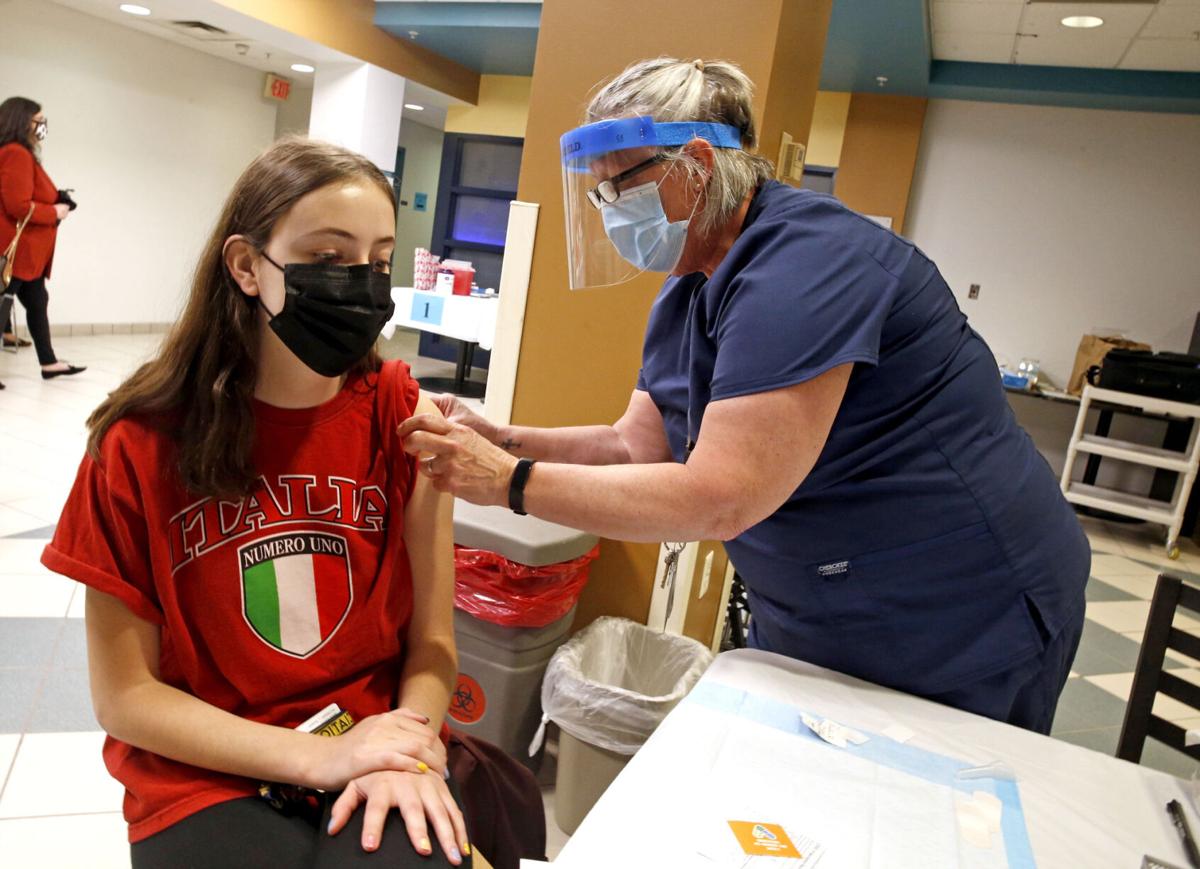 Now that the Covid-19 vaccine is open to people ages 16 and older, colleges are working hard to get students vaccinated before the semester comes to a close. And instead of leaving students to hunt down their own doses at sites scattered across the state, schools are bringing the shots to them with vaccine clinics on campus.
Schools have been preparing for months, working with state and local agencies and getting systems, staff and technology in place to make vaccines available on campus as soon as the state allowed.
They are hoping that the vaccination blitzes will allow students to resume full in-person instruction by the fall, while also protecting communities as students head back home for the summer. In addition to the convenience factor, bringing vaccines to where students are removes such barriers as lack of transportation and keeps students from having to compete with the community at large for their shots, school officials said.
Students at SUNY Buffalo State have been "very responsive" to campus vaccination efforts, said Tim Gordon, vice president of student affairs. The school received a thousand doses of the Johnson & Johnson vaccine last week and is on track to administer all of them by Wednesday. The school will offer more vaccines as they become available, it said.
Appointments are scheduled in staggered, 10-minute intervals to minimize crowding in the student union social hall, where vaccines are being given by the school's health center staff. Volunteers help students register and fill out paperwork and make sure everyone is adhering to social distancing and other safety protocols. Students are monitored for 15 minutes after receiving their shot and are given information on how to follow up if they have any problems.
Officials said Erie County has "experienced a strong and sustained increase in new daily cases," led by high numbers among those aged 20-29 and 30-39.
"It helps us continue on a path to more stability, but then it also gives them that protective layer as they return to communities after they're done with the semester," Gordon said.
Buffalo State's urban setting and diverse student population make it a prime candidate to serve inner-city populations as well, he said, because many of its students come from urban areas.
"At the outset, we indicated our willingness to make sure we help contribute to equity in vaccination," Gordon said. 
Canisius College began administering its 400 doses of the Johnson & Johnson vaccine Sunday. Once the school announced that vaccines were available, appointment slots filled up within three hours, said Sara Morris, vice president for academic affairs. She is encouraged by the number of faculty and staff that have already been vaccinated, and said the school community seems to understand that vaccination will "make all the difference" in ending the pandemic and getting back to normal.
"The campus activities, the events we all look forward to, our Griff Fest, our Fall Fest, having spectators at our sporting events," Morris said. "Being able to do some of those activities safely again is going to allow students to fully enjoy the college experience we want to give them."
First-dose vaccinations are now available in Genesee and Orleans counties for anyone who lives, works or studies in New York State.
The University at Buffalo has 200 Johnson & Johnson doses to offer and will begin administering them Thursday, according to John DellaContrada, a UB spokesperson. The school will notify students this week about its scheduling process and expects a strong response. About 2,300 students have already notified the school that they have been vaccinated elsewhere, he said.
No concerns despite J&J problems 
The Johnson & Johnson vaccine has encountered a spate of bad press in recent days. The company had to scrap millions of doses after its Baltimore plant mixed up ingredients. In addition, the Georgia Department of Public Health halted use of the vaccine after eight people experienced adverse reactions. Vaccine sites in North Carolina and Colorado stopped using the vaccine because of reactions, too, but the Centers for Disease Control and Prevention maintains that the vaccine is safe.
So do the Buffalo schools.
"Our infectious disease faculty advise that the J&J vaccine is safe and effective; and the fact that it is a one-dose vaccine is an advantage in this scenario because there are just five weeks left in the semester," DellaContrada said.
None of the three schools have heard from students worried about the brand of vaccine, they said.
"We have been very upfront that this is what the vaccine is and we have not had anyone who has expressed concern," said Morris at Canisius College. 
At Buffalo State College, where vaccinations are already in full swing, no complications have been reported, Gordon said.
More than 126,100 Western New Yorkers have contracted Covid-19 since March 2020 and more tha…
Vaccination not mandatory
None of the schools have required students to receive the vaccine before returning for the fall semester, but Covid-19 pool testing will still be mandatory. Students may also be asked, via the same electronic systems they use to fill out daily health questionnaires, whether they have been vaccinated.
Schools said they expect the majority of students to vaccinate voluntarily, so herd immunity can be reached without mandating vaccination.
"We're really encouraged by the number of people in our community – our faculty, staff and students – who are tying to get the vaccine," Morris said. "A lot of people are very excited to get it."