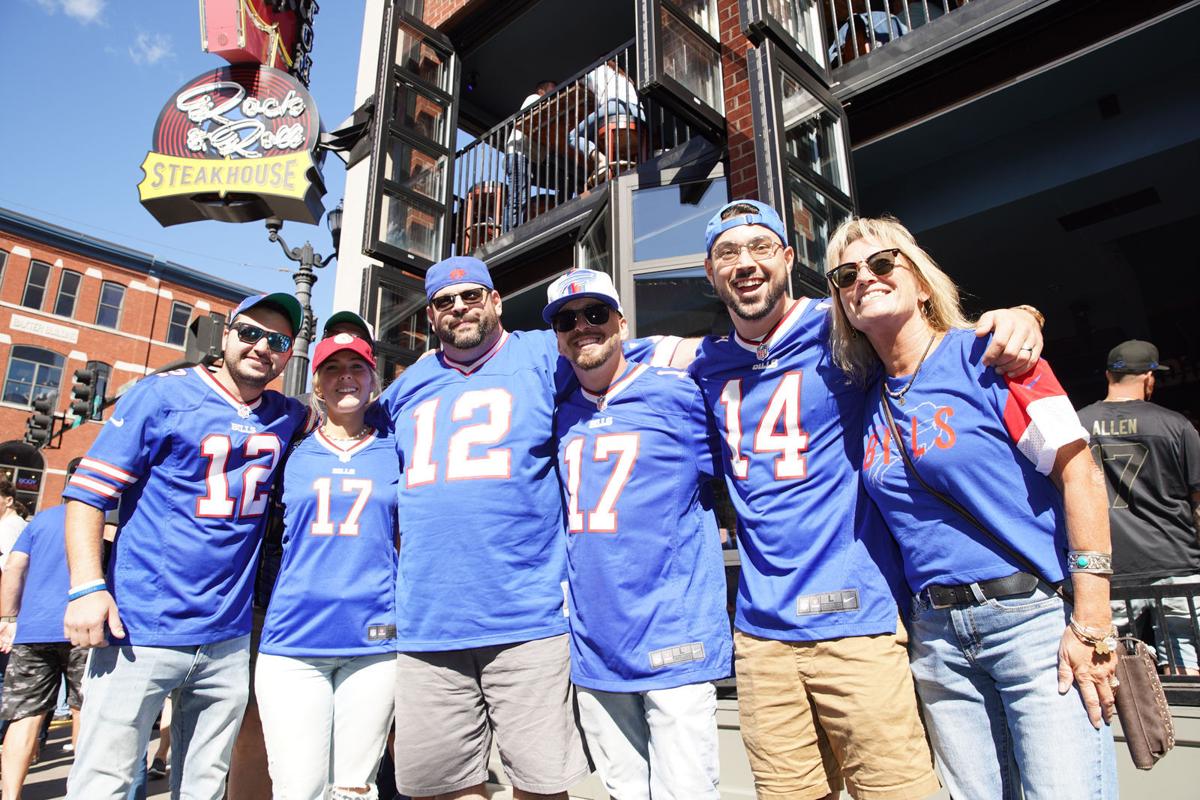 NASHVILLE, Tenn. – Like a lot of music clubs here, you can walk up four flights of stairs. The ground floor is one band with one vibe, the second and the third, each their own. And the top floor is the rooftop patio.
At one of them on Saturday, there was a DJ spinning hip-hop under a bright late afternoon sun and 150 or so people dancing and drinking, overlooking Broadway, the Music City's Mecca. Nearly all the patrons at the club were in their 20s. Dudes with backward ball caps, young ladies with iPhones wedged into the back pocket of high-waisted jeans. And at the front of the DJ stage, under the watchful eye of two bouncers, were six grandmothers from Buffalo.
Joanne, Judy, another Judy, Karen, Linda and Cathy were, like tens of thousands of others in Nashville this weekend, representing Bills Mafia in all its multigenerational glory – and having the time of their lives doing it.
Cathy Fuchs, an Amherst resident and one of the grandmothers, said four in their group had flown into Nashville that morning on a chartered flight from Buffalo along with a couple hundred other Bills fans for Monday night's game against the Tennessee Titans. She and her friends had circled the date when the NFL schedule came out and decided to make it a girls-only trip — the husbands stayed home, though Cathy's son was allowed to fly in from San Diego, she said.
With rapper Nikki Minaj bumping in the background and her friends dancing and laughing, Fuchs, sporting a red Stefon Diggs shirt, looked around and summed up a Bills fan's Nashville experience pretty simply: "It's perfect."
To say Bills fans have taken over Nashville is only slight hyperbole.
The music district is lined with clubs owned by country music's biggest names, but whether they like it or not, they were all playing the Isley Brothers this weekend. The crowd's "Shout" song chants demanded it.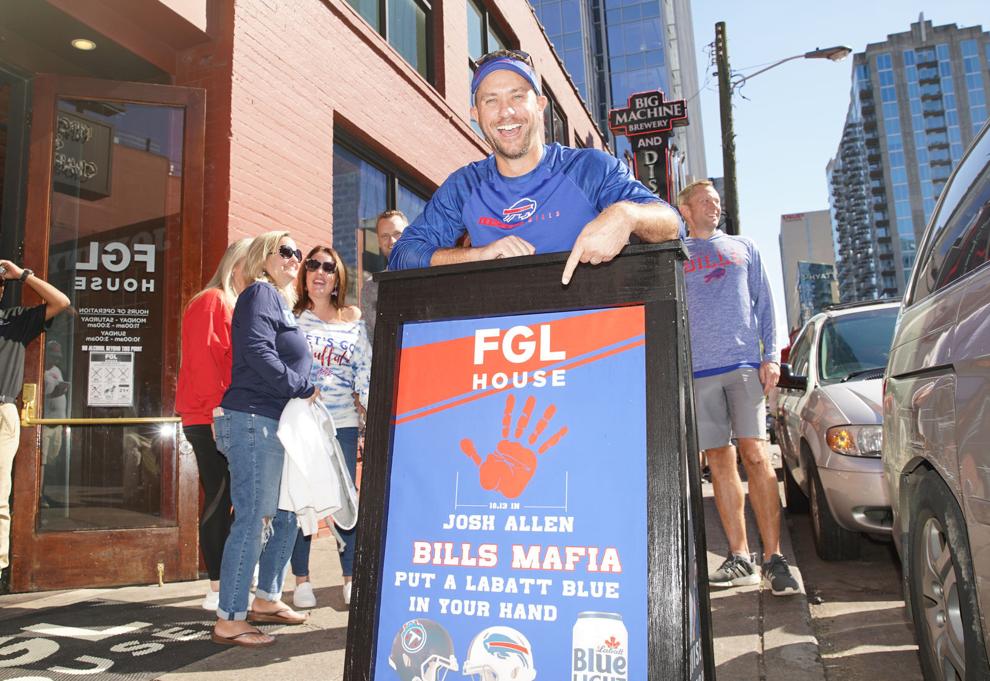 "It's a total Bills takeover. Every bar we were at last night broke into the 'Shout' song," said Chris Darone of West Seneca, as he and a group of friends waded through the sea of royal blue and red on Broadway. "They should call this Nash-Bill."
Proof positive: a scene around the corner. Bills fans had taken over the third floor of Kid Rock's bar. The managers knew Bills fans would be coming and decked out the stage with a banner welcoming Bills Mafia.
A four-piece country band was playing to a shoulder-to-shoulder crowd heavily tilted toward people with a 14-something ZIP code, all of whom with their backs to the stage.
They weren't protesting the band, mind you.
As it happens, the only television showing the Sabres' Saturday afternoon game was on the back wall of the room. As the game entered a shootout, cheers erupted with each of Buffalo's two goals, and each of the Sabres' three saves, the loudest, of course, at the end. A Sabres win only sweetened a weekend marked for the Bills.
The band eventually won back the crowd's attention.
"I've been playing down here a long time," the lead singer said. "I think this is the most Bills fans I've seen at one time."
Missing not a beat, the guitarist said: "We're in for a stadium takeover."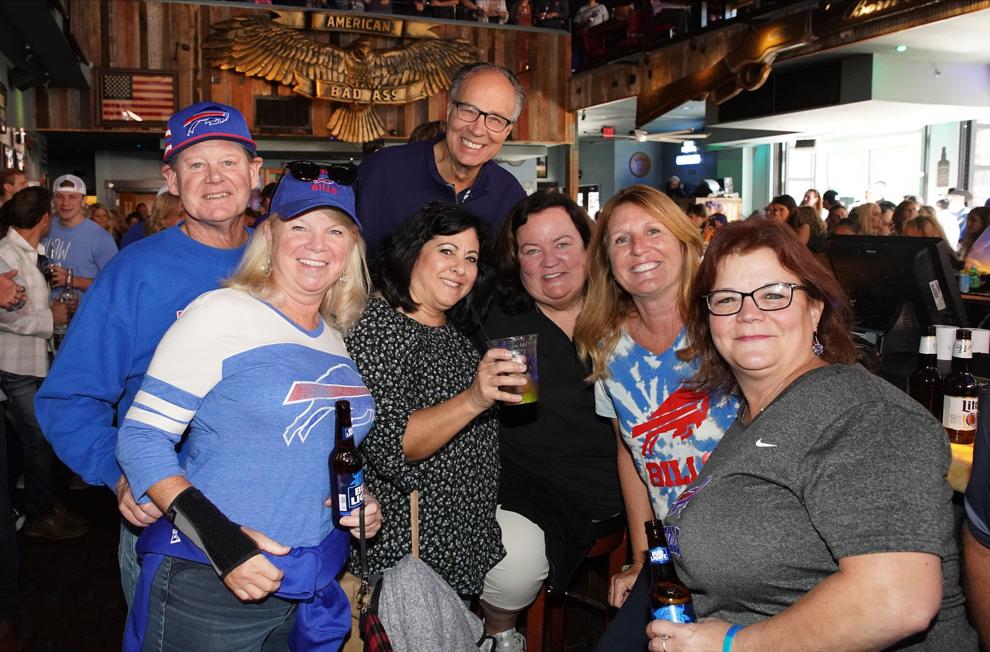 One could forgive unsuspecting Nashville residents for wondering what their downtown has turned into over the past few days. While Nashville is a town that's no stranger to parties – the number and variety of open-roof vehicles hauling dancing people around makes one wonder whether that's how people here get to work – there are those who didn't see this Buffalo train coming down the tracks.
At a small sandwich shop in The Gulch, a chic downtown neighborhood where lines for the best brunch restaurants stretched 50 and 100 people deep, a group of Bills fans were perched at a table eating lunch. A Nashville local, distinguished by his twang as opposed to Buffalo's flat vowels, had to satisfy his curiosity.
"Are there any people left in Buffalo?" he asked the table of Bills fans.
A pleasant chat ensued with some good-natured trash talk. 
It ended with a rather obvious observation about Bills fans on the road. Does everyone wear Bills stuff all the time, the guy asked.
"Y'all have got a lot of gear." 
Bills fans riding high after Chiefs game
Infused into the air of an already intoxicating experience in Nashville is the fact the Bills are coming off perhaps the biggest regular season victory in a generation, having dismantled the vaunted Kansas City Chiefs before a national audience on "Sunday Night Football" a week ago.  
And with back-to-back prime-time spotlights, the Bills fans in Nashville are, of course, hoping for a repeat performance. 
Several fans, asked why they chose this game to turn into a Bills-cation, said it was the destination, more than the team.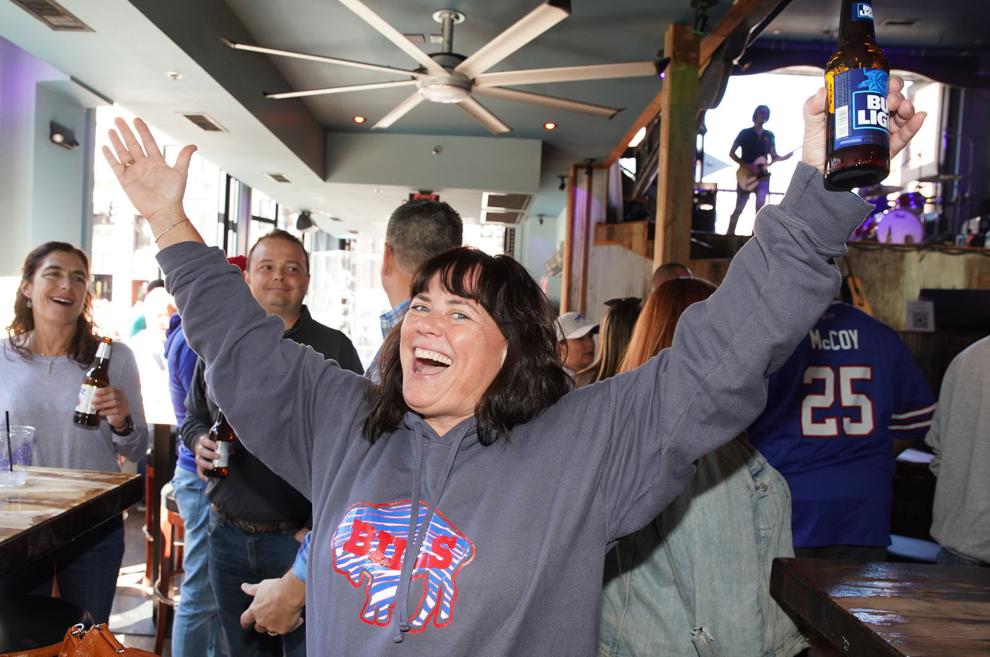 Nashville is, after all, a fun place to visit. 
But the team's performance is never far from mind.
"We travel well," said Nick Weston, a Rochester native who recently moved to Austin. 
Weston was meeting a friend, Trevor Herb, who decided to have his bachelor party in Nashville. 
"When you have the chance to come to Nashville, you don't miss it," he said. 
The Bills' recent success, paired with the end of a generational playoff drought, made this a can't-miss opportunity, he said.
"You got through a 17-year drought and then you get the opportunity to see something that means something," he said.
Don't tell the boss I'm at the game
If workplaces and classrooms seem a little sparsely attended, and if Buffalo's usual Monday morning commute seems a little smoother, employers can draw their own conclusions. 
Such was the case for Tracy Rabey of East Aurora, and untold others. She and a group of friends had made what was, for Rabey, her fourth trip to Nashville for a Bills game.
Oddly enough, she'd done it enough times before that she hadn't even bought a ticket to the game. The pregame party was incentive enough.
Asked her name after an interview, Rabey hesitated. "My work doesn't know I'm here," she confessed. "It's fine," she said after a moment. "I used personal time. If anyone asks, my daughter was looking at Vanderbilt."