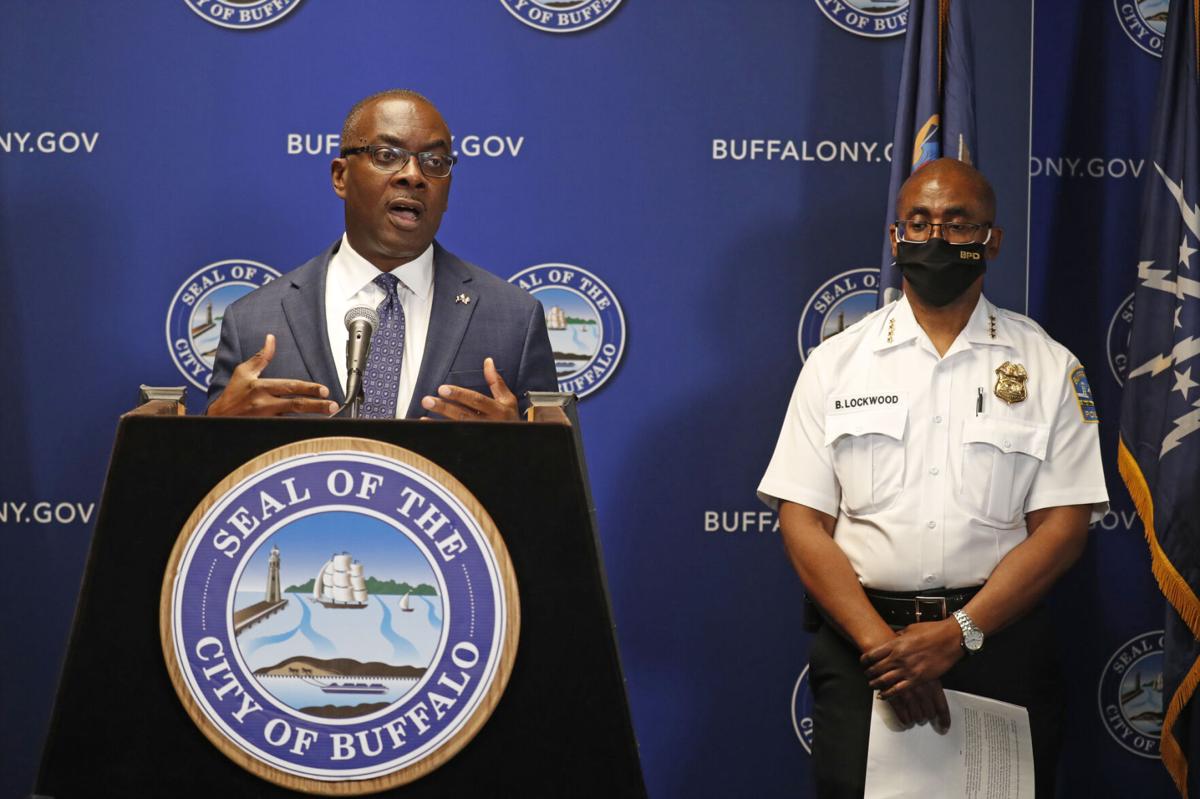 Promising to continue "strong leadership during the most challenging times" in Buffalo's history, Democrat Byron W. Brown said Monday that he will run for an unprecedented fifth term as mayor of New York's second largest city.
He said he will make the formal announcement on Thursday.
Brown, the Queens native who has called the city home since his collegiate days at SUNY Buffalo State, told The Buffalo News that he will seek the endorsement of the Democratic Party on Thursday, confirming the long held open secret that his campaign seeks to break the current four-term record he shares with the late James D. Griffin.
Unlike previous elections when he emphasized renewal and construction cranes working on new projects throughout the city, Brown said he will campaign in 2021 on his record of guiding Buffalo through the Covid-19 pandemic and offering a "blueprint" for emerging from its ravages.
"My approach will be to emphasize the importance of recovering from the pandemic, and the steps we will take to help individuals, small businesses, not-for-profit organizations, business in general, renters and homeowners," he said.
He added that he believes city government has "been a constant and a safety net" during almost a year of hardship.
"We believe that as we emerge from the pandemic, having the stability and the steadiness and 'innovativeness' to do that will be a major issue," he said.
Brown may face the smoothest path to victory this year than in all his citywide campaigns dating to 2005. He faces no major challenge from any well-known Democrat, nor from the Republicans or any prominent minor party candidate. He expects to mobilize his experienced and battle hardened political team, gain the Democratic endorsement with all its political advantages and raise enough money to compete.
And he will argue that Buffalo has held its own at a time when the pandemic has ravaged its downtown core and left many of its poorest citizens struggling to find work.
"We haven't raised taxes, we haven't cut city services and we haven't laid off a single city employee," he said. "Very few communities across the country can say that."
The goal now, he said, is to not only recover, but regain much of the renewal progress the city has noted in recent years.
Still, the mayor launches his campaign underneath one dark cloud – an ongoing federal investigation into the administration of some city contracts. The News reported in November that the grand jury had received testimony about campaign donations to Brown and a Lewiston company's waste disposal contracts with the City of Buffalo.
Indeed, FBI agents raided City Hall in late 2019 and removed vanloads of records from the city's Office of Strategic Planning and the Buffalo Urban Renewal Agency. But the mayor reiterated Monday that he still has no knowledge of why the FBI took the records, that he has not retained a lawyer, does not know of any staffers hiring lawyers and is unaware of any wrongdoing.
"No one has spoken to me, and I have not been informed of any staff members that have been spoken to by anyone," he said of possible contact with law enforcement. 
"I don't think voters should be concerned about it," he said. "I certainly don't believe it will be an issue in the campaign."
When asked if he could "guarantee" voters that he will not be implicated in any aspect of the federal probe, he said: "There is nothing that I know of that I think the voters need to be worried about as it relates to me. I can assure the voters I have never done anything wrong in this capacity as mayor.
"That's kind of pretty much a guarantee," he added.
The mayor's launch of a fifth campaign arrives just as Erie County Democrats are poised to bestow their endorsement on Thursday evening. Though Chairman Jeremy J. Zellner last fall raised questions about backing Brown, he now says the party is on board.
"At that time we wanted the mayor to know this was not necessarily a slam dunk," Zellner said Monday. "Since then, we've both been committed to working together and to getting him elected."
The chairman said it is clear that Brown remains "incredibly popular" among Buffalo voters, adding that while announced candidate India Walton has asked to appear before the party's executive committee on Thursday, she will not receive the endorsement.
"I don't see a lot of support on the committee for her, but we want to hear her out on Thursday," he said.
It also appears that Zellner will expect Brown's substantial political machine to work on behalf of party-nominated posts such as sheriff and county comptroller.
A familiar figure at police protests who has also spearheaded Fruit Belt revitalization efforts is lining up to challenge four-term incumbent Byron Brown.
Walton, meanwhile, continues to gear up for her own mayoral effort. She said Monday, though invited to appear before the Democrats' Executive Committee on Thursday evening, she fully expects the party to choose Brown.
Walton "absolutely" promises to launch a June primary challenge, however, and strongly hinted that she expects to gain the Working Families Party nomination and compete in the November general election. Working Families is expected to endorse its candidate slate Tuesday evening.
"I'm in it for the long haul," she said, adding that her campaign has begun to organize and raise money.
The former nurse and executive director of the Fruit Belt Community Land Trust said she will attend the Democrats' Thursday meeting with realistic expectations.
"I'd like to believe that this will be a fair process and they will hear me out," she said. "But I've also been around long enough to know how entrenched Buffalo politics are."
A community volunteer and small-business owner who has worked in City Hall is running for Buffalo mayor.
Walton said she has a "fighting chance" of gaining the Working Families endorsement, which could reflect the widening rift between the minor party and Democrats on the statewide level.
So far, the city's tiny Republican Party has no candidate, according to Buffalo GOP Chairman Andrew Pace. Democrats outnumber Republicans in Buffalo by about 7 to 1.
"We are committed to finding candidates that reflect all four corners of the city and who are viable," Pace said, "but to date we do not have a candidate."