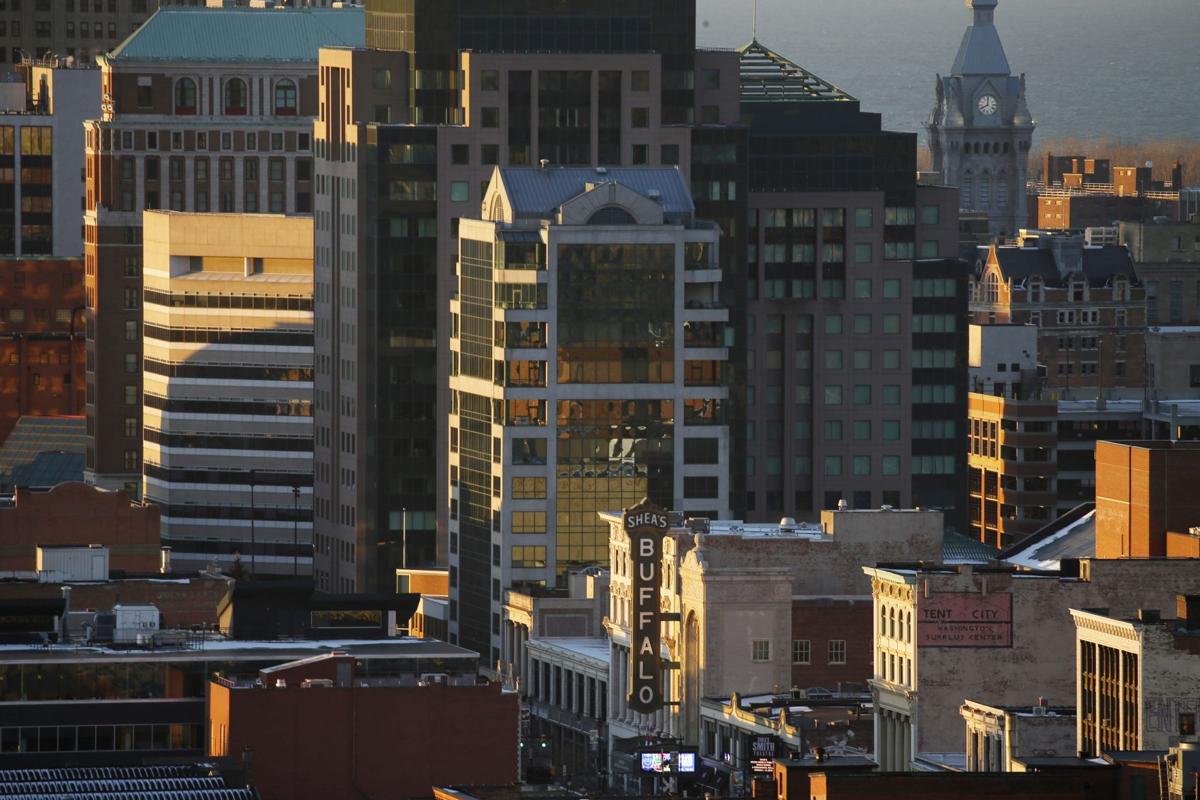 The census provides a fascinating, once-a-decade glimpse at how the region and the country are changing – and as the first local data show, both are changing quite a lot. Buffalo and Erie County are growing for the first time in decades, even as other cities and counties across upstate New York continue shedding population.
Future releases from the 2020 census will tell us even more about the state of the region. How are family structures changing, for instance? Which places are getting older or younger? Here are five top-line revelations from the 2020 census results we have so far.
1. The white population is shrinking
Both the number and percentage of non-Hispanic white Western New Yorkers have consistently fallen for decades. The last decade's drop looks particularly dramatic, however, when compared with the strong growth in populations who identify as Black, Asian, Hispanic or some other ethnicity or race. If not for growth in those populations, both Buffalo and Erie County – which grew by 6.5 and 3.8%, respectively – would have shrunk yet again. Erie County's white population fell by more than 41,600 people between 2010 and 2020; Buffalo's fell by almost 15,000 residents.
The reasons for this drop are multifaceted and playing out across the country. In fact, this year's census was the first to find that the white population is falling nationally. Differences in birth rates play a major role in shifting demographics, as do aging and migration.
In Erie County, smaller shares of the white population report moving in from another county or state – and the median age for a white resident is roughly 10 to 15 years older than that of a resident who identifies as Black, Asian or Hispanic. The census has also changed the way it words questions about race and ethnicity, giving people who may once have checked the "white" box more options for describing their identities.
2. Sprawl is still happening
Sprawl describes new development along an urbanized area's outer fringes: think Pendleton, Orchard Park, Lancaster or Clarence. These neighborhoods, often subdivisions, promise new, high-amenity homes, larger lots and good schools for the people who move to them. But for the region as a whole, sprawl has posed serious environmental, economic and social challenges since at least 2003, when it was the subject of a major report by the Brookings Institution.
This census showed some reason for optimism, though sprawl hasn't exactly disappeared. Population density in Erie County increased from 881 people per square mile in 2010 to 915 a decade later, a sign that more people are choosing to live in already-developed areas.
But density decreased in Niagara, Chautauqua, Cattaraugus and Allegany counties, and there are some areas – particularly at the southernmost edges of Erie County and the northernmost edges of Niagara – where the number of housing units increased without any corresponding population growth, according to an analysis by the Cornell University geographer Russell Weaver.
3. Buffalo outperformed its peer cities
Buffalo's population growth rate, at 6.5%, outperformed every other major city in upstate New York – and came third only to Columbus, Ohio, and Ann Arbor, Mich., among medium-to-large Rust Belt cities. By comparison, Rochester, Syracuse and Albany each grew at less than half that rate.
But metropolitan areas did well in this census – Cincinnati, for instance, also reversed a 70-year population slide over the past decade. Nationwide, cities with more than 100,000 people grew by 9.1% on average, according to the Census Bureau, while smaller cities grew by only 4.1%. For the first time, each of the country's top 10 largest cities also claim more than 1 million residents. But the timing and design of this census means it may not have captured some moves related to the Covid-19 pandemic.
4. Rural New York continues to decline
If cities did well this census, rural towns and villages continued to suffer. In Erie County, that rural population loss was starkest in Collins, Alden, Brant and Evans, which contracted by between 6% and 11%. The picture was much the same in Niagara County, which lost hundreds of residents in places like Hartland, Newfane and the Town of Niagara. And Allegany, Chautauqua and Cattaraugus counties all shrunk by 4% to 5.4%, mirroring similar shrinkage not only across New York State, but much of rural America.
Nationally, 86% of Americans now live in urbanized areas with populations of more than 50,000 people, according to a New York Times analysis of census data. An additional 8% live in areas with populations between 10,000 and 50,000 people.
5. Western New York is growing more diverse
Buffalo regularly ranks near the top of national "most segregated city" lists, and the region as a whole doesn't perform much better. But while residential segregation remains endemic here, there are some signs that the City of Buffalo, as well as Erie and Niagara counties, are becoming both more diverse and better integrated.
There are a number of ways to measure diversity. One of the most popular involves calculating the probability that two people chosen at random will not share the same racial and ethnic identification. In every county in the five-county region, and in several major municipalities, including Buffalo, Cheektowaga, Tonawanda and Niagara Falls, that measure increased markedly between 2010 and 2020. Future analysis will need to consider other measures of diversity and segregation to better understand these changes: how are different communities clustered now versus in 2010, for instance.