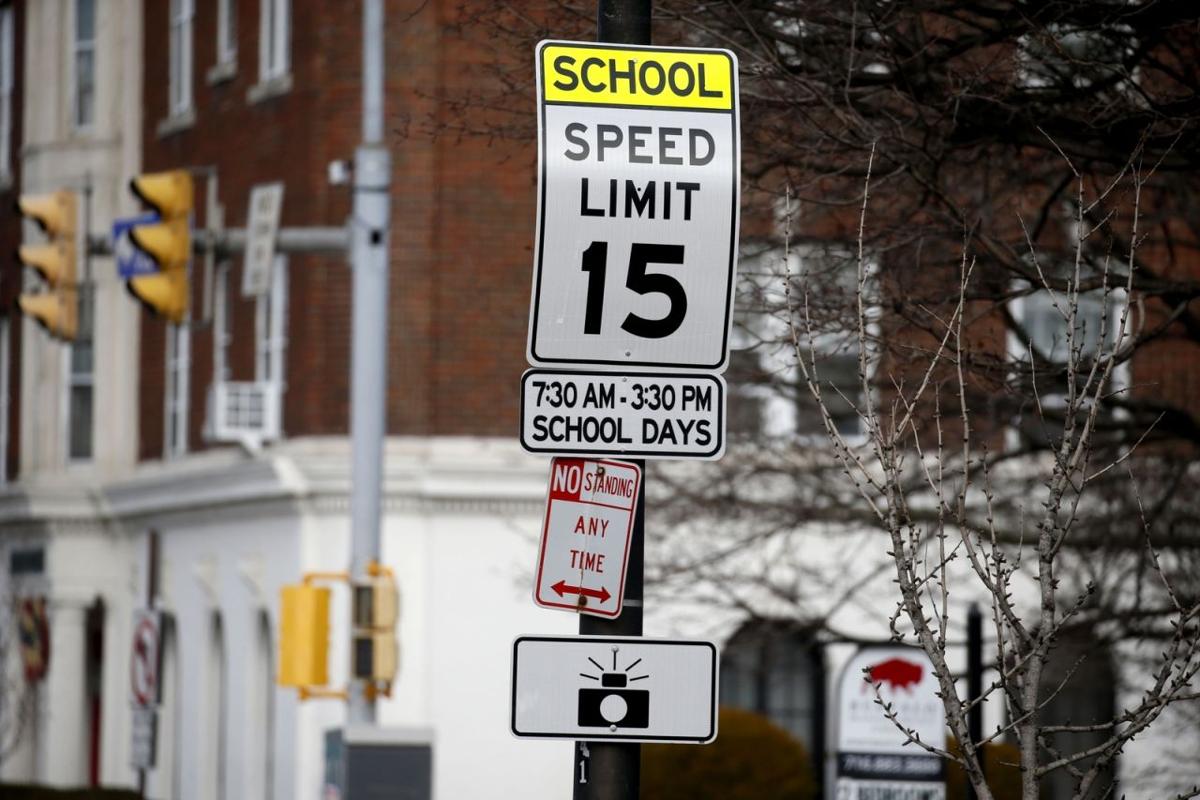 After at least two lawsuits, accusations of a money grab by the city and more than a year of conflict between the Common Council and Mayor Byron W. Brown, the last school zone speed camera in Buffalo has been turned off.
The move followed what Brown described as a "passionate plea" from University Council Member Rasheed N.C. Wyatt in a Facebook post Thursday.
"We saw University District Council Member Rasheed N.C. Wyatt's passionate plea on Facebook Live to turn off the final school zone safety camera, located in his district on Bailey Avenue, at the Buffalo Promise neighborhood site," Brown said in a statement. "After watching Council Member Wyatt's plea, this final camera has been turned off. All other school zone safety cameras have already been turned off."
In his social media post, Wyatt, who spearheaded the effort to remove the speed cameras, blasted Brown for leaving one camera activated. His video had more than 800 views Thursday afternoon.
"There's only one camera left on, and it's in the University District. Why is that? Because I'm standing up for the people in my district who said they didn't want these cameras, that these cameras were unfair to them, and I stood up, so you attack me and my residents?" Wyatt said in the post.
Wyatt told The Buffalo News that turning off all the cameras is a good first step, but there is still work that has to be done to keep people safe.
"I'm happy because ... the will of the people is now done," Wyatt said, referring to the deactivation of the speed cameras. "But we're not finished because we still have those nonpunitive measures that we promised parents and children that we would put in place before the next school year. We have to still make sure we make good on our promise that we're going to make sure they're safe and so I don't want to lose sight of that, that we want to continue to make sure our school zones are safe for children and families. And we start by making sure that the crosswalks are clearly marked, and we start putting the speed readers in place and speed humps where they're appropriate."
Brown spokesman Michael J. DeGeorge said Thursday that the cameras will not be issuing citations for speeding infractions going forward, but they may be used for traffic data analytic purposes.
The School Zone Safety Program set a 15 mph speed limit around 20 public, private and charter schools. Drivers captured on camera traveling at least 26 mph received citations mailed to the car's registered owner. The city got $36 of each $50 citation. Sensys Gatso, the camera company that issued the citations, received $14. The cameras were activated only around arrival and dismissal times.
But in late May, the Council approved legislation by a veto-proof majority to end the use of speed cameras, replacing them with radar speed signs and nonpunitive traffic calming measures such as speed humps. The new legislation also changed the school zone speed limit from 15 mph to 20 mph and requires the city to place "school" pavement markings and crosswalks by schools.
The Council approved the speed camera contract in 2019, but the program drew criticism that it was poorly rolled out and executed. Others complained that the program targeted the city's most impoverished residents because the cameras were in high-poverty, minority neighborhoods.
But Sensys Gatso, the Brown administration and some residents have said that the program saves lives. About half of the citations were issued to people who live outside the city, according to a March 29 report from the camera company. And the cameras had increased compliance by Buffalo drivers to 82% since February 2020.
The 2020-21 city budget, which ended June 30, included $2.3 million in expected revenue from the speed camera program. In May, the administration said the revenue generated was $1.84 million.
The Council voted twice this year to end the speed camera program. Brown neither signed or vetoed the second legislation, so it became effective automatically.
In February, Homestead Repair and Renovation, of Amherst, filed a class-action lawsuit against the city challenging the constitutionality of the city's operation of a photo speed violation monitoring system. The following month, attorney Kevin Stocker filed a lawsuit in State Supreme Court on behalf of himself and 53 other ticketed drivers, claiming the drop to 15 mph originally in the school zones from 30 mph outside the zones creates a dangerous condition, based on traffic engineering safety studies.