ALBANY – At a state budget hearing this month, a senior aide to Gov. Kathy Hochul was asked about a sensitive subject: When the Christmas blizzard that claimed the lives of 47 people was bearing down on Western New York, why wasn't a driving ban issued earlier?
The questioner, State Sen. George Borrello, noted that by the time driving was barred on Friday, Dec. 23, some people had gone to work. For days beforehand, he noted, a powerful storm had been predicted, yet Erie County announced a travel ban only around 8:45 a.m. that day, taking effect 45 minutes later. By 10 a.m., whiteout conditions had begun and conditions quickly deteriorated.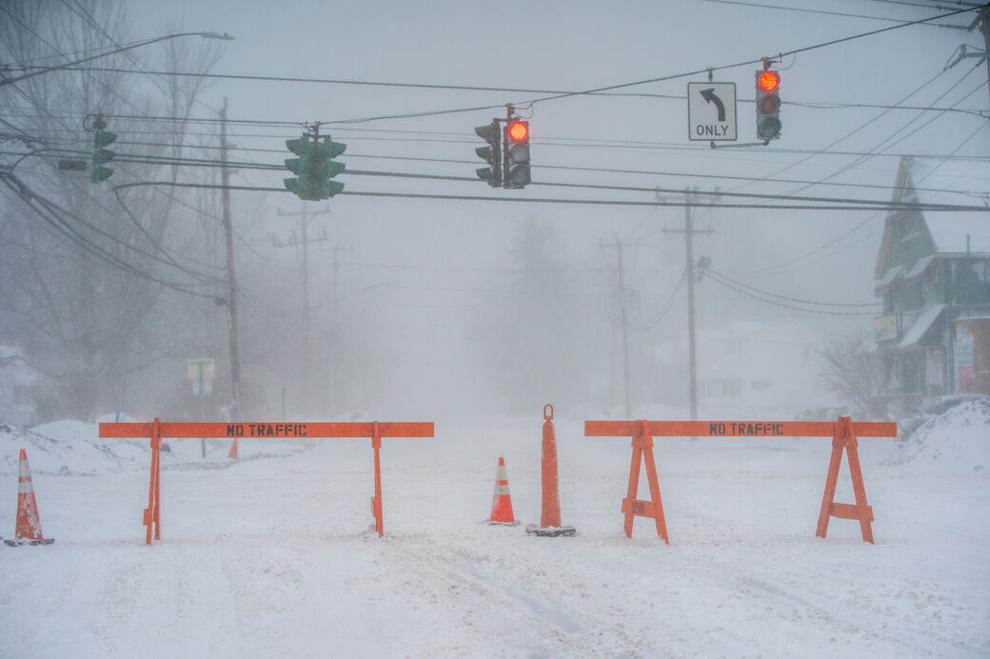 "I think that certainly hamstrung peoples' ability to safely get home," Borrello, R-Hanover, said at the hearing.
But Jackie Bray, commissioner of the State Division of Homeland Security and Emergency Services, responded that the Hochul administration had not had the legal authority to shut down local roads in Erie County.
"Those decisions are brutally tough decisions," Bray testified before a joint Assembly and Senate budget committee. "And obviously, in this state, they're delegated to the counties and the localities. So the state, we don't have decisional authority there."
Yet officials from former Gov. Andrew Cuomo's administration say Bray's position is demonstrably false. 
On 14 occasions, Cuomo granted himself authority to take control of local roads during emergencies.
Melissa DeRosa, Cuomo's former secretary, argues that during storms, exerting such top-down authority allows for a single, coordinated response by government. That is superior, she said, to disjointed driving bans issued by various elected officials, the situation that to some degree unfolded during the Christmas blizzard. On Dec. 23, state routes closed to all traffic in the early morning, Erie County roads in the midmorning, and the state-controlled Thruway not until the afternoon.
Of the 47 people who died during the blizzard, 18 were found outside, while four were found in vehicles. At least one instance involved a person returning home from work: Anndel Taylor, a 22-year-old nurse assistant at a nursing home in East Aurora.
Taylor left work at 2 p.m. Dec. 23 – while driving bans were in effect – and her vehicle became stuck just six minutes from her Buffalo home, a blizzard raging around and emergency responders unable to perform a rescue. About 30 hours after she became stuck, Taylor was found dead in her vehicle.
"So many lives probably could have been saved if they put the travel ban in the night before," Taylor's stepmom, Laneesha Smith, told the New York Post.
Attention has since primarily focused on the actions of local elected officials during the storm, spurred by a spat between Buffalo Mayor Byron Brown and Erie County Executive Mark Poloncarz, who on Dec. 28 called the city's slow storm cleanup "embarrassing."
At that same briefing, Poloncarz also took responsibility for the timing of his driving ban.
"I'll take it," Poloncarz said. "I'm the one who has to sign the order."
Local roads, not state-controlled highways and routes, were where the outdoor fatalities occurred during the Christmas blizzard.
But in an interview in January, Poloncarz also repeatedly noted that the state had shut down the I-90 later than he issued his ban. He said that when making his own decision, he was keeping a close eye on what the state was doing.
On Dec. 21, the National Weather Service predicted a "once-in-a-generation event" in Western New York – and said anyone planning on traveling should do so ahead of Dec. 23.
At a news conference Dec. 22 in Niagara Falls, Hochul predicted the storm would be "horrific" and the next morning's commute "treacherous."
At that time, she declared a full travel ban on state routes that are overseen by the state Department of Transportation, such as  I-190 or Route 400. The ban on all traffic for those state routes was effective at 6 a.m. on Dec. 23.
Hochul also announced a commercial vehicle ban starting at 6 a.m. Dec. 23 on the state Thruway, also known as I-90, and her administration promoted the ban using electronic traffic signs. The Thruway Authority, however, did not ban small vehicles on the I-90 until 2 p.m. Dec. 23.
Concerning Hochul's 6 a.m. closure of state routes, Poloncarz noted that it was a "soft closing," where the gates barring traffic were not put down.
"You talk to everybody, you hear what the Thruway authority is doing, what the (Department of Transportation) is doing," he said. "And we were getting word that the 190 and the 290, the 990, were going to be shut down. But what they did was a 'soft shutdown.' They didn't put the gates down. So they were announcing that it was closed, but everybody knew it was open."
After a 2010 storm left hundreds of people stranded on the Thruway, the state installed gates at seven entrances. Four years later, after the 2014 storms, the state installed more gates to prevent drivers from violating bans and getting stuck.
The Hochul administration said gates were put down on state routes overseen by the Department of Transportation around 9 a.m. Dec. 23. 
Poloncarz issued his driving ban for Erie County at 9:30 a.m., 30 minutes before widespread whiteout conditions began.
Poloncarz was watching what the state was doing. He also wanted to give employees working an overnight shift enough time to get home. 
"We didn't want to do it too early, so it's basically one of these Chicken Little situations where people are like, 'Oh, see? He's just exercising his tyrannical power to issue a driving ban when it's 45 degrees and raining,' " Poloncarz said during the January interview.
Other local officials, including Brown, also had authority to issue driving bans. But Buffalo did not take that step until after Poloncarz barred driving across Erie County.
After issuing his ban, Poloncarz said, he was contacted by the Thruway Authority, which had concerns. The state was continuing to keep the 90 open to non-commercial traffic.
"The Thruway Authority folks are reaching out to us saying, 'Well, the Thruway is still open, so people can't get off and on and in Erie County,' " Poloncarz said. "They tried to keep it open for regular vehicles as long as they could."
The state did not issue a total ban on the Thruway until 2 p.m, four-and-a-half hours after Erie County's.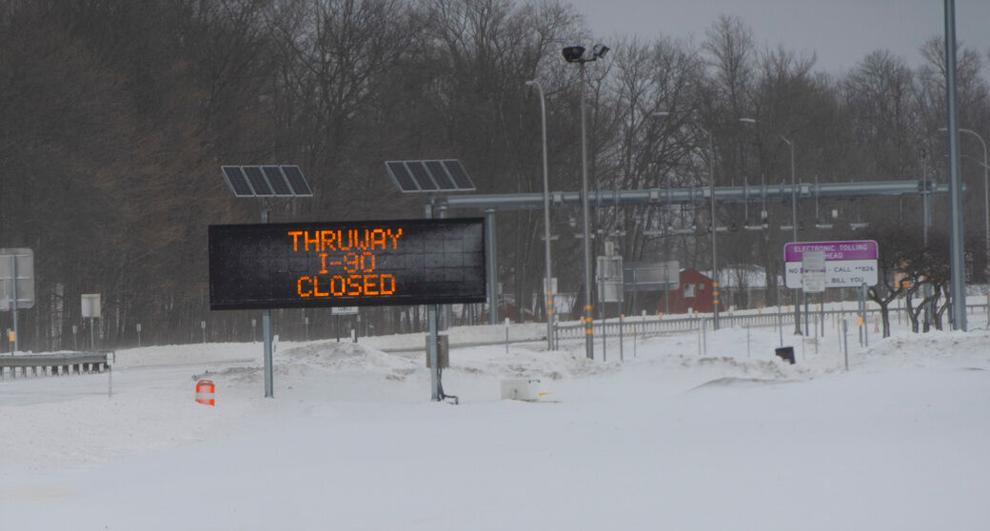 "We thought they were going to close the Thruway down, totally," Poloncarz said. "They said, 'No, we're keeping it (open) for smaller vehicle traffic. It's the holidays. We gotta do it.' And then they didn't shut it down until around 2 p.m.' "
The Thruway gates went down around 2 p.m.
In 2011 – during Cuomo's tenure – several state agencies adopted a joint, written policy concerning Thruway closings that remains in effect. The policy is that the Thruway should not be pre-emptively closed "prior to an incident occurring."
The Thruway Authority "tries to maintain a safe and passable highway as long as conditions permit," said Hochul's press secretary, Hazel Crampton-Hays. 
She said the 6 a.m. commercial vehicle ban on the Thruway had helped "tremendously" because it lowered traffic volume, and was implemented far earlier because those vehicles pose a greater risk.
Crampton-Hays also addressed why the state-controlled Thruway closed completely at 2 p.m. on Dec. 23, while routes overseen by the state Department of Transportation, another Hochul administration agency, shuttered eight hours earlier.
Crampton-Hays said the policy of staggering closings was standard procedure, "intended to ensure that there was not a hard stop on the roads causing people to be stranded or clogging local roads."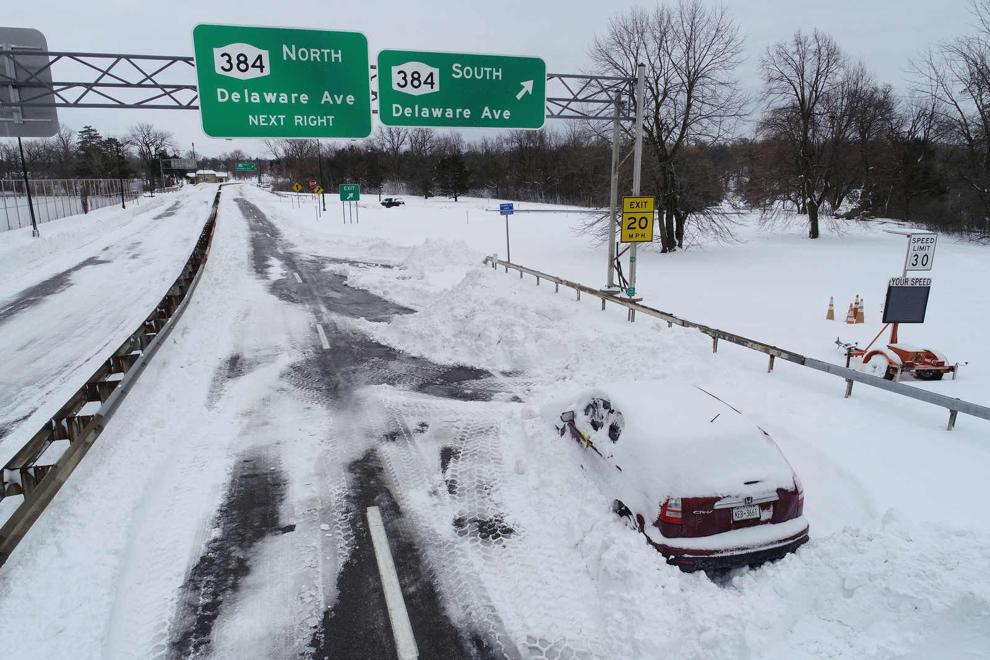 During Cuomo's tenure, the governor repeatedly gave himself the power to issue driving bans on local roads.
But Bray, during her recent testimony, said that authority rested with local governments alone.
Neither side disagrees that Section 24 of state Executive Law grants the "local" chief executive authority to issue travel bans on local roads.
Where Bray's agency parts ways with former Cuomo officials is over another section, Executive Law 29-A.
Echoing Bray's testimony before the Legislature, a spokesman argued that 29-A does not give the governor power to close local roads.
"Executive Law 29-A allows for the suspension of laws. However, it does not create authority that did not previously exist," said Colin Brennan, a spokesman for the state Division of Homeland Security and Emergency Services.
But 29-A does not just address the governor's suspension of local laws; it also provides for the "alteration or modification" of local laws when the governor declares a state of emergency.
When Cuomo issued his 14 executive orders taking control of local roads, they noted the law allowed him to "suspend or modify specific provisions of any" of local law if compliance would "hinder or delay action necessary to cope with the disaster."
The orders then stated Cuomo was modifying Executive Law 24 – the provision giving local officials control over traffic laws – then modifying various local traffic laws to regulate the movement of vehicles on "roads, highways, and streets."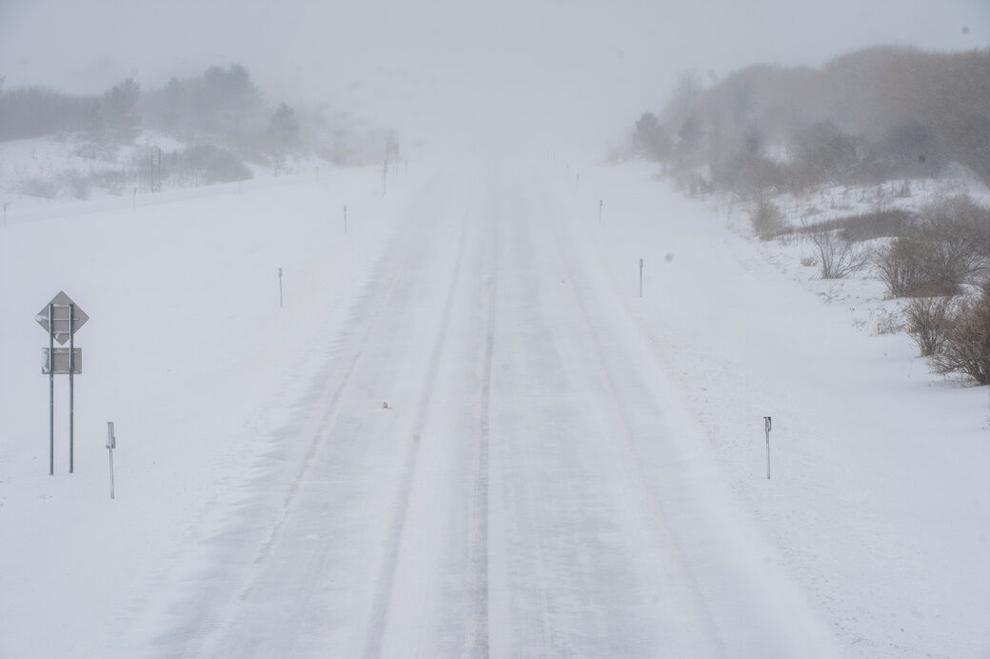 A day before the Christmas blizzard, Hochul's administration seemed to agree that the governor could modify local laws during an emergency. She issued an executive order with identical introductory language to that which Cuomo had used in his 14 orders.
In Executive Order No. 26, Hochul wrote that by "virtue of the authority vested in me by Section 29-a of Article 2-B of the Executive Law to temporarily suspend or modify" any "statute, local law, ordinance, order, rule, or regulation" she would "temporarily suspend or modify" various laws.
Unlike Cuomo's executive orders, Hochul's did not then include a provision assuming control over local traffic laws. 
In a prepared statement provided to The News, Hochul's office did not make the argument Bray had put forward, that the governor lacks authority over local traffic laws.
Instead, Crampton-Hays said that for the governor to suspend or modify laws, it must be "necessary" to cope with a disaster, and that Hochul had been carefully exercising her executive authority.
"Any modification or suspension must be 'reasonably necessary to the disaster effort,' and provide for the 'minimum deviation from the requirements' of the law to be suspended or modified," Crampton-Hays said. "The Governor works to ensure that executive orders are narrowly tailored to meet these requirements."
DeRosa said the 2014 "Wall of Snow" storm in Buffalo was a formative, learning experience for Cuomo.
That storm, which paralyzed the Southtowns, killed 13 people.
On Nov. 18, 2014, about 150 trucks and cars were stuck on the Thruway, some for 24 hours or more. Cuomo was criticized for reacting too late, not shutting down about 100 miles of the Thruway until heavy snow had begun. 
Yet the lessons Cuomo learned in 2014 were not broadly shared with the public. In the blizzard's wake, the Cuomo administration said an "after action report" would be compiled examining the state's handling of the storm.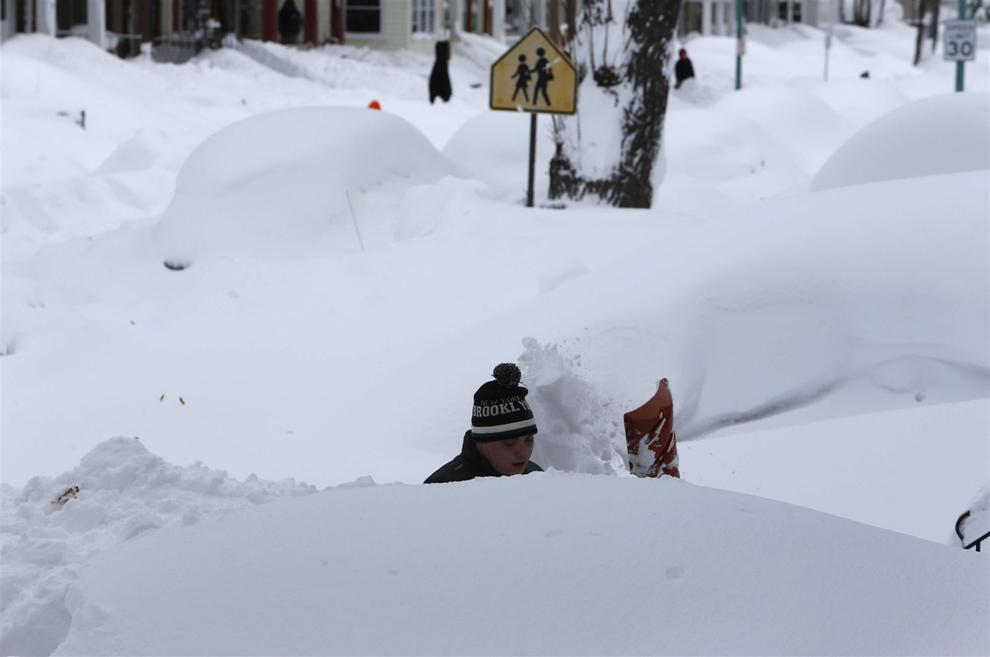 At a January 2015 hearing, the acting executive director of the state Thruway Authority, Robert Megna, said he expected the review to be finished "soon," and that it would be shared with state lawmakers.
In late 2015, WGRZ-TV went to significant lengths to try and obtain a copy, but reported that it did not exist. Cuomo's office at the time would not comment, and this week, former officials said they did not recall why no report was apparently finalized. Bray's agency says it has no record that such a report exists.
Cuomo did, however, change his approach to major weather events. Before the November 2014 storm, Cuomo had issued more than a dozen executive orders responding to weather disasters. None contained a provision giving him authority over local traffic laws. That changed after the Wall of Snow.
The first storm Cuomo confronted came in late January 2015, when a storm bore down on New York City and surrounding counties. For the first time, his executive order included the language allowing him to assume control over local roads, and Cuomo used that order to shut down all non-emergency traffic in 13 downstate counties, effective 11 p.m. on Jan. 26, 2015.
"That's a travel restriction for all roads: State roads, local roads city roads, town roads," Cuomo told reporters. "This is a serious situation. If you violate this state order, it's a possible misdemeanor, it's fines up to $300."
That storm turned out to be less severe than expected, and led to complaints that the state had overreacted. But Cuomo stood by the decision.
"We decided not to close the roads in Buffalo several weeks ago," Cuomo said. "We then had seven feet of snow. We had people stranded on roads for 12, 15, 20 hours. You can have a significant loss of life in these situations."
"My attitude is that if there's a lean one way or the other, lean towards safety," Cuomo said. "Because I've seen the consequences the other way."
Cuomo implemented other changes centralizing storm response under state control. In 2015, Cuomo announced a new disaster response system that established clearer lines of communication and authority between the state and local emergency management responders.
The rest of his governorship, Cuomo routinely gave himself the power to regulate local roads during storm-related emergencies.
In her testimony earlier this month, Bray noted the storm's truly historic nature: It was the "longest blizzard in the continental United States history below 5,000 feet of elevation."
But Bray said she was cognizant that an internal examination is needed following the 47 fatalities, and said an "after action review" would be conducted by an outside firm engaged by the state.
"I expect that they will identify areas for improvement," she said. "I think the state did a good job. But I'm really clear-eyed and conscious of the fact that anytime that many people die from a natural disaster, you have to look seriously what can be done better."
News Staff Reporter Sandra Tan contributed to this article.