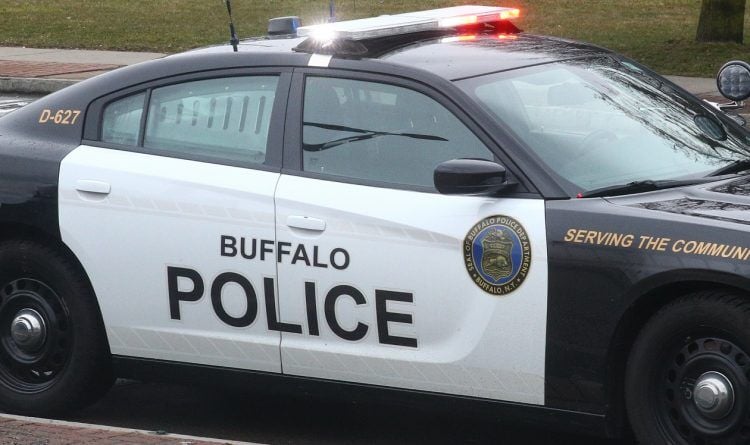 A Buffalo police school resource officer is in critical but stable condition after testing positive for Covid-19, according to two police sources.
The officer, who is 65, is in a medically induced coma in the intensive care unit at Erie County Medical Center. He has also been diagnosed with pneumonia, one of the sources said.
In addition to him, three other Buffalo police officers have tested positive for Covid-19, according to Buffalo Police Capt. Jeff Rinaldo.
The department patrol vehicle that the hospitalized officer used has been sanitized and the office utilized by resource officers has also been disinfected. That office is situated in School 131, an alternative high school on South Park Avenue.
The officer "is one of the most respected veteran officers and dedicated to the job. He could have retired a long time ago, but he chose to serve," the other police source said Wednesday.
Police union officials have said two of the other three cases are believed to involve officers who work out of the Ferry-Fillmore District, also known as C District.
Buffalo police officers have been distributed masks that they can offer to people they are interacting with if they believe they could be infected, said Buffalo Police Benevolent Association President John Evans said.
The officers also have been given gloves and hand sanitizer, which were distributed Tuesday.
Evans said the officers are now hoping to be provided wipes for cleaning their cellphones, computers and other equipment that's used.
While the city has reported overall crime is down, Evans said, they are still happening and officers must still respond.
"There are still shootings," he said. "There are still domestics and assaults."
Discretionary calls are going by the wayside, he said.
In the meantime, officers are still riding two to a car, which Evans called "a problem."
He added: "You can't do social distancing when they are riding two in a car. You're a foot away. That's five feet short of a threshold."
During his daily update on the city's response to the Covid-19 pandemic Wednesday, Buffalo Mayor Byron W. Brown said the city received 15 unmarked police vehicles through both lease and purchasing from Enterprise car rental. Buffalo Police Capt. Jeff Rinaldo said the vehicles will be transitioned into the detective divisions and vehicles from those divisions will be given to uniformed, non-call respond units within the police department.
"So the goal with the arrival of these cars is to put more cars into each patrol district, which will allow us to separate officers into greater numbers moving forward," Rinaldo said.
Rinaldo said the police department, in concert with public works, is taking extra measures to sanitize police vehicles and buildings. He also noted that 10 officers are under mandatory quarantine.
"We're following (Centers for Disease Control) guidelines for law enforcement, as well as for other first reponders," Rinaldo said.
"If an officer is under the weather, showing signs of a cough or sneezing – especially if they have a fever – they're asked to stay home," he added.
Rinaldo said the department is also making sure to keep there is a consistency with officers partnering each other to help prevent the spread of the virus.
"That way, we're not switching different people every day of the week," Rinaldo said.
The rank and file are annoyed that protective supplies for them did not come sooner. "But nurses and doctors didn't have them either, so what are you going to do? Everyone got caught flat-footed there," Evans said. "Hopefully, they learn from it."
In another development, a police official said the department is expected to receive a donation of 1,000 bottles of hand sanitizer from a retired police officer in the coming days.