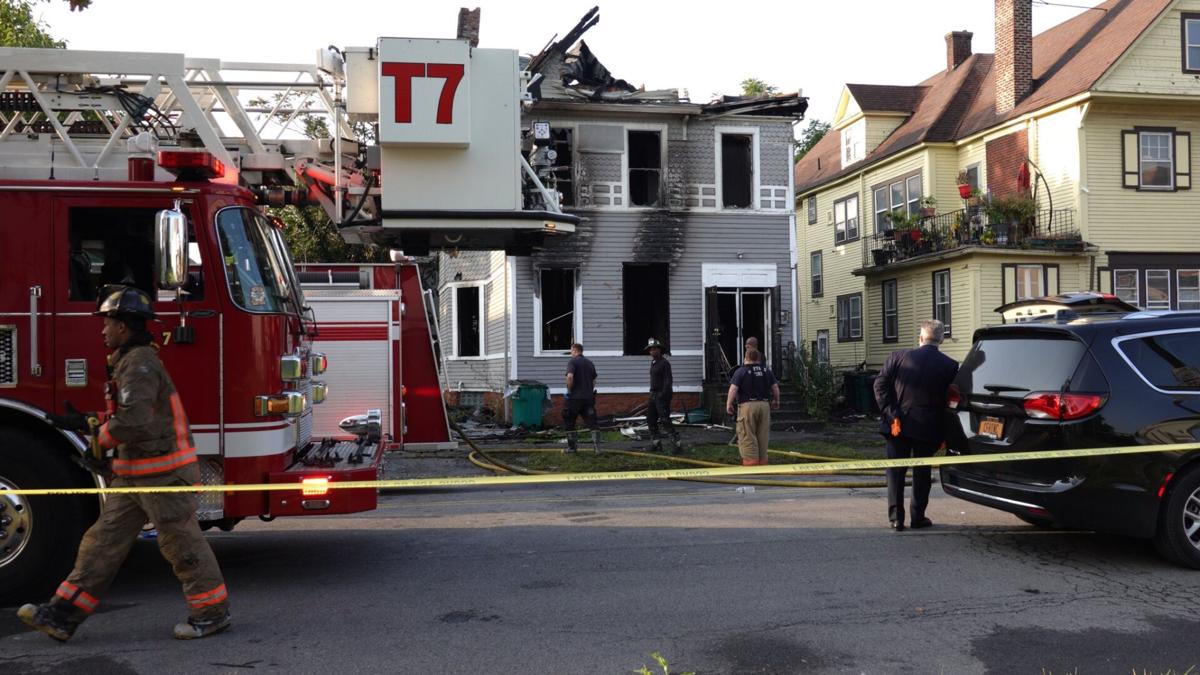 As law enforcement and fire officials continue a yearlong investigation into a Buffalo house fire that killed a mother, father and their baby, a relative says the three would be alive if the landlord, a Buffalo police lieutenant, had installed smoke and carbon monoxide detectors.
"My son told me he asked the landlord several times for smoke and carbon monoxide detectors, but he never responded to any of my son's calls. If he had gotten on it, my son and granddaughter and her mother would be here today," Ruth Gouchie said.
Anthony Gouchie, 25, his girlfriend, Emma Johnson, 28, and their 1-year-old daughter Amira Gouchie – two days shy of her second birthday – died in a middle-of-the-night, two-alarm fire at 57 E. Utica St. on Sept. 25, 2020.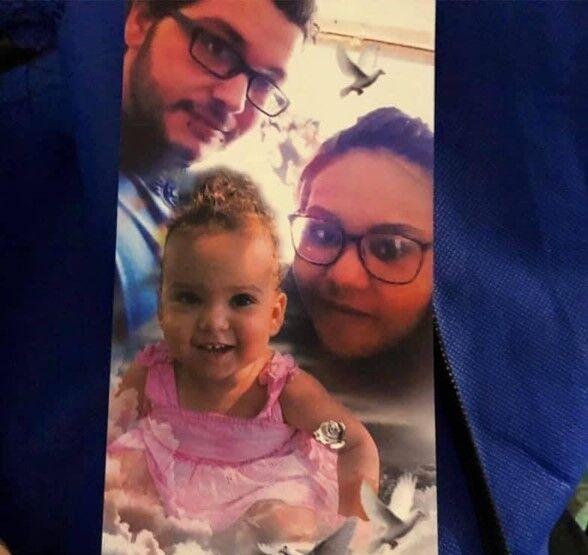 Anthony Gouchie's parents raised two issues: 
What caused the fire and was it intentionally set? Law enforcement officials are still investigating the cause but said they have identified "a person of interest." 
Should the landlord be cited for not having smoke and carbon monoxide detectors in the property? Fire officials said they aren't focusing on that. 
Fire Commissioner William Renaldo said their initial investigation determined there was no evidence of detectors at the apartment. The devices are required by state and local building codes.
Ismail N. Lewis, who works as a police lieutenant in the Northwest District, has been identified by three law enforcement sources as the landlord of the building. Property and business records show that Priority One Realty owns the building and Lewis is the company's chairman.
The cause of the fire is unknown and under investigation, he said. So is the cause of a car fire that started near the house.
When contacted Wednesday, Lewis said he could not talk and promised to call The Buffalo News later. He never did. Lewis did not respond to subsequent messages from The News. 
Two law enforcement sources, speaking on a condition of anonymity, said that no criminal charges are being considered against Lewis at this time. 
City code enforcement officials did not respond to calls and emails from The News asking if they had taken action over the lack of detectors.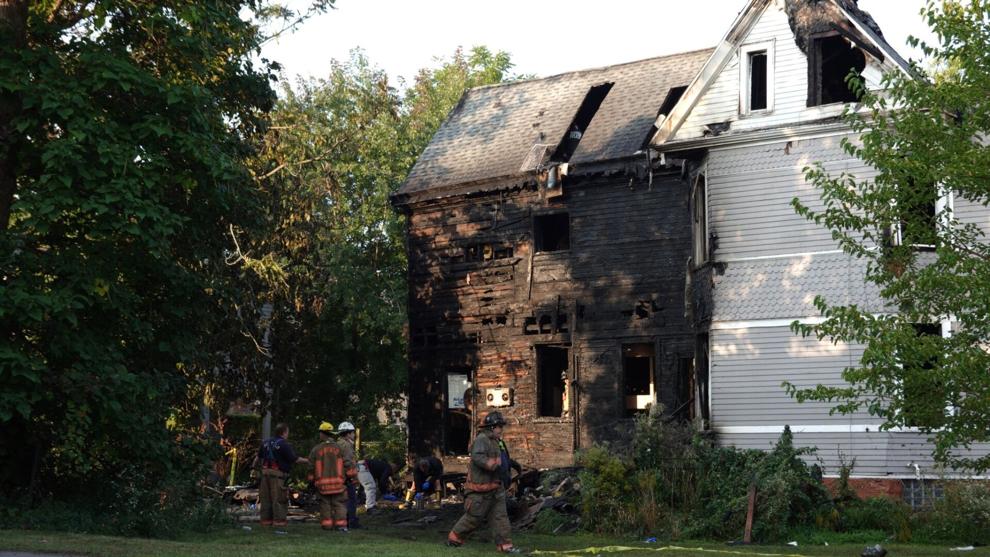 Priority One Realty owns five properties in the city, according to a search of public records. An official at Buffalo Housing Court said there are no pending cases of building code violations against the properties, including 57 E. Utica, which has since been demolished.
Law enforcement authorities said the investigation is continuing to determine what caused the fire, where it started and if there was foul play.
A car parked in the driveway close to the house was ablaze when firefighters arrived just after 2:05 a.m.
Law enforcement sources said they have identified "a person of interest" as they investigate if it was intentionally set. 
While confirming there were no detectors in the house, Commander John T. Eaton, head of the fire department's fire marshal office, which investigates fires in the city, said other aspects of the deadly blaze are currently under scrutiny.
"We have all the evidence and have forwarded it to the DA's Office and are waiting on a go-ahead if it is a viable case," Eaton said.
"Part of the investigation is to determine if it was accidental or if it was on purpose," Erie County District Attorney John J. Flynn said.
Ruth Gouchie and Michael Rodriguez, the father of Anthony, contacted The News to express frustration that a cause for the fire, which they believe is suspicious, has not been determined and because Lewis has not been cited for allegedly failing to install detectors. They also hope that by airing their concerns someone might come forward with more information to push the slow-moving probe forward.
Anthony Gouchie and Johnson rented the second-floor apartment with a third-floor bedroom, Ruth Gouchie said. "They all slept in the same bed."
The three people were found in a rear third-floor bedroom, which firefighters had difficulty reaching because a staircase had been compromised, Renaldo had said at the time of the fire.
Anthony Gouchie, who worked as a landscaper, struggled to provide for his family, Rodriguez wrote in a letter to the newspaper. "Now it's as if it's pushed aside, a landlord who owns multiple properties is not even mentioned as having any fault in their deaths."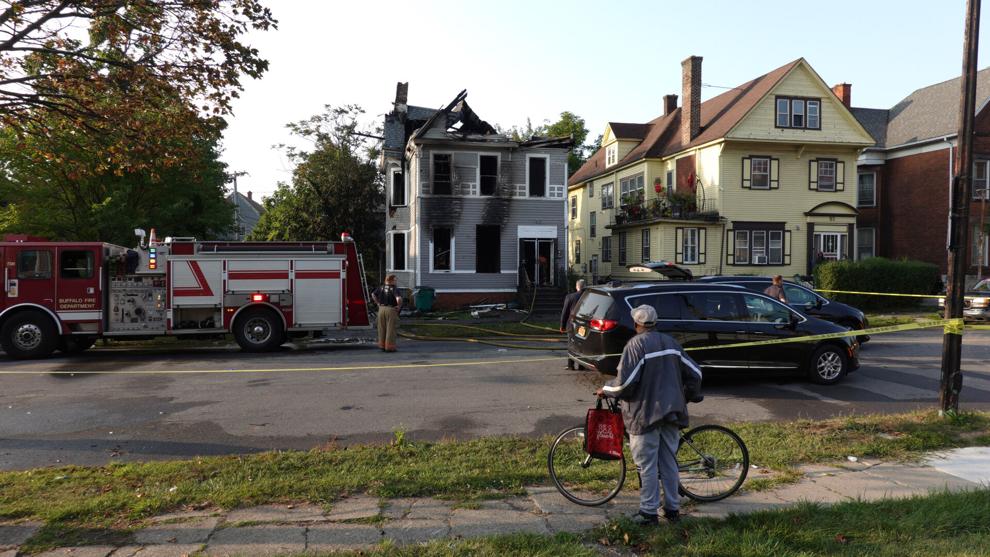 Tragedy had followed Anthony Gouchie's family to East Utica Street, his mother said. She explained that they had moved there following an electrical fire in an apartment building they had previously lived in on Peterson Street in April 2019.
Gouchie says she hopes the memory of her son, his girlfriend and granddaughter can be preserved.
"I'd like to see a bench installed in the lot where the house stood," she said of 57 E. Utica St. "I'd like a little plaque on it that says, 'In loving memory of Anthony, Emma and Amira, Sept. 25, 2020.' "
Flynn and Eaton said they recognize the suffering the family has endured in the past year and that they have not given up on the case.
"We are meeting continuously with Buffalo fire and police officials on this case and will continue to do so," Flynn said.
Eaton said, "We are doing our due diligence. Have patience with us. It is one thing to arrest someone and another to convict. Investigations sometimes take a long time."
"When the investigation is successfully concluded, all aspects of the case will be addressed," Renaldo said.