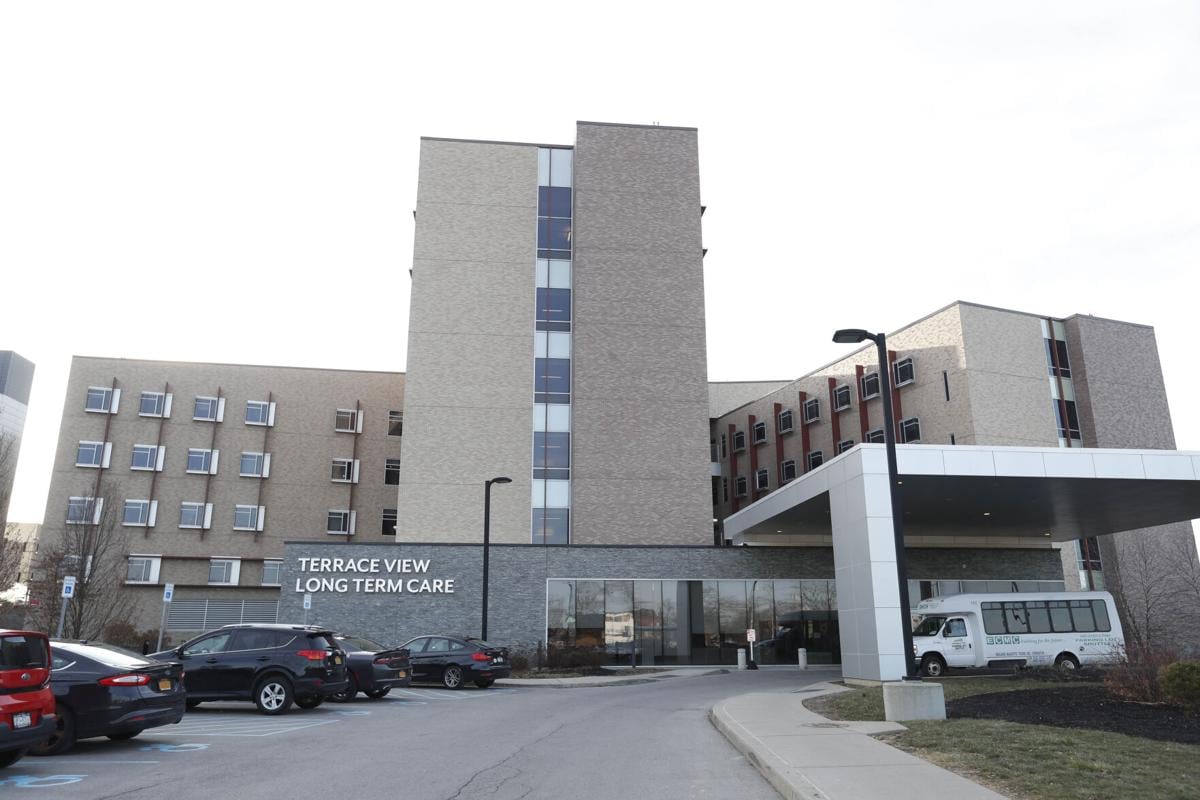 A Buffalo nursing home operated by Erie County Medical Center has been fined $24,508 this year for not preventing sexual assaults on two residents with dementia. 
In one of the incidents, a Terrace View Long Term Care Facility certified nurse aide failed to conduct rounds to check on residents for 2½ hours prior to a resident with dementia being found naked in bed with another resident at 1:30 a.m. March 20, according to a state Health Department inspection report.
When the other resident was asked what had happened, the inspection report said, "Resident #2 stated, What do you think happened between two adults?" 
The inspection report indicated that the resident with dementia has severe cognitive impairment and was unable to recall the event later. 
The CNA who was supposed to check on residents lied on a report, claiming to have conducted her rounds when video showed she was seated at the nurses' station, the Health Department said. 
"If rounds were completed, Resident #1 would have been found sooner," the state concluded. 
In the other incident, on March 5, a resident who is a Level 1 sexual offender with "a history of sexual contact with other residents and staff" was seen grabbing the genitalia area of a resident with dementia while a Terrace View CNA was supposed to be monitoring him one-on-one to prevent such incidents. 
The aide assigned to monitor the occasionally violent resident told a state official that she was in the bathroom when the assault occurred. "CNA #1 stated she knew she should not have left the resident alone and normally she would tell another staff member before leaving for the bathroom," the state inspector wrote.
Terrace View has taken steps to improve its practices since the two incidents, a spokesman said Wednesday, in addition to firing one supervisor who was involved and putting another supervisor on unpaid administrative leave. 
"ECMC takes the care and safety of our Terrace View residents very seriously," said Peter Cutler, vice president of communications at Erie County Medical Center, a public benefit corporation that owns the 380-bed nursing home. "These incidents occurred in March, and since that time, we have taken corrective action and consulted with outside expertise to enhance practices and supervision."
Terrace View hired a consultant to implement a plan of correction that included mandatory in-service training for every member of the nursing staff on preventing resident abuse, shift routines and reporting resident abuse.
Cutler said ECMC did not dispute the Health Department's findings and it has paid the fines. 
The federal Centers for Medicaid and Medicare Services fined Terrace View $14,508 and the Health Department fined the facility $10,000. The CMS fine is the second-largest penalty that agency has levied against a nursing home in New York State so far this year. 
Other nursing homes in Western New York were fined in recent months by the state Health Department for violating Covid-19 infection control regulations. The penalized homes included: 
• Elderwood at Amherst was fined $8,000 on Aug. 18 for failing in October 2020 to screen workers for Covid symptoms twice if they work a shift longer than 12 hours, as required. The facility also was fined $650 by CMS on April 26 for failing to provide data on its Covid infections among residents and staff.