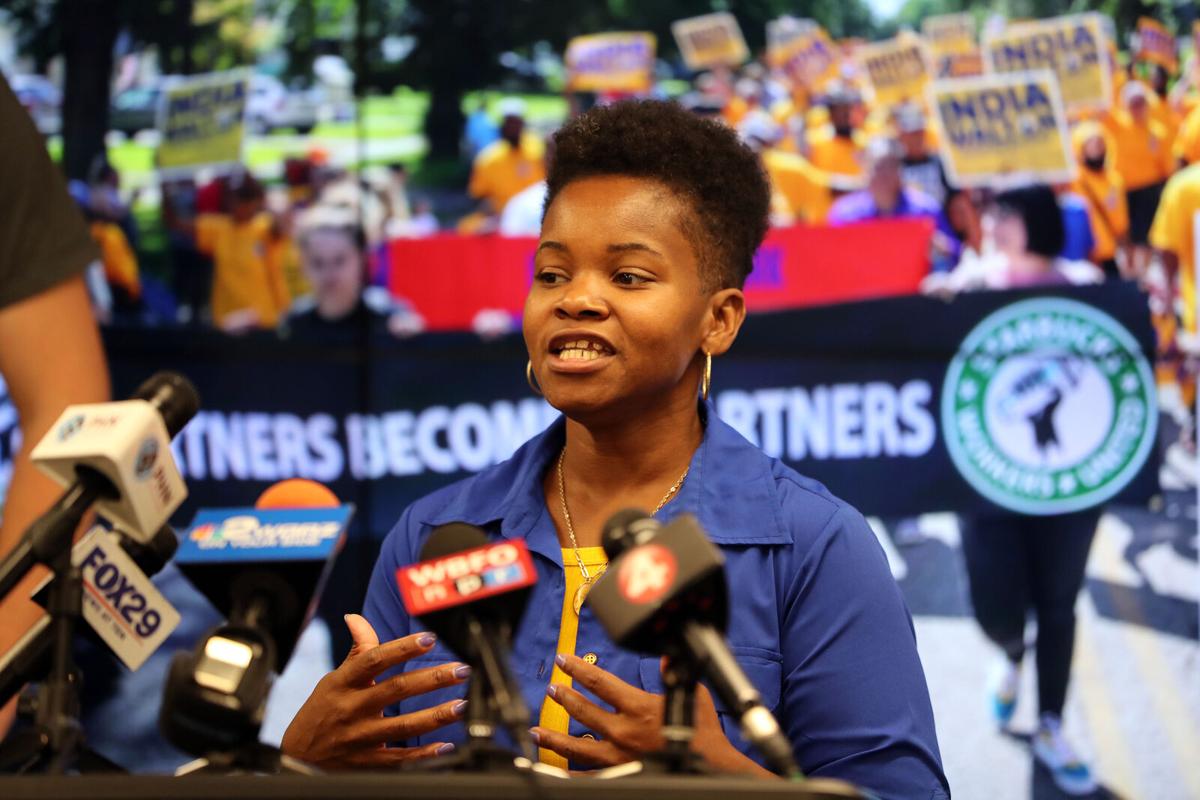 Buffalo mayoral candidate India B. Walton, seeking to become the first socialist mayor of a major American city in six decades, spoke with business leaders Thursday who questioned her about her stances on a property tax exemption program for commercial projects and charter schools.
At a Rotary Club luncheon, Gerald Kelly of Capital Corp. said he worried her opposition to the 485-a tax break would "make a number of projects infeasible, and if they're not infeasible, it's going to drive up the rents to the point where it's not helping the very people you want to help."
Buffalo mayoral candidate India B. Walton's solution to housing issues in Buffalo doesn't depend on profit-seeking developers. She's not saying they can't be involved, but her policy wouldn't rely on them.
Walton, the Democratic nominee for mayor, said the program "could be beneficial, but it's been exploited," and that it "absolves people of 12 years of tax liability that gets passed onto smaller landlords."
Kelly pointed out the program phases in full taxes at year nine, starting at 25% a year.
Walton asked Kelly to educate her on a 485-a deal that produced more than three to five dwelling units, to which Kelly responded, "They are all over the city."
A Buffalo attorney and 138 others have complained to the city's Board of Ethics that a television ad sponsored by Mayor Byron Brown's re-election campaign violates a host of rules and regulations by portraying police officers in support of a political candidate.
"It gives a chance for the developer to keep the rents down so that they are affordable," Kelly said.
Walton said she did not claim to have all the answers and would be interested in talking more with Kelly.
"In order to right the ship, it definitely takes all of us," she said. "If I'm misguided or wrong on this, I would love to have a conversation about it."
The 485-a program – named for the section of the state real property tax code that authorizes it – was created by the State Legislature in 2002 to encourage the adaptive reuse of vacant or underused commercial and industrial buildings in cities. Developers and city officials say the program has helped restore dilapidated buildings. The incentive is needed, they say, to make many projects financially viable in Buffalo, where the property values and rents aren't high enough to support the projects.
The legislation authorizes an exemption only on the increase in property value that results from redevelopment. That means the original assessment prior to redevelopment is not discounted, and taxes are still paid on that. Under the law, the full amount of the increase is tax-exempt for the first eight years. Full taxation takes effect after the 12th year.
Buffalo emerges as a laboratory for Walton's political viability in a campaign capturing national attention.
Walton tripped up over a question from Christopher R. Manning, founder of Buffalo Creek Academy Charter School on South Park Avenue.
"I believe in school choice, and I also believe this market is saturated in charters," she said. "I think some of the corporate structure is concerning and I don't want the education of our children to be a commodity," said Walton, who added that charter schools are for profit.
"No, it's not," Manning said. "My school is a 501c3 nonprofit. Any money that comes to us are in the form of grants. There are no investors. There is no for-profit whatsoever in my school and any other charter school in Buffalo. They're not for profit. In fact, it's not allowed. You can't open a for-profit charter school in New York State."
Walton paused and then Manning redirected the question to where Walton stands on charter schools, asking if there will be support for charter schools under her administration.
"Those who are performing well, there's absolutely going to be support," she said.
Vanna Deux says the heads of Club Marcella fired her after she participated in a fundraising event for Democratic mayoral nominee India Walton.
Meghann N. Roehl, a mother of school-aged children and business owner, said she has historically been affiliated with the Republican Party and has struggled with the idea of voting for Mayor Byron W. Brown.
She asked Walton why would "someone like me consider casting a vote for you for mayor?"
Walton said when the least of community members do well, everyone does better.
When Roehl pressed Walton on her plan for realizing that goal, Walton said she plans to create "good, minimum-wage, green jobs" and to make government less "opaque and exclusive."