The world watched in horror Jan. 6 as Washington, D.C., Metropolitan Police Officer Michael Fanone was dragged down Capitol steps into a mob of rioters, then tased, beaten with flagpoles and stripped of his gear.
Now a Buffalo man has been charged with assaulting the officer, and has admitted to taking Fanone's badge and radio, burying the badge in his Buffalo backyard, and then lying about it.
Thomas Sibick has been charged with obstruction of law enforcement during civil disorder, assaulting or impeding officers and taking a thing of value by force or intimidation, according to papers unsealed by the U.S. Department of Justice Friday. 
Sibick, who was identified via the officer's body cam footage, insists the badge came off while he was trying to help the officer, and that he used the radio to call for help by pressing its emergency button, according to the filing. He said he feared for his life and the life of the officer when he heard someone shout, "Get his gun and kill him."
In an initial Jan. 27 interview with FBI agents, Sibick denied taking the badge and radio. In early February, he admitted taking the equipment but said he dropped the badge and radio and left. Later, he told agents that he carried the items with him before dropping them in a trash can on Constitution Avenue, according to court papers.
Eventually, Sibick said he had planned to turn the items over to the FBI the day after he returned to Buffalo, but was afraid of being arrested. Instead, he said, he threw them in a dumpster in the back alleyway of the Lenox Hotel at 140 North St., according to the filing.
But after an agent told Sibick that cameras at the hotel would be checked to confirm his claim, he confessed that he had buried the badge in his backyard. Sibick purchased a metal detector, dug up the muddy badge and gave it in a plastic bag to federal agents, papers said.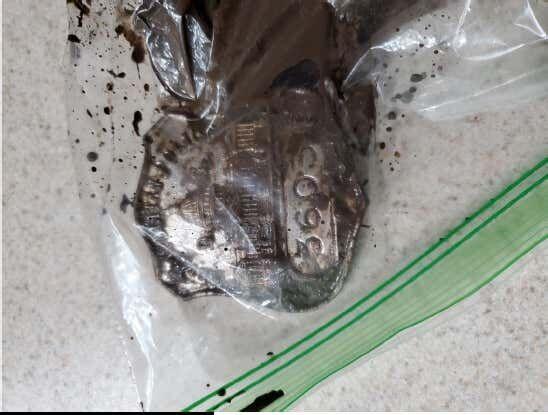 Sibick has also been charged with knowingly entering or remaining in a restricted building or grounds without lawful authority, as well as violent entry and disorderly conduct on Capitol grounds. He is accused of unlawfully entering the Capitol building with the intent to disrupt the orderly conduct of government – the vote to certify President Biden's election win.
A federal magistrate judge in New York ordered Sibick released but, on Friday, the government filed an emergency appeal asking a D.C. judge to order him back into government custody, CNN reported.
Fanone is a plainclothes narcotics officer but suited up to help other officers when the violence began on Jan. 6.
Sibick's is the second arrest of a Western New Yorker allegedly involved in the Capitol riots. In January, Peter J. Harding of Cheektowaga was also charged with knowingly entering and remaining in a restricted building without lawful authority along with violent entry and disorderly conduct on the Capitol grounds. Harding was caught on video trying to set media equipment on fire, but said it was merely a symbolic gesture.
Two busloads of Trump supporters traveled from Buffalo to Washington for the protests, and 16 of them were able to breach the Capitol wall, according to passenger Jul Thompson of Grand Island who organized the trip as part of Buffalo Monticello, a group that succeeded the Tea NY tea party group that she and her husband, Rus, led in the past.
Thompson said she tried and failed to scale the wall, but helped and encouraged others to climb it.