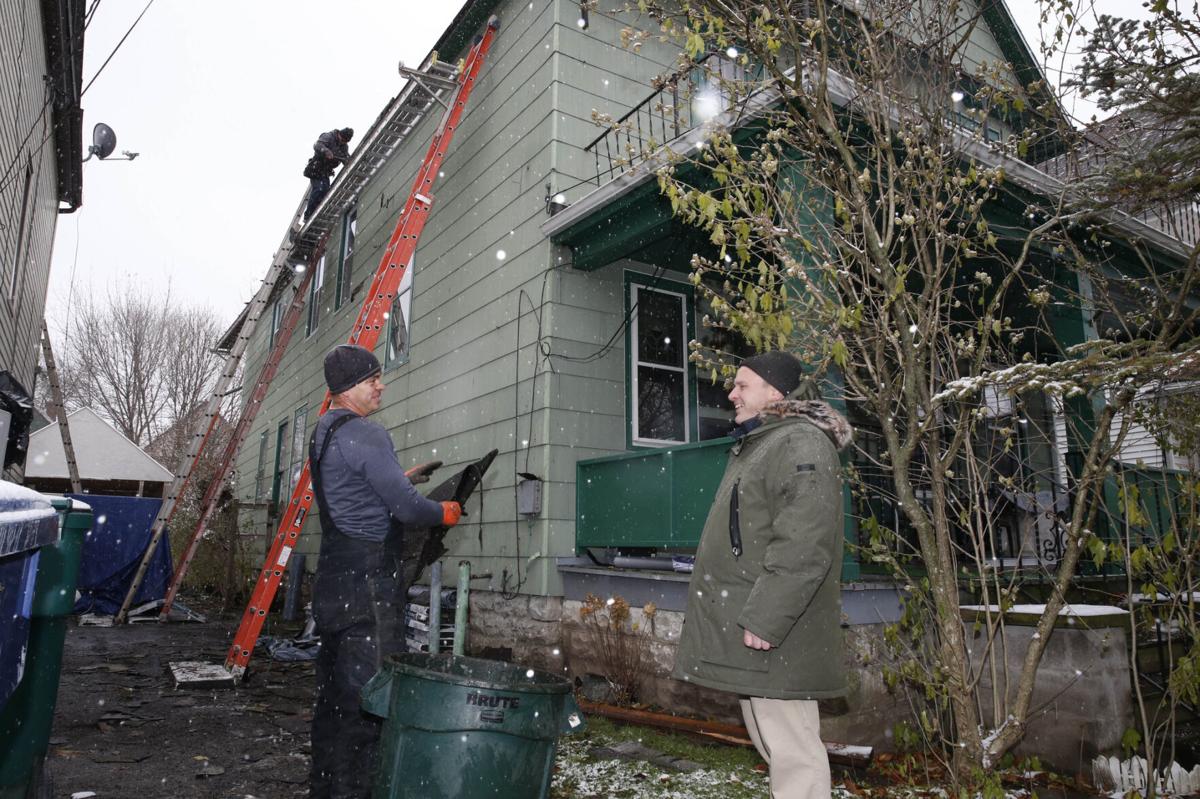 At the rate he was withdrawing money from his savings account to pay taxes, repairs and other expenses on his rental properties, South Buffalo landlord Marc Pasquale worried about whether he would have anything left by the end of this year.
Meanwhile, Willie Jenkins, desperate for help paying $7,000 in rental arrears, walked five miles on a chilly morning from his apartment in North Buffalo to an East Side community center for information about a federal rental assistance program.
Jenkins said his landlord has refused to take partial payments to make up the arrears and slapped an eviction notice on his door in September.
"I'm exhausted, but I'm trying," said Jenkins, a single father of two children, ages 7 and 9. "I just haven't been able to catch up."
Across Western New York, the Covid-19 pandemic sent many landlords and tenants into a financial tailspin. They're still trying to recover.
More than $2 billion was available in New York State to assist renters and landlords, but local experts are worried about whether that money will get to the people who need it before a moratorium on evictions is slated to lapse on Jan. 15, 2022. After a very slow rollout, the pace of payments picked up for a few weeks and then slowed again. About half of the $2 billion has been distributed to landlords so far.
"It's going to be winter. We don't know what Covid's going to be doing. Homelessness could turn into a public health issue. January is potentially very frightening," said Grace Andriette, deputy director and supervising attorney of the housing unit of Neighborhood Legal Services of Buffalo.
While an extension of the moratorium in September helped tamp down a potential housing crisis in Western New York, at least for the time being, the Emergency Rental Aid Program has yet to catch up with demand, with renters and landlords waiting weeks and sometime months for payments.
Andriette said the Office of Temporary and Disability Assistance, or OTDA, essentially created a whole new infrastructure to verify claims and administer payments, resulting in bureaucratic bugs, computer glitches and other problems.
"It was kind of a, 'We'll build this plane as we fly it,' if you will," said Kevin Glover, director of the Hope Center on Paderewski Drive, where dozens of landlords and tenants sought help applying for emergency rental aid at a recent pop-up clinic.
Some renters were behind on their rent by as much as $17,000; others have utility arrears approaching that amount, said Glover. And some individual landlords are owed tens of thousands of dollars in rent, he added.
"We've had landlords that have a dozen properties, and they're probably seeing on average arrears of nine to 10 months per property," he said.
The good news, said Glover, is that some landlords are getting paid through the Emergency Rental Assistance Program. The bad news is it often takes a long time, straining their patience with tenants.
Through Nov. 19, the Office of Temporary and Disability Assistance made 83,488 payments for rental arrears and prospective rent totaling $1.1 billion across the state – an average of $12,527 per payment.
The state's ERAP program has received more than 280,000 applications since June 1 with requests for aid that exceed the $2 billion, and many applications no longer were being accepted by mid-November. Gov. Kathy Hochul has asked the federal government for nearly $1 billion more towards emergency rental aid.
In Erie County, $25.6 million was paid out in 3,873 payments – an average of $6,607 per payment, and in Niagara County 829 payments totaling $4.3 million were made, for an average of $5,191 per payment, according to OTDA data.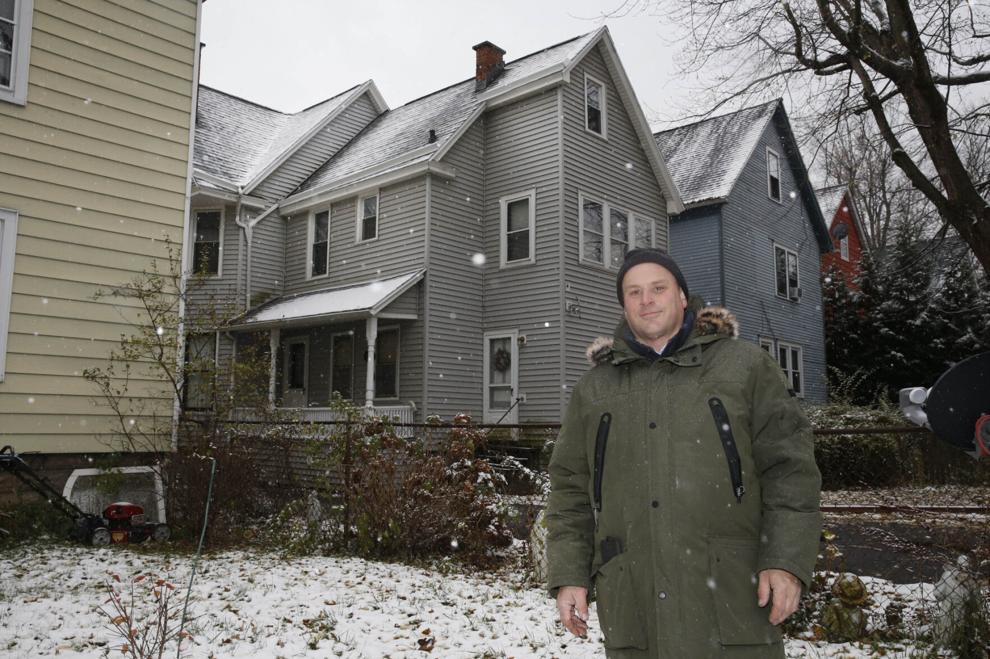 Pasquale said he was withdrawing up to $20,000 a month from his savings account during the pandemic just to keep up with the bills for 44 South Buffalo rental units. Some of his tenants stopped paying rent, even though they continued working during the pandemic, he said.
"I've had a couple tenants buy houses because they made so much money," he said.
His first two payments out of ERAP arrived in late September, two months after the tenants had applied for aid, he said.
Pasquale said he's not sure he'll ever recoup all the rental arrears he's owed, which is about $100,000. He hasn't been able to contact one tenant who went to the hospital in 2019 and then again in 2020, and so there's no way for Pasquale to apply for the rental aid on behalf of the tenant, who owes several thousand dollars, he said.
Pasquale estimates he spends $100,000 annually on repairs at his properties, and materials prices skyrocketed during the pandemic. He recently paid $20,000 for a roof replacement that would have cost $12,000 less than a year ago, he said.
Pasquale fell behind on utility bills. But he said he was fortunate compared with many of his landlord counterparts, because he doesn't have mortgage payments on any of his properties. The latest eviction moratorium includes a provision that protects landlords from being foreclosed upon due to rental arrears, but Pasquale said landlords should have at least a year of foreclosure protection after the moratorium expires to help them recover.
"There's landlords I talk to that are so far behind that they see there's going to be no way out," he said.
Pasquale said he's been able to work with tenants who are in arrears, sitting down with many of them to complete the ERAP application together. But, so far, he's received less than a quarter of the arrears he's owed through ERAP, and he's not sure if or when the pace of payments will pick up.
Some landlords said they believe that tenants are taking advantage of the pandemic. Three dozen landlords recently sued in State Supreme Court to have the eviction moratorium overturned.
David Arakelian said in court papers that he's owed $20,250 in rent arrears, but the nonpaying tenants refuse to speak to him when he's encouraged them to apply for ERAP. If the moratorium continues, Arakelian said he will have to sell some or all his properties "to make ends meet," even though rents are his sole source of income.
Appolinaire Lekeuneu, who owns 20 rental units in Western New York, said 13 of his tenants currently aren't paying rent and owe a collective $156,000.
Just one of the tenants has agreed to speak with him; the others actively avoid him, Lekeuneu said in court papers.
He received ERAP payments from two tenants who applied for the aid, but it covered a little more than half of the $34,875 in arrears between the two renters, he said.
Lekeuneu has missed five mortgage payments on his own home due to the lack of rental payments, he said.
"I have personally contributed about $42,000 to maintain my rental properties and live off of, and have sold two vehicles," he said. "Moreover, I will also be unable (to) pay for my children to go to college because I have had to use money from our savings and retirement, as well as my intention on using those funds to save for my children's college."
Lekeuneu also said he had to lay off three employees who helped manage the properties.
Lekeuneu has tried to sell two of his properties, but the nonpaying tenants living there refuse to allow potential buyers inside for showings, he said.
Tenants say they are suffering, too.
Katherine Gregg and her husband have been trying for months to get their landlord, who lives out of state, to fix a basement flooding problem and front door that doesn't close properly, causing their heating bills to skyrocket.
"The sewer backs up and it smells horrible," she said. "But they're hollering about rent."
Gregg said the landlord claims they're behind by $1,000, which is why Gregg showed up to apply for ERAP. She said they had a gas bill last year that was more than $1,000, far more than they were used to spending. It cut into their rent payment, she said.
"You gotta rob Peter to pay Paul," she said. "We didn't pay the full portion, but we have been paying. We never stopped paying."
Jenkins said he lives on a fixed income due to a disability but didn't have a problem paying $700 per month in rent until the pandemic hit, upending the child care routine he had maintained with the mother of their two children. The kids ended up spending more time with him during the pandemic, resulting in more bills.
When he fell behind on his rent, Jenkins said the landlord started asking for the full amount of arrears, which add up to $7,000.
"I don't have no way of giving him seven grand. I just don't have it," said Jenkins.
Jenkins said he knows landlords are in a tough spot, as well, and he's not trying to skip out on what he owes.
"It's just hard, because I'm really trying," he said. "I would love to stay there. I don't want to relocate."