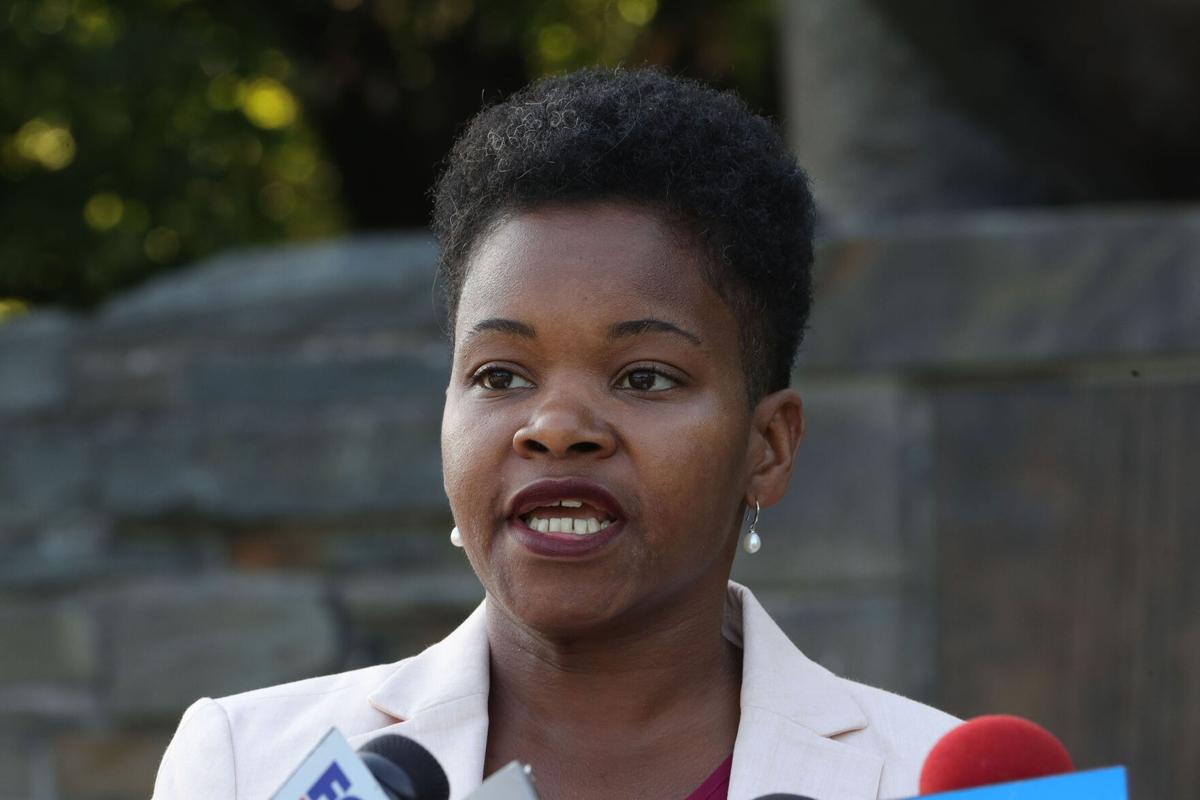 Though she is supported by almost every elected Democrat in Buffalo and won the party's June primary for mayor, India B. Walton requested and, on Thursday evening officially received, the party's endorsement.
Erie County Democratic Chairman Jeremy J. Zellner said the vote of the city committee, though devoid of any real consequence, cements Walton's position as the Democratic nominee after the party earlier this year endorsed Mayor Byron W. Brown for a fifth term. Zellner said the move now reinforces the results of Walton's decisive primary victory on June 22, forcing Brown to wage an unprecedented write-in effort for the November general election.
"It is with incredible excitement that I lend my support to such a dynamic and engaging leader," Rivera said.
"It's important for her to meet with the city committee, explain things and actually get our endorsement," he said. "She would like for that process to happen."
Zellner added that the committee was eager to form a "relationship" with their candidate and was happy to accommodate her request.
Jesse A. Myerson, spokesman for the Walton campaign, announced the endorsement with a statement that included a laudatory quote from Zellner.
In accepting the nomination, Walton, a self-described socialist, addressed the party committee with a speech outlining "what being a Democrat means to me."
"We're the party of making sure everyone has a boat, so a rising tide lifts them, instead of drowning them. We're the party of 'everybody in, nobody out,' " Walton said.
She also attacked incumbent Mayor Byron Brown, who is waging a November write-in campaign after losing the Democratic primary, as a Republican puppet and "a vigorous defender of the status quo."
Both candidates for mayor on Monday held news conferences about where they stand on issues of public safety.
Meanwhile, Zellner acknowledged Thursday that he had expressed concern earlier this month after The Buffalo News reported that in 2018, Buffalo police investigated complaints about a man suspected of dealing drugs from Walton's home at 183 Lemon St. The owner of the house said he demanded Walton move out after confronting her with complaints about constant visitors suspected of drug activity – which she denies.
Police reports obtained by The News indicated that officers followed up on the complaints in the fall of 2018, and the inquiry ended with no criminal charges being filed.
Immediately after the story appeared, Zellner noted that his committee had not "officially" endorsed Walton after her primary victory and after he had emphatically promised party support for her. He said then that he would weigh new input from committee members on how to proceed in the general election campaign.
"We are not opposed, but if our party leadership has significant concerns, I will listen to them," the chairman said earlier this month.
Brown submitted more than 3,700 signatures on petitions to the Board of Elections Tuesday to secure an independent ballot line – called "Buffalo Party." 
"Could this change?" he asked then, referring to party support. "The answer is yes. Anything could change. We've asked her to be upfront with us ... but I don't know what else is out there."
On Thursday, the chairman put any concerns to rest.
"She has been up front with us," he said.
Some Democrats, such as Zone 4 Chairman Gregory B. Olma, saw no need for the formal endorsement after Walton unquestionably gained the Democratic line for November in the June primary.
"I don't know why we have to have this meeting," he said. "She is already our candidate. This is unheard of."