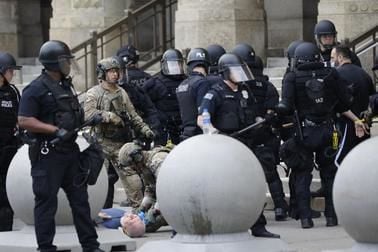 The change from unpaid to paid suspensions occurred because of a provision in the city's collective bargaining agreement with the officers' union, the Buffalo Police Benevolent Association, that caps unpaid suspensions at 30 days.
After 30 days, the contract requires Officers Aaron Torgalski and Robert McCabe to be placed on paid suspension, Buffalo Police Capt. Jeff Rinaldo said in an email. The move was first reported by WKBW-TV.
Torgalski and McCabe were charged June 6 with felony assault. They were part of a tactical unit deployed to clear protesters from Niagara Square after a curfew went into effect the evening of June 4.
The Buffalo News: Good Morning, Buffalo
The smart way to start your day. We sift through all the news to give you a concise, informative look at the top headlines and must-read stories every weekday.