Common Council President Darius G. Pridgen said he will not return to the Council next year, deciding against seeking another term for the Ellicott District seat he has held for the last 12 years.
He says he still loves the job and those he represents. It's just time to move on, he said. He will continue to serve people, but he doesn't know within what capacity.
"After much prayer and reflection, I'm ready for my next, and I don't know what that next is, but I do believe there is a next for Darius Pridgen to continue to serve people," Pridgen told The Buffalo News on Wednesday afternoon inside his Northampton Street home. "I think you have to know when to do and when to stop doing."
Pridgen said he's leaving while he still likes the job.
"I never want to be in a position that I'm there and I leave because I'm miserable," he said. "I want to be able to leave while I'm still smiling, while I'm still enjoying, while my constituents are still backing me."
"This is not the time to tear up our own community, because our community did not do this," True Bethel Bishop and Buffalo Common Council President Darius G. Pridgen told those gathered at his church Sunday, encouraging them to grieve in a healthy way.
In many ways Buffalo still struggles since he first took office, he said, but he called the city "definitely" a lot different than it was 12 years ago.
He said his legacy includes McCarley Gardens.
"The biggest things that I leave behind that I can say I'm grateful that I was there is the stopping of the discussion of the sale of McCarley Gardens, which is now expanding," he said.
Built in 1978 by St. John Baptist Church, McCarley Gardens is a well-kept housing development that includes about 150 units covering more than 15 acres near the Buffalo Niagara Medical Campus.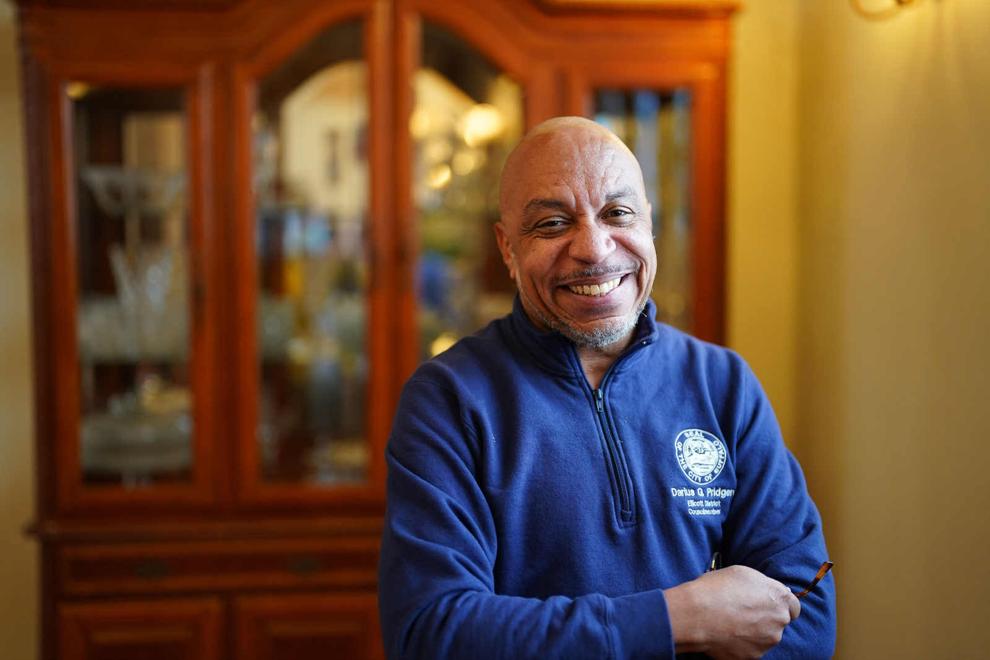 Several years ago, the University at Buffalo wanted to purchase McCarley Gardens as part of the university's plan to move its medical school downtown from the South Campus.
Pridgen said he got involved to ensure that residents could continue living at the apartment complex.
He also takes pride in seeing the City Mission "in the heart of the city," he said. Pridgen was the honorary chairperson to raise the last $4 million for the mission.
"Some elected officials wouldn't want a City Mission in their district. I did because I thought it was important that as the city grows you have to take care of those who are most vulnerable," he said.
McCarley Gardens is about to get a $35 million makeover. But this time, the focus will remain on affordable housing and residents will stay. Developer Nick Sinatra has teamed up with Rev. Michael Chapman – whose St. John Baptist Church owns McCarley – to undertake a complete renovation of the 40-year-old low-rise apartment community just south of the Buffalo Niagara Medical Campus.
Mayor Byron Brown called Pridgen a "tireless advocate" for the residents of the Ellicott District and minority business development.
"He has been a leader in pushing Buffalo to be an inclusive and innovative city," Brown said. "It has been a pleasure to partner with him to accomplish great things for our community. I look forward to seeing the work he will continue to do for Buffalo."
University Council Member Rasheed Wyatt has known Pridgen for about four decades and described the council president as a "trusted figure" from whom he has learned a lot.
"He's just been somebody that has been consistent, sincere in his love of the city before he was a Council member. The example he leaves behind is extraordinary," Wyatt said. "His leadership is going to be sorely missed because he is that person that really bridged the council with the (Brown) administration and other organizations."
Should at-large seats be added to the Buffalo Common Council? It's worth talking about, says Council President Darius G. Pridgen. 
Pridgen's political prospects rose quickly.
It took him just three years to progress from rookie Council member to the Council's top leadership post, becoming one of the city's most recognizable faces even beyond Buffalo's borders.
He continues to serve as a full-time pastor of True Bethel Baptist Church on East Ferry Street, one of Western New York's most high-profile churches.
He's on a first-name basis with politicians and newsmakers across the country. On Wednesday afternoon, he was flying to Washington, D.C., to moderate a panel discussion with U.S. Sen. Raphael Warnock and the Rev. Al Sharpton, founder and president of the National Action Network.
Pridgen has kept a rigorous schedule outside of City Hall, including officiating three Sunday services – at least an hour each – at the main Ferry Street location and an auxiliary church on Swan Street. He also teaches Bible classes and has officiated at hundreds of funerals.
He described his decision not to return to the Council as "a walk of faith."
"I don't have a bucket list. I really don't," he said. "I don't know whether I'll do just True Bethel. I really don't know."