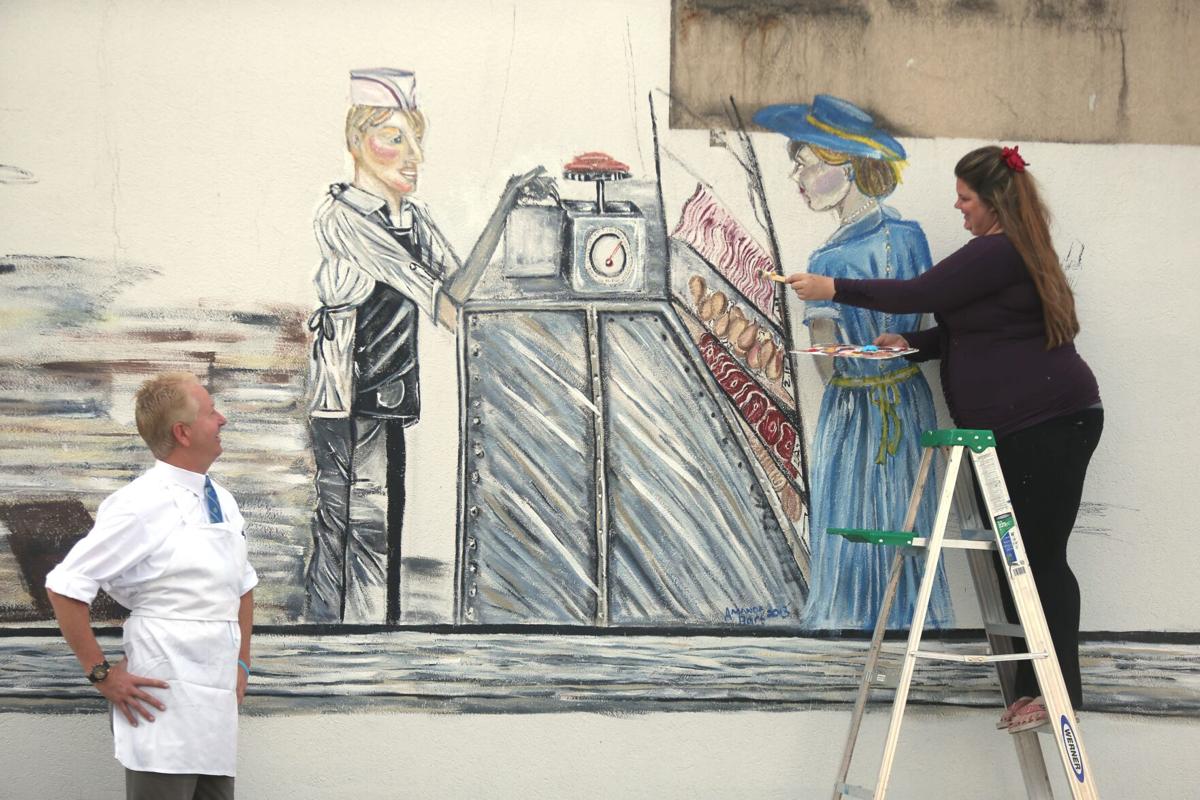 A large sign advertising stuffed banana peppers blocks the window on the north side of Redlinski Meats in Cheektowaga.
A new "window" on that wall should be finished by next week, offering customers and passers-by on Walden Avenue a glimpse into the past.
Buffalo artist Amanda Hart is painting a mural depicting the shop in the 1940s, when Redlinski Meats debuted in Buffalo's Broadway Market. The Cheektowaga store opened in 1982.
"I'm excited to see how it's going to turn out," Mark Redlinski, the third-generation owner and president of the business, said Tuesday.
He and Hart studied old photographs to determine what perspective to present; it's a side view, with a butcher on one side and customer on the other, separated by a long counter that stretches the length of the store – just like in the Walden Avenue building.
To ensure the clothing worn by the woman in the foreground accurately reflected the times, 23-year-old Hart said she looked through her grandmother's old photographs and wardrobe. "It was really inspirational to take it to that next level of being there," she said.
The collaboration between Redlinski and Hart was the result of a coincidence.
"I have been thinking about that wall for years, probably around three or four years now," Redlinski said.
Hart had been thinking about it, too. "I come by this building all the time. It's a blank wall," she said.
Hart contacted Redlinski through Facebook, asking if he ever thought about putting a mural there.
Earlier this summer, she completed a mural of a tropical fish tank at Protocol, a steak and seafood restaurant on Transit Road operated by a friend of Redlinski's. "It was really cool," Redlinski said.
Work at Redlinski Meats started last week, but rain delays have pushed back Hart's anticipated completion date from this weekend to the middle of next week. Besides the weather, challenges of painting the approximately 11-foot-by-14-foot mural include working on a stucco surface.
"I have to make sure it doesn't bleed. That type of material is very porous," Hart said.
She describes her style as expressionism, mixed with realism.
Also this summer, Hart and other artists from her two-year-old organization, Buffalo Custom Art, painted a mural at Clinton and Clare streets in Buffalo.
The organization is hoping to reinvent the Broadway Market as an artists market. "Something needs to be done with it; we don't want to lose it," she said.
Hart also is an artist for Community Canvases, which recently painted signal boxes and light standards – among other things – along Tonawanda Street, and she's helping coordinate an event this fall for Artfarms, whose artists are designing grow sculptures for urban farms on the East Side.
An East Side native, Hart said she moved around the United States during her high school years because of her mother's job with the National Aeronautics and Space Administration. She returned here.
"It disheartens me," she said of the East Side's current condition. "I really want to make a change about how people see Buffalo. I just want to change the negative to something positive."