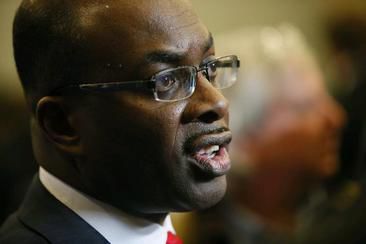 Mayor Byron W. Brown plans to use $50.4 million in federal stimulus money during the City of Buffalo's next budget year to help offset pandemic-related revenue shortfalls and pay for rising costs.
Brown's proposed 2021-22 budget released Friday recommends a slight reduction in the residential property tax rate and an increase in the commercial property rate.
The friction in the last year and a half contrasts with the historically placid relationship Brown has had with the legislative branch during much of his 15 years as mayor.
He calls it a "Post-Pause" prosperity plan, and it relies on about $50.4 million of the federal funds the city will receive through President Biden's stimulus package to close any deficits that result from continued revenue shortfalls the pandemic created, Brown said. The expected revenue shortfalls include significant declines in parking revenues and declines in special events-related revenues, he said.
The $534.5 million spending plan for 2021-22 increases spending by 2.9% – or about $15 million – but the total amount to be raised through taxes remains frozen at last year's level.
The primary reasons for the increase include higher personnel and pension costs, including a living wage increase to $15.84 an hour, which takes effect July 1, Brown said. The increase also is attributed to the lifting of wage freezes from the Covid-19 pandemic for some employees in the administration, the Common Council and Comptroller's office.
Lawmakers say say an independent attorney would alleviate confidentiality concerns that Buffalo members have about relying on attorneys who are formally part of the administration.
The Common Council has until May 21 to consider the proposal and recommend its own reductions or request other changes.
Commercial tax rate would rise by 2.7%
Brown has proposed a residential tax rate of $9.88 per $1,000 of assessed valuation, down by about 1.09%. At that rate, taxes on a house assessed at $100,000 would be $988.
Moderate fee increases related to the implementation of a new rental inspection program approved last November and money collected through other permits will directly fund resident services and programs, including a revolving loan fund and lead education and remediation programs, Brown said.
The commercial tax rate would be $17.21 per $1,000, up by 2.74%, which remains lower than Syracuse and Rochester and surrounding municipalities, Brown said. At that rate, the tax bill on a commercial building assessed at $100,000 would be $1,721.
Buffalo can take steps now to establish a civilian review board to investigate allegations of police misconduct, according to the New York State Attorney General's Office. 
"This increase still keeps the city's commercial property taxes extremely competitive and low," Brown said.
Spending to continue police changes
The budget includes funding for community organizations and community policing and specialized training for police, including:
• $415,000 for a body camera project for the Buffalo Police Department
• $200,000 for adding a diversion program to the existing community policing program
• $500,000 to fund the second year of a three-year contract for a data analytics program provided by SAS Institute for the police department
• $20,000 for additional police anti-bias training
• $197,000 for the expanded use of stun guns 
Mental health-related crises don't just happen on weekdays and during regular business hours.
Brown proposes expanding summer youth jobs program
An investment of about $750,000 would go to youth services, including $500,000 for Say Yes, as well as funding for the Police Athletic League of Buffalo and Summer Reading Rules.
About $150,000 is earmarked for Peacemakers violence intervention programming.
Funding to expand the city's summer youth intern and employment program would increase by about $875,000, for a total investment of $2.4 million. The funding includes rollover of some of the $1.5 million in the current budget that was not used due to the Covid-19 pandemic.
The administration will also allocate up to 200 summer employment slots for Buffalo Public Schools students enrolled in summer school so they can earn money as they continue their summer learning, Brown said.
A combined $250,000 is earmarked for cultural institutions including the Albright Knox Art Gallery, the Buffalo Zoo, Kleinhans Music Hall, the Buffalo History Museum and Ralph C. Wilson Jr. Centennial Park. Buffalo will also re-open two of its pools.
Buffalo's new fiscal year will begin on July 1, 2021.