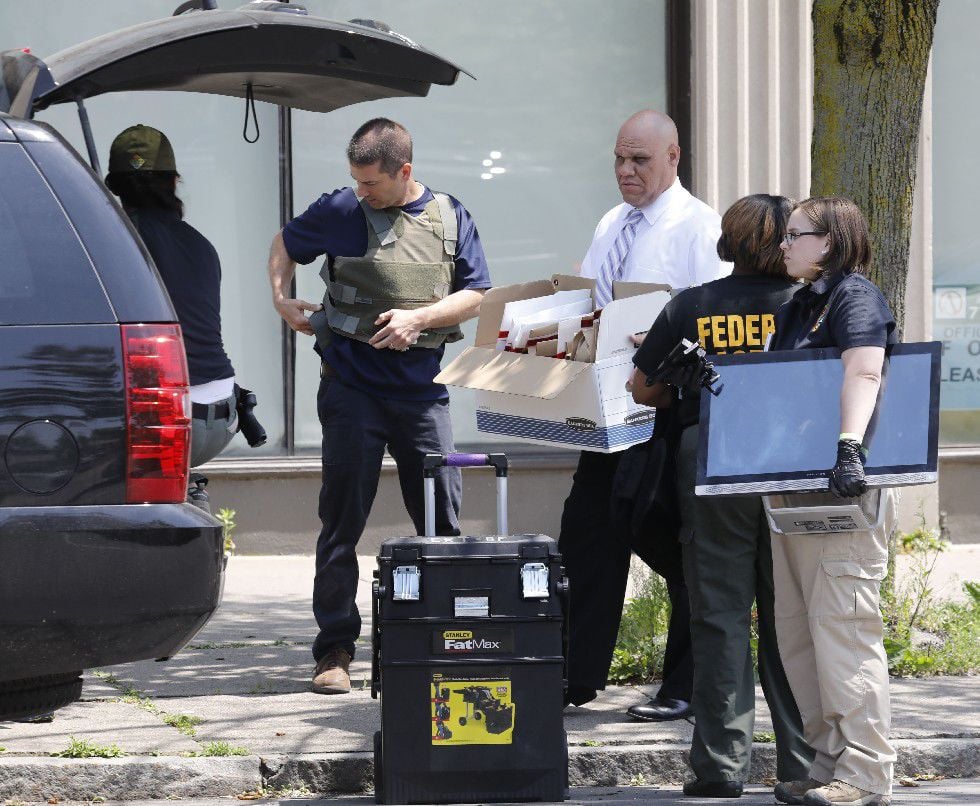 On the day after state and federal agents raided Buffalo's Grassroots political club, its most famous member declared he is as puzzled as everyone else as to what it's all about.
"I certainly was shocked by it. I was very surprised by it," Mayor Byron W. Brown said at a Friday press conference. "I just have no information."
Gov. Andrew M. Cuomo was expected to weigh in on the situation, too, especially since Brown serves as his state Democratic chairman. But 24 hours after a report he commissioned faulted "sloppy" state procedures for $49 million in questionable bills (which his administration claims to have addressed), the governor cancelled his scheduled trip to Buffalo. He remained in Manhattan to announce completion of plans to rebuild the Penn Station-Farley Post office complex.
"The Penn-Farley announcement came together, and he stayed down to deal with it," said Richard Azzopardi, a Cuomo spokesman. "The Buffalo trip will be rescheduled soon."
Still, the mayor nor anybody else in authority could shed any more light on the Grassroots situation after the FBI, State Police, Internal Revenue Service and state Office of Attorney General investigators entered Grassroots headquarters on Genesee Street Thursday with search warrants, and left with boxes of documents. They also raided the Urban Chamber of Commerce at 1325 Main St., and the home of Grassroots founder Maurice L. Garner at 64 Meech St.
Other than confirming the actions, the FBI and other agencies remained mum or did not return phone calls Friday.
Sources with knowledge of the situation, however, say the actions are linked to state and federal charges lodged or facing G. Steven Pigeon, the former Erie County Democratic chairman with close links to Garner, Brown, Cuomo and a host of other New York Democrats.
The mayor remained the only public official to address the situation on Friday as he was sought out by reporters at a Fountain Plaza press conference celebrating the 100th anniversary of the Colored Musicians Club. Brown has been allied with Garner for close to 30 years, and at the press conference referred to him as "a close friend."
But he emphasized that investigators have not contacted him, he has received no subpoena connected to the investigation, and that he remains in the dark about an organization he acknowledged "remains near and dear to me."
"I don't know anything," he said.
Some observers note the mayor's ties to Grassroots have diminished in recent years as he broadened his base and built his own political organization. The club's influence has also faded as other African-American factions have gained influence in Buffalo Democratic politics.
Meanwhile, speculation continued that the raids could be related to the Pigeon case, or to legal problems facing Steven M. Casey, the former deputy mayor who was close to Brown, Pigeon and Garner. All entered and rose through Democratic politics together while breaking in during the administration of County Executive Dennis T. Gorski.
Others surmise that the investigation stems from the Buffalo Billion case, which snared three executives of the LPCiminelli Co. on bid rigging and other corruption charges stemming from a statewide case launched by then-Manhattan U.S. Attorney Preet Bharara. Garner once worked as an LPCiminelli consultant on the Buffalo schools reconstruction project.
But Daniel C. Oliverio, attorney for Ciminelli executive Louis P. Ciminelli, said Friday that if the latest legal action had anything to do with the company, he would have known about it.