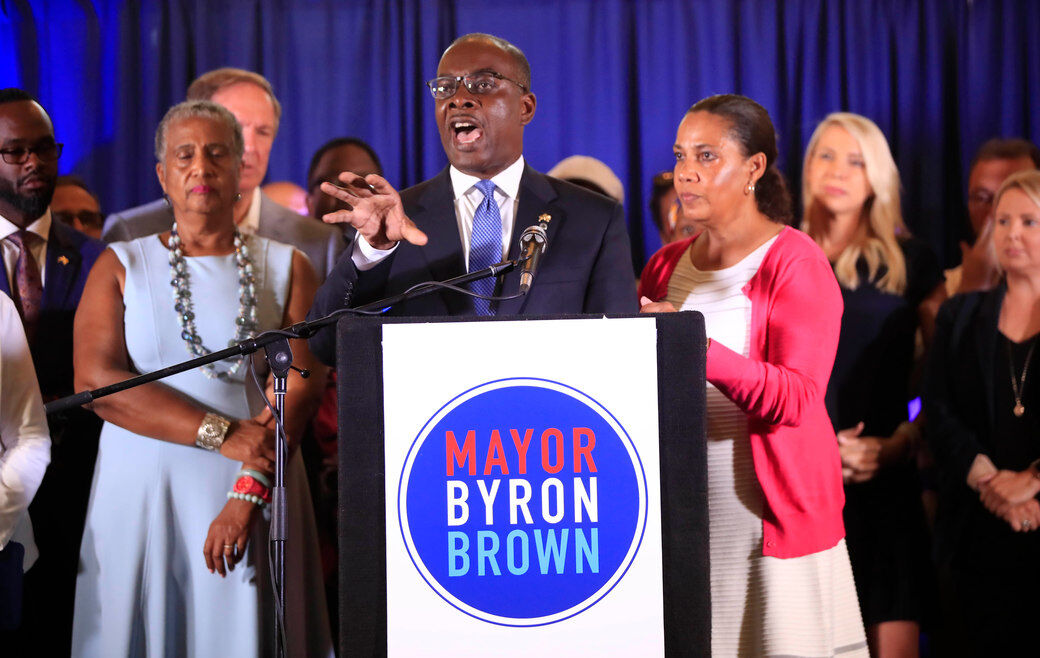 When Byron W. Brown on Monday launched a write-in campaign after losing the June 22 Democratic primary for mayor, the cramped Statler stage he chose for his announcement seemed to reflect confidence and all kinds of support.
The selected assemblage of about two dozen obliged with cheers and high fives for his challenge to primary winner India B. Walton.
A new and fiery Byron W. Brown sought to revive his failed mayoral campaign Monday with a whole new persona, and former County Executive Joel A. Giambra and Delaware Councilmember Joel P. Feroleto have indicated that they may also join the fray.
But among all the beaming faces, only three elected officeholders stood with him to support his Nov. 2 general election bid. Most of the four-term mayor's old friends and political allies, more loyal to the party than to him, were conspicuous by their absence. Few even return phone calls asking where they stand.
Now Brown, four-term leader of New York's second largest city and former chairman of the Democratic State Committee, must soldier on without Buffalo Democrats that are either tired of his reign or sensing new political currents flowing through the city. He began his uphill effort on Monday by pointing to successful write-in efforts of the past waged by Sen. Lisa Murkowski of Alaska and Mayor Mike Duggan of Detroit. He sees a similar path – even with most party leaders supporting Walton.
"I'll go up against it the same way Lisa Murkowski went up against it in 2010 with all the organization against her," he said. "I will go up against it the same way Mayor Mike Duggan did in 2013, as a write-in candidate and a winner.
"I'm prepared to take on the challenges that the majority of Buffalonians are facing, and I'm not going to back down, I'm not going to cower and I'm not ashamed," Walton says.
"During the course of the campaign, that institutional support my opponent has will evaporate," he added.
Life as Brown knew it for more than 15 years as mayor changed immediately after Walton claimed her surprise victory on Primary Night. Erie County Democratic Chairman Jeremy J. Zellner, never a mayoral confidant but a nominal supporter, made it clear then and following Brown's Monday announcement that while appreciative of the mayor's long service, the party would honor the voters' choice.
"The Democratic Party listens to the will of Democratic voters, and today India Walton is our candidate for mayor of the City of Buffalo," he said.
Much of New York's Democratic establishment either agrees or has remained conspicuously silent. Gov. Andrew M. Cuomo, who chose Brown to lead his statewide Democratic organization for 2 1/2 years, has made no official statement about the general election. Brown's successor as state chairman, Jay S. Jacobs, who often speaks for the governor on politics, envisions no Cuomo involvement.
"I cannot imagine any circumstances in which the governor will interfere in an election like that under these conditions," Jacobs said. "But there is no question she won the primary against someone who is a very good mayor and a very good friend who, unfortunately, did not wage a campaign required by the times."
Observers saw Walton's win as yet another signal that a dynamic candidate can knock off a complacent incumbent anytime, anywhere.
Other top Democrats who supported Brown in the primary quickly shifted into neutral gear – a far cry from past days of posing together for countless grip and grin photos. They included Lt. Gov. Kathy Hochul.
"The Lieutenant Governor has spoken to both candidates," spokeswoman Elizabeth Grams said in a statement. "She knows this is part of the democratic process, and it's now up to the people of Buffalo to decide."
Ditto for Assembly Majority Leader Crystal D. Peoples-Stokes, a longtime Brown ally dating from their days in the Grassroots political club on Buffalo's East Side. She will now remain neutral.
"I'm not doing anything with either of the races," she said of the two contestants. "I think the results pretty much speak for themselves. I'm not so sure it's as much that she won as it is that he lost."
And Common Council President Darius G. Pridgen says only that he will "support the process."
Following a push by Buffalo's business community to urge Mayor Byron W. Brown to wage a write-in campaign for November's general election, supporters of India B. Walton say they can play that game, too.
"I'm prepared to work with whoever wins," he said. "I'm a legislator more than a campaigner."
It's all new for so many old allies to no longer stand with Brown. He considers it part of the deal.
"From what I understand, when you don't win a primary election, that can occur," the mayor said in a Thursday interview. "But over the course of this campaign we will win back every Democratic voter and we will win back every voter in the City of Buffalo that is deeply concerned about the future of their families, about the the future of employment opportunities and what kind of city they live in."
Does he feel abandoned by all his former allies?
"I don't feel hurt in any way," he said. "I feel energized about our position now. This is a movement for the future and not about elected officials."
Still, Brown enters the renewed fray with some strength. Council members Christopher P. Scanlon of South, Ulysees O. Wingo Sr. of Masten and Joseph Golombek Jr. of North joined the mayor on the Statler stage Monday. Scanlon represents many police officers, firefighters and other city workers in his South Buffalo district. He calls Buffalo a "moderate, blue collar" city with no interest in a socialist leader. He also said Walton's calls for reducing police funding and other plans reflected only 7% of the city's electorate.
"I'm the parent of three children and their future means more to me than anything," Scanlon said, "and the difference is night and day between who I think is better for the future and my children."
Walton spokesman Seamus Gallivan acknowledged the primary winner's pledge to support more progressive candidates in the future has given "pause" to some Council members. But he also said Walton enjoys widespread support, while others remain on the sidelines.
"Some people are still fearing political retribution and measuring the way the wind is blowing," he said. "People are shaking from this political earthquake and are seeking ground to stand on."
Indeed, a host of Buffalo Democrats have either made no commitment or don't want to talk about their choice in the write-in campaign. Council members David A. Rivera of Niagara, Brian Bollman of Lovejoy, Mitch Nowakowski of Fillmore and Rasheed N.C. Wyatt of University did not respond to calls seeking comment.
Neither did State Sens. Sean M. Ryan – who has supported Walton in television interviews – and Timothy M. Kennedy. County Executive Mark C. Poloncarz and Rep. Brian Higgins, considered top party leaders, also did not respond to calls.