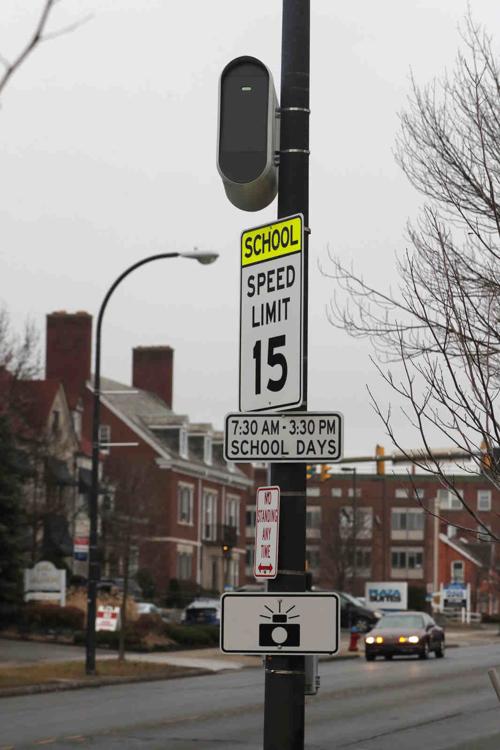 Debate raged Tuesday over Buffalo's School Zone Safety Program that uses speed camera technology to enforce the 15 mph speed limit at 20 locations near schools in the city.
Buffalo Parking Commissioner Kevin J. Helfer, during the Common Council's Legislation Committee meeting, rebuffed an independent review of the program presented earlier this month to the Council.
That review, by Buffalo resident Peter Rizzo – a certified fraud examiner, government auditor and urban planner who works for the federal government – said that the program unfairly targets low-income and minority communities and is focused on generating revenue. Rizzo is among a growing, vocal group of critics pushing Council members to end the speed-camera enforcement of the program.
Helfer, who manages the program, called Rizzo's report "unsupported," and said it included "false allegations."
Helfer said that the speed cameras capture the makes of the vehicles and rear license plates. For vehicles traveling at least 26 mph, the information is run through the Department of Motor Vehicles, which provides the vehicle owner's name and address. It does not provide the race or income of the owner.
"My commitment to protecting children in every neighborhood of this City will not waver," said Mayor Byron W. Brown in a written statement.
"The most important thing we can refute on the 'so-called' report, it is not data driven. It is built on assumption," Helfer said.
Rizzo responded that numerous professionals examined and validated his analysis. 
"I performed a spatial analysis that examined where the city placed the cameras, and they were predominantly placed in minority neighborhoods," he said.
About a dozen speakers from civic groups and Buffalo Public Schools endorsed traffic safety, but offered different opinions on how to achieve the goal.
"If you want to take the cameras out, then what are you going to put in there? That's my question," said Pastor James Giles of Back to Basics. "How are we going to slow these people down?
"The program is failing the citizens of Buffalo. The Common Council has a duty to act," said Peter Rizzo, a certified fraud examiner, government auditor and urban planner who works for the federal government.
North Buffalo resident and social worker Diane Elze called using the speed cameras "immoral."
"School zones must be safe for children," Elze said. "However, speed zone cameras are not the solution in a city with 38% of our children living in poverty. Funding infrastructure improvements and design interventions to calm traffic and make our streets safer should not be funded by a punitive speed camera program that extracts money from Buffalo residents who are already struggling to survive."
Buffalo Public Schools requested "in the strongest terms" that the speed cameras remain in place. But there are opportunities for discussions about improvements.
"We are trying to not put ourselves on opposite sides of any issues related to speed zone cameras," said Will Keresztes, the district's chief of intergovernmental affairs, planning and community engagement. "The city can do two things at once: create safer infrastructure and enforce speeding laws to keep children safe."
Speed cameras are a part of Mayor Byron W. Brown's strategy to improve pedestrian, bicyclist and motorist safety, Helfer said. The program Brown launched last week, called Safe Streets, will dedicate $500,000 from the school speed zone program to fund the safety initiative.
Envisioned as a way to catch speeding motorists who endanger students and others, Buffalo's school speed zone camera program has been a lightning rod for criticism.
The money will be used to hire a coordinator to oversee Buffalo's traffic safety strategy and monitor design initiatives. The money also will pay for pedestrian crosswalk striping, traffic safety studies, and community outreach and education.
"The city clearly has experts on its team who do the research. That's how the Safe Street initiative came about," said Jalonda Hill, founder of Colored Girls Bike Too and member of Fair Fines and Fees Coalition. "But yet, knowing this, this infrastructure has not been vested into. They won't invest money, but they'll put cameras in to extract money."
The coalition, made up of 13 community organizations, including the WNY Law Center, Partnership for Public Good and WNY Peace Center, sent a letter to Brown on Tuesday calling for the termination of the Safe Streets program. Instead, the group asked the city to invest in the coalition's "Just Streets" initiative, which is aimed at investing in infrastructure to slow down drivers, such as speed bumps and narrowed lanes, rather than enforcement through speed cameras, fines and fees and the police.