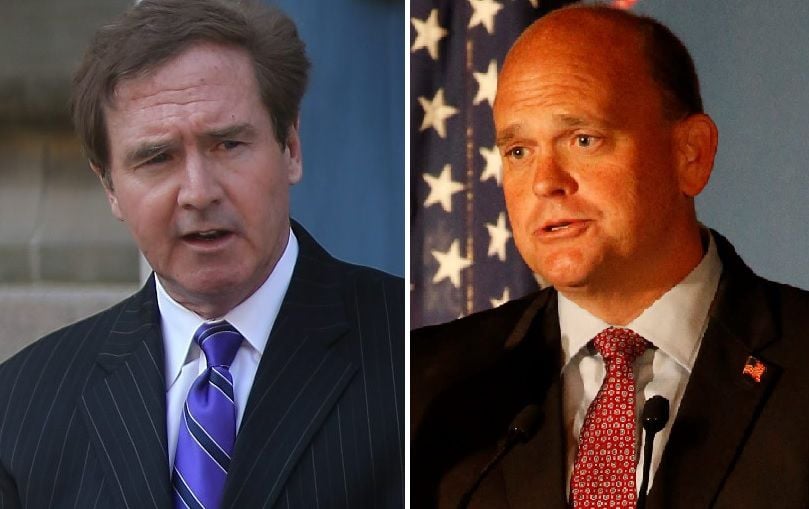 WASHINGTON – Rep. Brian Higgins, a Buffalo Democrat, is standing strong in his opposition to Democratic Leader Nancy Pelosi returning to the House speakership.
But Rep. Tom Reed, a Corning Republican, said that when he casts his vote for speaker, he might end up voting for the Democratic leader whom Republicans love to hate.
This unusual turn of events is playing out as Democrats prepare to take control of the House and decide who should run it.
Right now Pelosi, who served as speaker from 2007 to 2011, is the only Democratic candidate. But Higgins is part of a small cadre of House Democrats who say it's time for new House leadership. Meanwhile, Reed says he could support Pelosi if she were to agree to a set of House rules changes designed to push power down to the committee chairs and rank-and-file members and away from House leaders.
Higgins' voice matters more for now, simply because he's part of the incoming majority party, which is set to choose its candidate for speaker Nov. 28.
Higgins said Thursday that he's every bit as opposed to Pelosi now as he was in June, when he first said House Democrats needed new leadership.
"Too much power has been consolidated under the current Democratic leader, and that has to change," Higgins said.
Higgins has been saying since the summer that his issues with Pelosi stem in part from the fact that she ignored his proposals for a major infrastructure package and for allowing people over age 50 to buy into Medicare.
He acknowledged, though, that Pelosi has recently talked about involving more House members in lawmaking.
"She's paying attention to the grievances at this point," he said.
Nevertheless, Higgins said he is part of a group of at least 17 House Democrats who are preparing a letter calling for new leadership. In that letter, lawmakers will say that they will not vote for Pelosi either in the Democratic caucus in two weeks or on the House floor when the new Congress convenes Jan. 3.
Higgins indicated last weekend that he might consider voting for Pelosi on the House floor to prevent a Republican from gaining the speakership. But Thursday he said he would end up doing something very different: Either voting for Rep. Karen Bass of California, a close Higgins ally, or Rep. John Lewis, the civil rights icon from Georgia, in symbolic opposition to Pelosi.
So far, the only Democrat to indicate any interest in running against Pelosi is Rep. Marcia Fudge of Ohio, but she has not committed to the race and Higgins has not committed to supporting her.
If least 17 Democrats are set to oppose Pelosi, she may not have enough votes among Democrats to reach the 218 votes required to seize the speakership.
Even so, Pelosi expressed confidence Thursday that she will return to the House's top job.
"I intend to win the speakership with Democratic votes," she said at a news conference. "I have overwhelming support within my caucus to be Speaker of the House."
Asked if she would be willing to move to the speakership with votes from Republicans, Pelosi replied: "Oh, please. No, never."
As part of her campaign, Pelosi met earlier this week with the Democrats from the bipartisan Problem Solvers Caucus, which Reed co-chairs. The group has put forth a series of proposed rules designed to devolve power from the House leadership and encourage the passage of bipartisan legislation. Pelosi is expected to counter with a rules reform package of her own shortly.
If Pelosi agrees to the Problem Solvers' proposed rules changes, Reed said he could conceivably vote for her for speaker even though she is a Democrat.
Asked why he would consider supporting Pelosi, Reed began by citing President Trump's tweet about her after last week's election, in which he said: "Democrats, please do not distance yourselves from Nancy Pelosi. She is a wonderful person whose ideas & policies may be bad, but who should definitely be given a 4th chance."
While that tweet appeared to be sarcastic, Reed said there's a scenario in which he would support a Democrat whom Republicans have long demonized as a San Francisco liberal.
"Maybe we should give her some votes in order for her to be the leader in the House," Reed said. "But I would also say we need to change the institution, and if we can get this rule reform package done, it shouldn't matter who's the speaker so long as the members are driving the organization as opposed to it being top-down."
Pelosi might not be the one and only Democratic speaker candidate whom Reed would support, either.
"I'm all in on changing this place," Reed said. "I'd be willing to consider any Democratic candidate who's committed to reforming these rules."
Higgins said, though, that Pelosi reached out to Reed's Problem Solvers Caucus for an obvious reason: to try to solve her own problem of not having enough votes for the speakership.