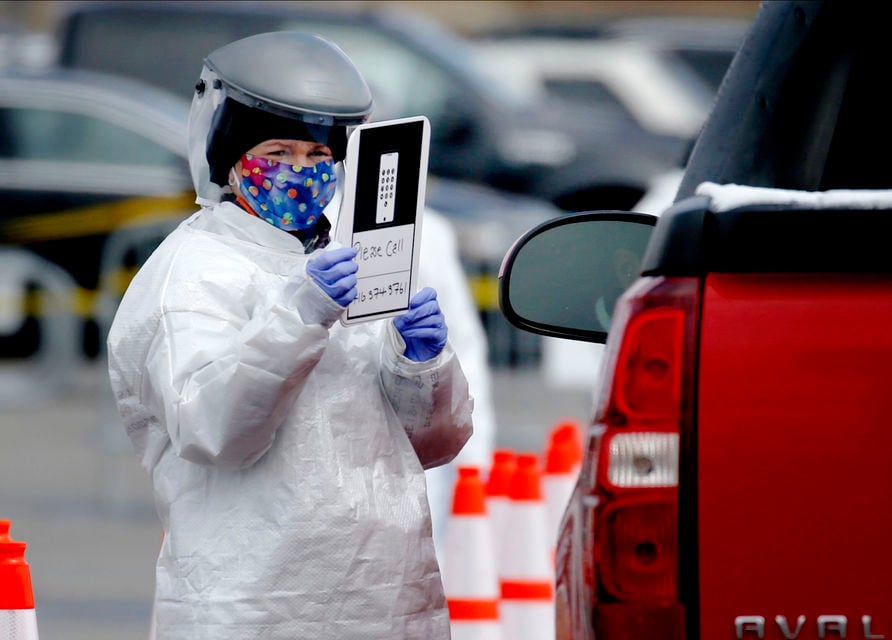 WASHINGTON – The Canadian border will open to vaccinated Americans on Monday, as long as they can prove they've passed a Covid-19 test within 72 hours prior to their arrival on Canadian soil. But that might be a taller order than it seems at first glance.
For one thing, the Canadian government isn't accepting any old test. Antigen tests – the common kind that give you results in 15 minutes – won't be accepted. And for another, many other Covid-19 tests take longer than 72 hours to process.
Canadian officials have set forth a complicated set of requirements that visitors must comply with, lest they want to have to make a U-turn on the Peace Bridge.
With those worries in mind, Rep. Brian Higgins on Tuesday wrote to the Biden administration's Covid-19 response coordinator, Jeff Zients, expressing concern that border communities such as Buffalo may not have the testing capacity that is needed to handle all the people who will want to go to Canada starting next week.
Higgins, a Buffalo Democrat, spelled out his concerns more bluntly in an interview.
"This is either going to be an effective, efficient logistical operation, or it's going to be a disaster. And right now it's heading for disaster," he said.
The short drive to southern Ontario could turn out to be both complicated and expensive.
The first concern is that people will accidentally get antigen tests and view the results as a ticket into Canada, when they're really a ticket back home. Antigen tests, which are widely available, are known for their quick turn-around time. But they are considered less reliable than the molecular tests that Canada is requiring.
The problem is that the average traveler might not know that the antigen test won't work as a pass into Canada. Higgins said neither the U.S. government nor the Canadian government has made that point strongly enough.
"There is no clear communication coming from this administration, or from the joint governments, as to what the policy is," Higgins said.
Then there's the fact that not every molecular test delivers results within 72 hours. Proof of that can be found on the New York State Department of Health testing website, which lists testing sites in each community or ZIP code. For the Buffalo ZIP code 14201, for example, the website listed 10 testing locations – but only three of them promised molecular test results within 72 hours.
Former Rep. John J. LaFalce, a Town of Tonawanda Democrat who has a summer home in Canada, said he went to a local drug store that promised a three-day return on a test.
"That's cutting it pretty close," LaFalce said.
Rep. Brian Higgins, a Buffalo Democrat, called the move "unacceptable." Rep. Chris Jacobs, an Orchard Park Republican, lamented "the Biden administration's complete failure on this issue."
In the meantime, some testing centers could find themselves with a sudden surge of people needing Covid-19 tests, simply because Canada is opening the border and requiring such a test not long after New York State closed down its mass testing sites.
Brighton Eggert Pharmacy is prepared to deliver molecular test results within one to two hours for a $140 fee, but Donald Arthur, who owns the pharmacy, said he's concerned that there might be a crush of customers that would slow down results.
"Where we're going to see some concerns in our facility is on capacity if the demand spikes," Arthur said.
All of those concerns could combine to severely limit the number of Americans who want to travel to Canada once the border opens, LaFalce said.
"I think that's going to deter people from crossing over tremendously," he said.
"I think we're in a good place and the trajectory is very promising," said Arnold Chacon, interim chargé d'affaires at the U.S. embassy in Ottawa.
What's more, the Canadian policy regarding Covid-19 tests for vaccinated travelers doesn't make any sense, Higgins said.
"If you're vaccinated, you shouldn't have to be tested," he said.
The Canadian Covid-19 testing policy is by no means Higgins' only concern. He's long railed against the Biden administration's decision to keep the U.S. side of the border closed to most Canadians. And he's also worried that the administration hasn't prepared well for the border changes that will take place starting when Canada begins welcoming vaccinated American leisure travelers Monday.
Higgins voiced that concern in a separate letter to Homeland Security Secretary Alejandro Mayorkas.
"Does Customs and Border Protection have sufficient manpower to staff our northern border to support a full reopening?" Higgins asked.
Higgins also asked several other detailed questions about whether the U.S. is prepared to fully reopen the border – which he has been advocating for months.
"To ensure this reopening happens without unnecessary delays requires addressing these obvious issues beforehand and publishing a plan with clear and obtainable objectives based on science and data," Higgins wrote.