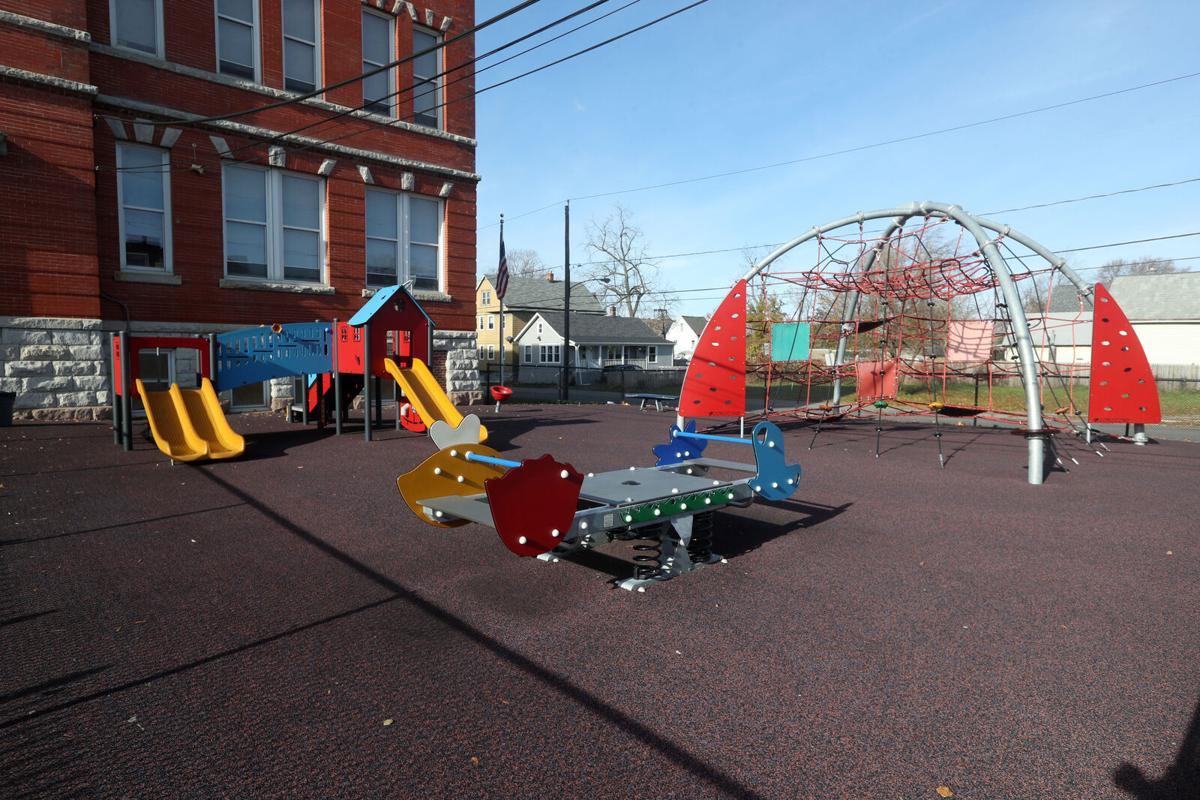 The first phase of an initiative to open Buffalo Public Schools playgrounds, fields and recreational facilities to the public during non-school hours includes 17 playgrounds, city officials said.
The 17 playgrounds were the first to be picked because they are well-kept, have no immediate scheduled upgrades and are in neighborhoods not within walking distance of a public park with a playground. 
When not in use by students, the playgrounds' hours for the public will generally be 4 p.m. to dusk on weekdays, but no later than 7 p.m., and from 10 a.m. to dusk on weekends, said Will Keresztes, the district's chief of intergovernmental affairs, planning, and community engagement.
The Brown administration and school district have discussed using the school playgrounds and fields for the public's benefit for several years. The Buffalo Board of Education approved the agreement in August, and the Common Council did so last week.
• PS 17 Early Childhood Center, 1045 W. Delavan Ave.
• PS 19 Native American Magnet School, 97 W. Delavan Ave.
• PS 33 Bilingual Center, 157 Elk St.
• PS 37 Marva J. Daniel Futures Preparatory School, 295 Carleton St.
• PS 43 Lovejoy Discovery School, 161 Benzinger St.
• PS 45 International School 45 at 141 Hoyt St.
• PS 50 North Park Community School, 780 Parkside
• PS 54 Dr. George E. Blackman School of Excellence ECC, 2358 Main St.
• PS 61 Arthur O. Eve School of Distinction, 453 Leroy Ave.
• PS 64 Frederick Law Olmsted, Amherst Street and Lincoln Parkway
• PS 65 Roosevelt ECC, 249 Skillen St.
• PS 67 Discovery School, 911 Abbott Road
• PS 76 Herman Badillo Bilingual Academy, 315 Carolina St.
• PS 80 Highgate Heights, 600 Highgate Ave.
• PS 81 School, 140 Tacoma Ave.
• PS 59A Drew Science Annex, 50 A St.
• PS 94 West Hertel Academy, 489 Hertel Ave.
The initiative's aim is to promote the health and welfare of the community and provide nonexclusive recreational opportunities to neighborhood children and community members.
After the playgrounds, the focus will then turn to athletic fields and recreational facilities, and then possibly the district's indoor pools.
The second phase will focus on athletic fields and facilities: All High Stadium, Riverside Stadium, MST Field, Grabiarz Field and Olmsted/Kensington Field, Keresztes said. 
Community groups or leagues would need to apply to use them, and they are subject to availability when BPS students are not practicing or playing games, Keresztes said.
For fields, the hours may be different, depending on the needs of the groups applying to use them, said Andrew Rabb, the city's deputy commissioner for parks and recreation. Reservations may have associated fees, possibly for security requirements.
Under the agreement, the city is not responsible for management, maintenance, upkeep, upgrades, replacements or repairs. Neither will the city incur or take on other expenses or obligations operationally or otherwise, according to documents filed with the Common Council.
The school district is responsible for all preparation, signage, upgrades, maintenance, repair, replacement and operations and management. 
The city's Parks and Recreation Division is working with BPS to install signage.
After inspections, the opening of the school playgrounds is expected to take place in May or June, Rabb said.
The third phase of the project will encompass athletic and recreational facilities that require significant planning, design and construction. Some of the sites are undergoing or scheduled for redevelopment or renovation, such as Fosdick Field, and will become available for public use in the next three to five years.