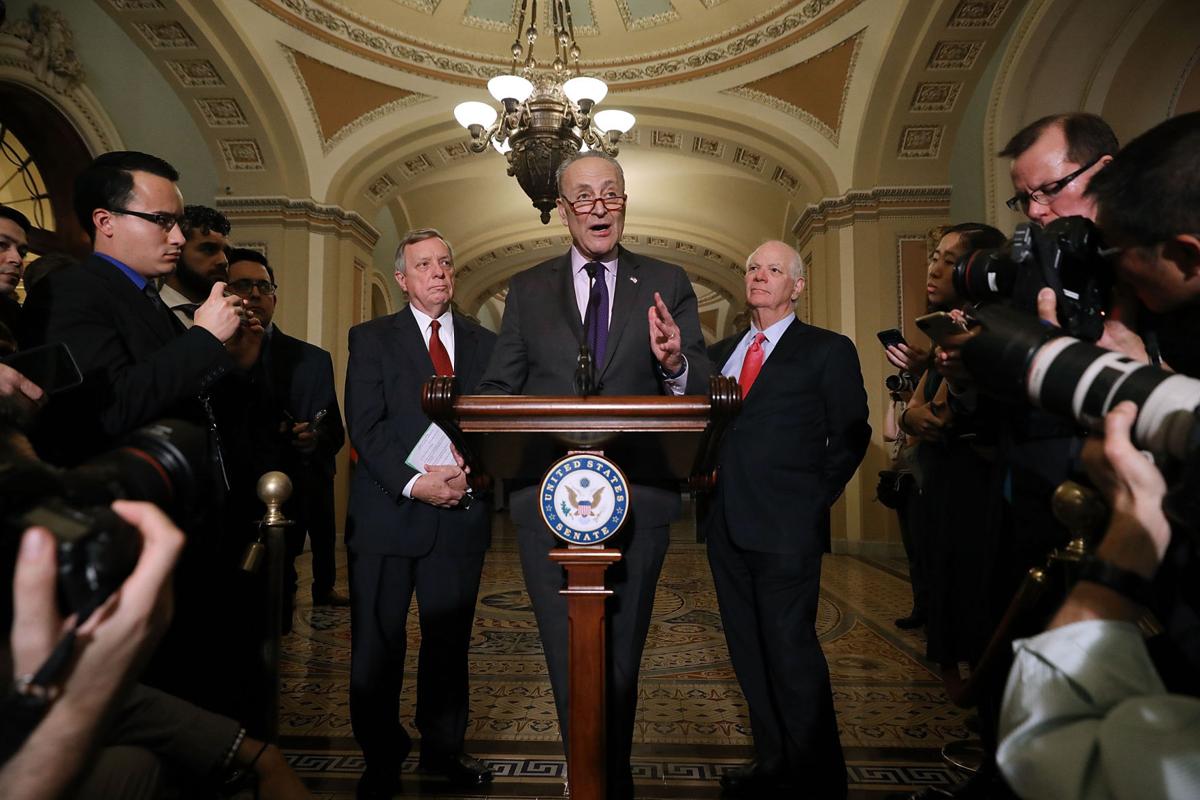 WASHINGTON — Democrats and Republicans don't agree on much these days, but in New York, they agree on at least one thing.
For the Empire State, the tax reform bill the Senate hopes to take up this week will be far worse than the version the House passed two weeks ago.
That's because the Senate bill — which passed the Senate Budget Committee Tuesday — would eliminate the state and local income tax deduction, while the House bill would allow homeowners to deduct up to $10,000 in property taxes.
In practical terms, the Senate bill would mean higher federal taxes for many middle-class homeowners who would be spared that fate under the House legislation.
Under the Senate measure, "obviously (the tax code) would no longer mask one of the issues that we face in New York, and that's the high-tax, high-spend culture we have out of Albany," said Rep. Tom Reed, a Republican from Corning who sits on the tax-writing House Ways and Means Committee. "When you do that, you're going to have a corresponding impact on the people living in the state."
Some parts of the Senate bill — such as a provision that cuts but continues the historic preservation tax credit that would be eliminated under the House bill — work to New York's benefit.
But lawmakers from both parties agreed the Senate's elimination of the SALT deduction makes the bill especially significant for New York.
The move would not necessarily mean a tax increase for homeowners of modest means, who would benefit from the fact that the Senate bill — like its House counterpart — nearly doubles the standard deduction. That would mean many more lower-income homeowners wouldn't have to itemize anymore, and therefore wouldn't miss the SALT deduction.
But that doesn't mean those homeowners wouldn't be affected.
The PricewaterhouseCoopers accounting firm estimated earlier this year that the complete elimination of the SALT deduction would lead to a 10.2 percent drop in housing prices.
E.J. McMahon, founder and research director for the conservative Empire Center for Public Policy, explained how, using the example of a family with a $300,000 mortgage, which is common in the New York City suburbs and not altogether rare in wealthier Buffalo suburbs.
Eliminating that family's SALT deduction would boost their taxes by an average of about $3,600 a year, McMahon estimated. So if that family wanted to move or refinance, it wouldn't have as much money to spend on a home, just because it would have to set aside more money for taxes.
With fewer people able to afford more expensive homes, McMahon said he thinks housing values in the state could fall as much as 20 percent.
"And even if you get a tax cut, not being able to deduct your property taxes is still going to affect real estate values," McMahon said. "Your real estate values are going to be dinged pretty significantly."
Reed worries about the Senate's possible impact on home prices, too.
If the Senate tax bill were to become law, "house prices going down would be a realistic outcome of that scenario," he said. "So I recognize that, and that's why I cannot support the complete elimination of the state and local tax deduction."
Instead, Reed backs the House compromise.
By allowing homeowners to deduct the first $10,000 of their property taxes — although not their state income taxes — the House bill protects far more homeowners than the Senate bill does, and would likely not have the same impact on home values, McMahon said.
The Senate bill's attack on the SALT deduction came as a bit of a surprise.
In an October gathering with reporters, Senate Finance Committee Chairman Orrin Hatch said of the SALT deduction: "I don't think that's going to go anywhere. It's so accepted by states and local areas. It's a system that's worked very well."
But upon revealing the Senate version of the tax bill only weeks later, Hatch, a Utah Republican, said the SALT deduction ought to go.
"I'm sure a number of our Democratic colleagues will argue that the deduction is an absolute necessity," he said. "I plan to ask them why they want to forego middle class tax relief in order to preserve a tax deduction that overwhelmingly benefits the taxpayers at the very high end of the income spectrum."
To hear Democrats tell it, Hatch changed his mind because eliminating the SALT deduction would, according to the nonpartisan Tax Policy Center, boost federal revenues by $1.3 trillion over a decade.
That allowed the Senate bill to mirror the House's deep cuts in the corporate and individual tax rates while protecting some tax breaks that the House wants to eliminate. For example, in addition to maintaining a 10 percent tax credit for historic preservation projects — down from 20 percent in current law — the Senate also would preserve tax-exempt bond financing for not-for-profits such as universities and public housing development agencies.
Those tax breaks would be eliminated under the House legislation.
Gov. Andrew M. Cuomo, a Democrat, has estimated that eliminating the SALT deduction could boost the total amount of federal taxes New Yorkers pay by $18 billion.
"New York and California top the list of the 12 states that will most directly face hardship if SALT deductions are removed," Cuomo said. "Curiously, all 12 are 'blue' states and if this change to accepted tax law passes, these states will be at a competitive disadvantage to other states with lower local taxes."
Despite the differences in the two bills regarding the SALT deduction, the Republican approach to tax reform is largely similar on both sides of Capitol Hill, said Rep. Brian Higgins, a Buffalo Democrat who sits on the Ways and Means panel.
"It's a giveaway to the wealthy," Higgins said.
Sen. Kirsten E. Gillibrand, a New York Democrat, agreed.
"This actual quote from New York's own congressman Chris Collins tells you everything you need to know about who Republicans are fighting for: 'My donors are basically saying get it done or don't ever call me again,' " Gillibrand said in a conference call with reporters Tuesday. "This is Washington corruption at its worst."
Collins' spokeswoman, Sarah Minkel, called Gillibrand a hypocrite, noting that the senator accepted the support of former President Bill Clinton and Hillary Clinton only to say recently that Bill Clinton should have resigned as president after his affair with a White House intern came to light more than two decades ago.
Collins, a Republican from Clarence, defended the GOP House tax bill as anything but a giveaway to the rich.
"Under the House-passed bill, 95 to 98 percent of my constituents would see lower tax rates," said Collins, who expressed little worry that the Senate version of the bill would become the final version.
"After Senate Republicans pass a bill that addresses their priorities, we will go to conference to work out differences, and I am confident the result will be good for Western New York and good for the American economy," Collins said.
The Buffalo News: Good Morning, Buffalo
The smart way to start your day. We sift through all the news to give you a concise, informative look at the top headlines and must-read stories every weekday.