Buffalo's earliest gay rights organization was the Mattachine Society of the Niagara Frontier, named for an earlier national gay rights group that had taken its inspiration from a medieval French secret society that wore masks and maintained anonymity while criticizing the king.
The group came together in 1970, within months of the 1969 Stonewall Riot in New York City – where gay and lesbian bar patrons stood their ground against police trying to arrest those who had violated rules enforced by the New York Police Department's Public Morals Squad.
As outlined in "Fifth Freedom," Western New York's first gay newsletter, editor Greg Dolan described the uphill battle in calling on the "estimated 36,000 homosexuals in the Niagara Frontier" to join in a larger cause to benefit  the entire group as well as generations to come.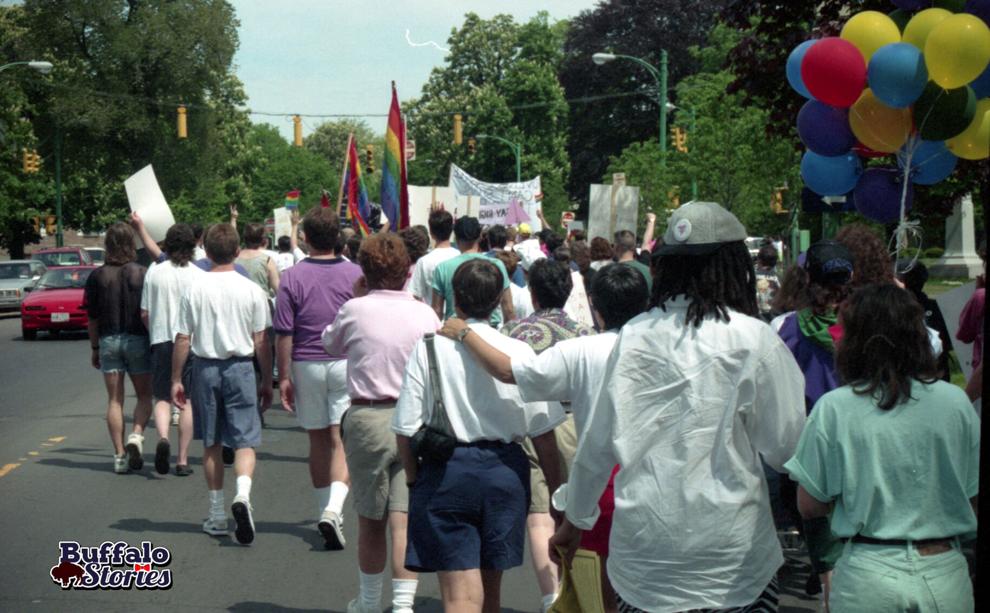 "No one is willing to make the first move toward individual freedoms and from the shackles placed about you by both your homosexual peers and the heterosexual society at large," Dolan wrote.
"Are you willing to sit back and take forever the pity, contempt, and two-sided justice proscribed for us?" Dolan asked. "We have carried the burden of guilt and harassment far too long and should join the tide of liberation while the iron is hot and society for the first time is at least willing to listen."
In the same 1970 newsletter, Mattachine Society President Frank Russo explained that "recent events in Buffalo have given the homosexual community a sense of unity and purpose which it so badly needs."
He was bigger than life hosting the night shift on KB, and Buffalo's teens couldn't get enough of Tommy.
He went on to describe the goals of the society, including ending harassment by police and the public at large, work toward full equality in employment, "reform state sodomy laws to eliminate penalties for private sexual behavior between consenting adults" and "aid the homosexual in understanding himself in relationship to the society in which he lives."
While entrapment was against written Buffalo Police policy, several gay men said they were responding to the overt overtures of undercover cops when they were arrested at police-targeted sites on Pearl Street near West Huron, and in Allentown along Irving, Park, North and near Elmwood and Summer.
Vice Squad Capt. Kenneth Kennedy defended his officers' pursuit of gay men.
"The aggressive homosexual is the one we are directing our efforts toward. The protection of our children demands that we rid the streets of those who would prey on them," Kennedy told a women's club meeting at the Park Lane in 1969.
"This kind of man is so bold, his compulsion so great, that he would brazenly ring your doorbell, trying to befriend you and your child. He's a master salesman and, if he also happens to be a neighbor, you wouldn't suspect his interest."
It sounds dramatic and impossible – but the Buffalo River caught fire in March 1968.
A state law making sodomy a crime was the primary tool in what police brass called a crackdown and gay men called harassment. There were 12 arrests in the City of Buffalo for consensual sodomy in 1974, 14 in 1975, 30 in 1976, 56 in 1977, and 100 in 1978. That law was used more in Erie County than in the rest of the state combined, including New York City.
At least one local judge said police were taking things too far when officers reported arrests on charges related to homosexual behavior to the employers of those arrested.
In a letter to Buffalo Police officials, Judge Alois C. Mazur called such police action "an attempt to embarrass or punish a defendant who is presumed to be innocent."
Mazur sent a copy of the letter to a State Senate committee that was a watchdog for privacy issues, adding, "you should have cause to wonder whether the results justify the manpower used."
In response to the judge's admonishment, Kennedy replied, "I feel very strongly and so does (Police) Commissioner Felicetta, that we have not only a right to alert the public to this ever-present danger – but also a duty.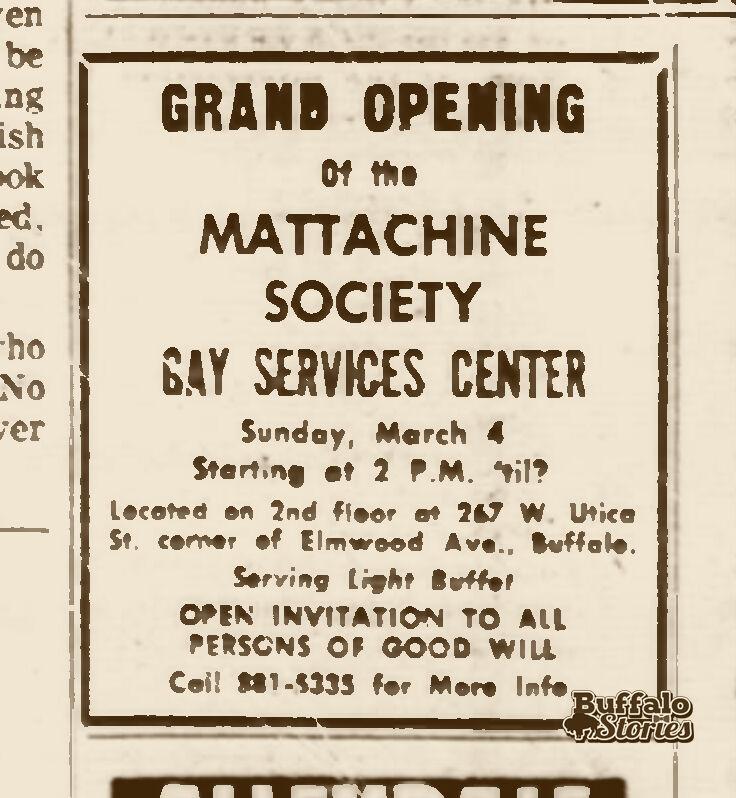 "We feel we have the full support of the citizens, and those truly interested in a clean city," said the Buffalo Police Vice commander.
Gay men faced harassment and discrimination across the board, even on the pages of The Buffalo Evening News – where an ad announcing the grand opening of the Gay Services Center was rejected for publication in The News, with the explanation that the Mattachine Society was on "a list of groups from which The News would not accept advertising." The same ad did, however, run in the Courier-Express.
After a decade of engagement and struggle, one of the Mattachine Society's original goals was finally fulfilled. It was December 1980, when the state Court of Appeals struck down the law that had prohibited sodomy between consenting, unmarried adults. The case was argued by Buffalo attorney William H. Gardner, who was representing two Buffalo-area men who'd been convicted under the law.
Steve Cichon writes about Buffalo's pop culture history for BN Chronicles, has written six books, and teaches English at Bishop Timon - St. Jude High School.