The blazing Bills Stadium lights filtered through the windows of O'Neill's Stadium Inn on Abbott Road, and by 5 p.m. Saturday every available bar stool and table was full. Unlike past years, however, there was still plenty of elbow room.
Rochester resident Sean Miller sat at the bar with three other friends and family members, happy to be among fellow ticket-holding fans even though they had to forgo their usual tailgate party in a nearby lot.
"If there was a table here, I'd be breaking tables for you," he quipped.
But there weren't nearly as many tables as usual inside the restaurant because of capacity restrictions, and parking spots were easy to find. During a normal game day, owner Peggy Cerrone said, "there's an hour-and-a-half wait to get in here."
That was good news for Miller and his friends, because it meant they could finally get a seat inside the restaurant he'd often walked past but never set foot in because it was always so crowded. 
Danny's South restaurant enjoyed as good a crowd as could be expected Saturday. But Rich Ebeling, part of the family that owns Danny's, could still imagine what the team's run to the playoffs would have meant for business in a year free from the pandemic's grip.
"We've been here over 20 years – it easily would have been our best season ever," Ebeling said Saturday from the Abbott Road restaurant, where roughly 90% of the workers were forced onto unemployment.
Fans with timed entry tickets to the game against the Baltimore Ravens didn't seem to mind the restaurant roominess. They still showed up at the nearby bars and restaurants for beer, wings and other munchables in lieu of private and stadium lot tailgating, which is forbidden under the current rules.
Buffalo residents Joe Marrero and Raul Rodriguez had been at O'Neill's since before 5 p.m. They had entry tickets for 7:15. Given the food limitations at the stadium, they said, they each ordered 20 wings — 10 to eat before the game and 10 to eat after.
"We mapped out the whole day," Marrero said. 
He reminisced about past Bills games and tailgate parties, when they'd get handed free beers from other fans and eat with strangers. This was a time to be with family, he said, the Bills family.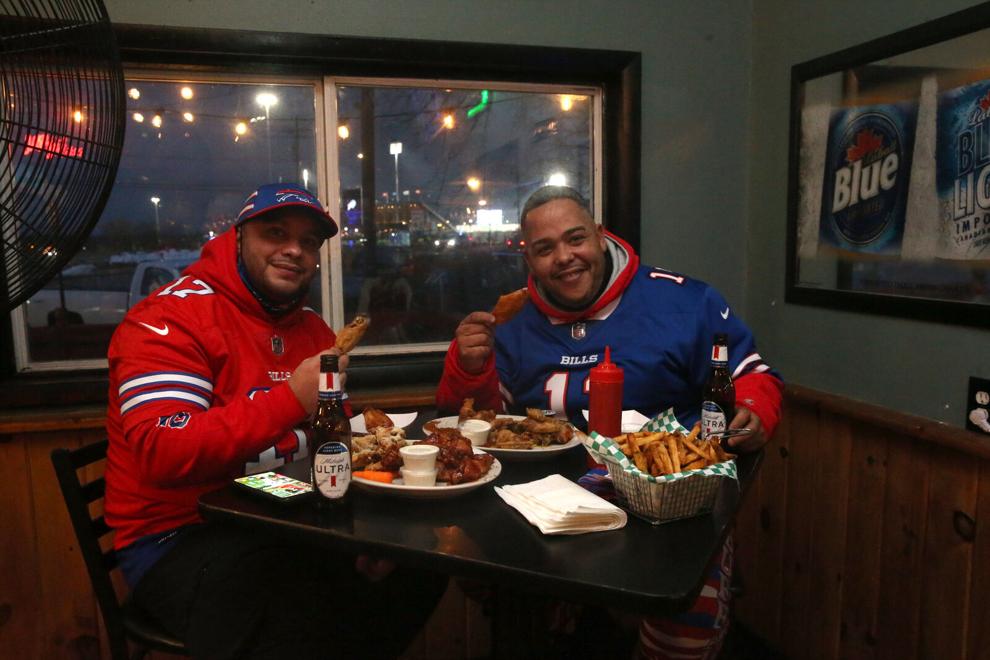 Not all restaurants were in the same position to to capitalize on the Bills traffic. Big Tree Inn on the south side of the stadium was subdued, despite some fans singing "Heyyyyyy! Let's go, Buffalo!" The bar and restaurant sat just inside the Abbott Road closure marker.
Orchard Park resident Emily Conforti and her friends, who had 7:05 p.m. timed entry tickets, were still grateful to be there for some substitute game-day atmosphere instead of her family's traditional tailgate. 
"This is where all the legends used to hang out, so perfect," she said.
It had been only two days since restaurants in Erie County's "orange zone" learned they would be allowed to reopen their dining rooms at 50% capacity, under "yellow zone" rules, but with a 10 p.m. curfew in place that required them to shut down indoor dining during the third quarter of Saturday's playoff game.
Danny's South has set up about 14 tables for outdoor dining, but that's a far cry from the 200 or 250 people who could fit inside in pre-coronavirus days.
Ebeling said they had reservations for people going to the stadium, where 6,700 fans are allowed, and some reservations for people who plan to leave the restaurant at halftime to beat the 10 p.m. curfew.
Normally, for a home Bills game, Ebeling said he would have 10 parties in the parking lot, bus parties of fans from Canada and motor homes parked in their lot in the days before the game. 
"It would be crazy," he said, adding, "I'm looking at it as something, but I'm not happy with just something. 'Something' doesn't pay the bills."
Cerrone at O'Neill's Stadium Inn echoed similar frustrations.
"It's a third of our yearly income that's gone," she said. "It hurts."
The restaurant was completely booked for Saturday night's divisional playoff game, even though customers had to leave well before the end of the game.
Hamburg resident Josh Lang and Orchard Park resident Rich Braun were regulars at the place, rotating through the long list of wing flavors. Last week they sat outside. But they were glad to finally take a seat inside for a change. They were eating through their anxiety about the possible outcomes of Saturday's game.
"I've been anxious and nervous pretty much all week," Lang said.
"But you know what?" Braun chimed in. "We'll see you here next week at this same time."
Other local restaurants opened their doors to fans who consigned themselves to enjoying the dinner-and-game camaraderie only until half time. At JT's Urban Italian restaurant in the Elmwood Village of Buffalo, downtown residents Kevin Lynch and Sarah Works reviewed their bill as the last seconds of the second quarter wound down.
The couple had arrived at 7:30 pm, thrilled that one of their new favorite restaurants was once again open. They asked for seats at the bar to afford them the best view of the game, which was up on two of the giant screens.
"I was worried we wouldn't be able to get a seat at 8 o'clock," Works said.
That wound up being no problem. The staff announced last call for drinks at 9:30 p.m., and all patrons had their bills by 9:45. Everyone cleared out at halftime, which was how the couple expected the night to go.