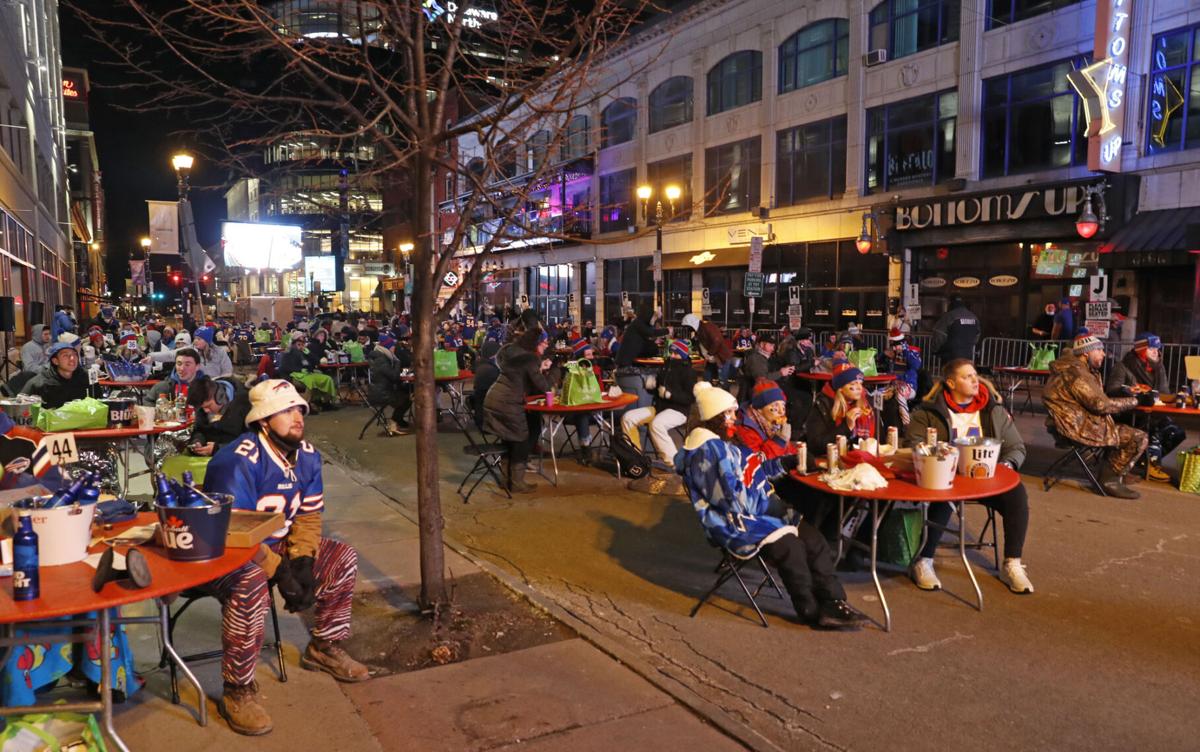 About 1,000 Bills fans are anticipated for an outdoor viewing party Sunday on West Chippewa Street between Delaware Avenue and Franklin Street for the team's first away game of the season against the Miami Dolphins.
Now dubbed "Buffalo Bills Block Parties," this and three other events will follow the format for the "Playoffs on the Patios" parties that were held last winter leading up to the Super Bowl, which were a huge success, according to Chris Ring, a partner at the Rec Room restaurant at 67 W. Chippewa Ave.
"It was part of the mayor's office's reopening initiative that he did with the businesses down here over the summer, allowing us to have extended patios and things like that," Ring said.
Those two outdoor events attracted hundreds of people to Chippewa for a unique game day experience, which, at the time, was sponsored only by the Rec Room and Soho restaurant. Now that other businesses on the block have reopened, there was a desire to create some opportunities to give them all a little extra boost in business after being closed for 16 months, Ring said.
"We couldn't think of a better way to do that than to get 1,000 people down here for the Bills into the streets, plus whatever business spills into the bars and restaurants. It really should be like a fun away-game destination," Ring said.
"We did it last year for the playoff games. At that time, we had to do things like 10 people per table. Everything had to be socially distanced and things like that. So we were limited to 250 people per game," he added.
Ring said both of those games sold out, but attendance for the upcoming outdoor away game viewing parties is anticipated to reach up to 1,000 participants.
"Obviously, now there's no social distancing required outdoors, so we will have VIP tables available, but also just a standing room general admission event for people to stand and watch the game together," Ring said.
The first of four scheduled outdoor Buffalo Bills away-game viewing parties kicks off at 11:30 a.m. Sunday. 
Subsequent outdoor viewing parties are set for 4 p.m. Oct. 10, when the Bills face the Kansas City Chiefs; at 11:30 a.m. on Nov. 14 against the New York Jets; and at 11:30 a.m. on Dec. 26 when the Bills visit the New England Patriots.
Ring said each game will feature two 15-foot LED video walls – one outside of Jim's Steakout and one outside of Soho – live game sound, a live DJ during commercial breaks and a live halftime show, as well as food and drink specials. 
Those who prefer to watch the games indoors will have the option to go inside any and all of the participating bars for additional food and drink specials.
Admission to the outdoor block parties is limited to those who are 21 years and older. There is a $10 charge for standing room/general admission tickets, or a VIP table can be reserved for $250. VIP tables can seat up to 10 people. There is no charge for patrons to go inside any of the bars and restaurants.