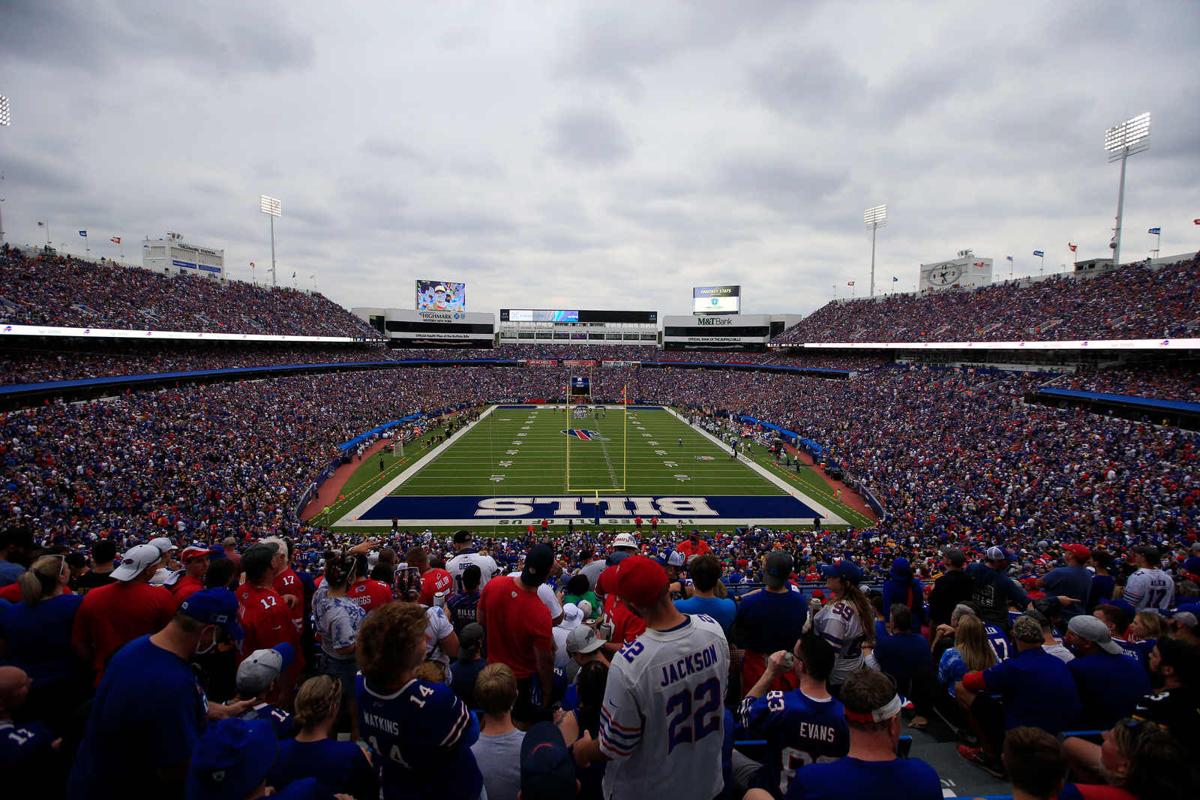 Cheers and jeers started to flow as soon as Erie County Executive Mark Poloncarz announced that proof of vaccination would be required for all future Buffalo Bills and Buffalo Sabres games. Some said the decision should have been made even sooner, and others likened the new policy to fascism.
Standing in front of Highmark Stadium, Poloncarz and Pegula Sports and Entertainment Executive Vice President Ron Raccuia jointly announced Tuesday that anyone planning to attend Buffalo Bills games at Highmark Stadium must be fully vaccinated by the end of October. The rules apply to those ages 12 and older. Anyone younger must wear a mask inside the stadium.
Later this fall, all fans entering KeyBank Center must also be fully vaccinated to attend Sabres games, as well. The rules apply to all events at either stadium, not just Bills and Sabres games. 
For Bills games, all fans must have at least a first dose of a Covid-19 vaccine to attend the team's next home game on Sept. 26. For those entering KeyBank Center, the mandate will apply starting Sept. 25 for those for those going to the Eric Church concert.
"There will be no test-out option offered," Poloncarz said at a news conference outside Highmark Stadium. "Every individual guest must be vaccinated with at least one dose, starting with the Washington Football Team game" on Sept. 26.
No exceptions to the vaccination requirement will be granted for medical conditions or religious reasons, Poloncarz said.
He thanked Kim and Terry Pegula for their full support of the new policy.
Representatives for both the Bills and the county did not say whether anyone attempted to enforce mask-wearing rules for the roughly 70,000 fans at Sunday's game against the Pittsburgh Steelers.
"We believe this is the best and only way to ensure a truly safe atmosphere where Covid-19 cannot be passed, where people will be put at risk," Poloncarz said.
He also said the new vaccination requirement was not made in response to Sunday's home opener, when many fans were seen flouting the requirement for masks to be worn in the indoor areas of the stadium. Poloncarz said he was "very disappointed" by the lack of compliance. Based on observations by county health inspectors at Sunday's game, only 47% of stadium attendees wore their masks.
Once the vaccine mandate goes into effect, masks will no longer be required of fans in either venue, save children who aren't old enough to get a shot.
This new policy has been discussed and planned with Pegula Sports & Entertainment for weeks, he said. It just wasn't implemented for the first game because there wasn't enough time to logistically execute the plan. Enforcement of the new mandate will now be done at the point of entry.
"I do want to thank everyone who wore masks, because that's what we had asked," Poloncarz said, "but it's quite apparent after that – even though we'd already made the decision – that helps prove that this is the right decision to ensure the safety of all."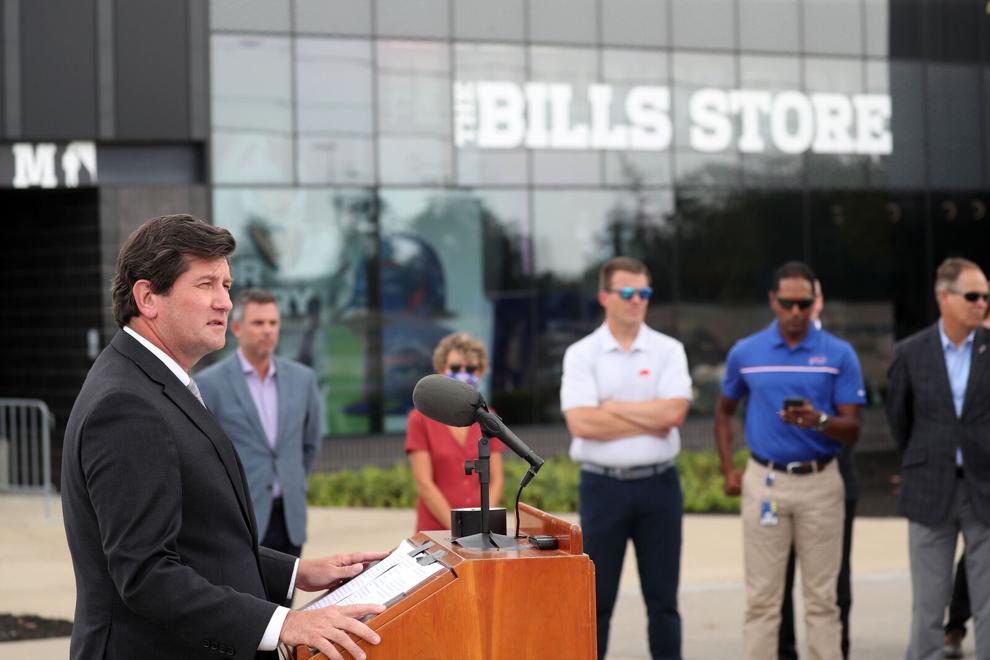 Raccuia said PSE worked collaboratively with the county in implementing the new requirements. He also pointed out that when the Bills were allowed to have fans at limited capacity with proof of a negative Covid-19 test, the organization worked to make that process as seamless as possible, providing drive-through testing for all ticket holders.
"We are looking to provide the safest environment for our fans that we possibly can," he said. "We're thankful for this collaboration and feel this is the right thing moving forward."
Acceptable forms of proof of vaccination are a physical vaccination card, Excelsior Pass, CLEAR digital vaccination card or, for those attending from out of state, another government-issued digital proof of vaccination. To guard against vaccination card forgeries, Erie County Health Department officials will conduct spot checks of physical vaccination cards and verify them against the state database. Anyone who is found with a fake card could be charged with a felony, Poloncarz said. 
The new stadium vaccine mandate could be subject to change if new Covid-19 cases begin to fall.
"Unfortunately, our hospitalizations have been growing," Poloncarz said. "We've had increased deaths." 
As the NFL's opening weekend approaches, in Orchard Park and across most of the league, tens of thousands of fans in soaring stadiums will cheer on the home team without knowing the vaccination status of many of the people sitting around them.
Pro-rated refunds will be offered to season ticket holders who do not want to attend games as a result of the new vaccination requirement. Refund requests must be made by 8 p.m. Friday. Single-game tickets will not be refunded. The Bills recommend those tickets be transferred, sold or donated.  
In regard to the potential for long lines to get into the stadium as a result of the new policy, Raccuia said that he believes the Bills' early entry policy and logistical planning will prevent problems from arising.
In developing their entry plan, PSE looked at other stadiums and sporting events where all fans were required to be vaccinated, including the U.S. Open and the Las Vegas Raiders game Monday at Allegiant Stadium. The Raiders were the first NFL team to require full vaccination of fans entering the stadium. Some other stadiums require either proof of vaccination or a negative Covid-19 test.
Prior to Tuesday's announcement, some fans criticized the organization for not doing more to enforce mask-wearing at Sunday's home opener against the Pittsburgh Steelers. 
"I didn't expect anything to be 100%, by any means," Buffalo resident and Bills season ticket holder Timothy Radder said. "But I did expect to see more enforcement from the Bills' part."
Instead, while food vendors and guest services personnel did a much better job masking up on Sunday compared with the Bills' preseason game in late August, most fans still didn't bother wearing masks in the indoor concourse, he said. In addition, off-duty police officers sitting next to him and his wife were overheard mocking mask wearers and calling them "morons."
"I think the environment the Bills put forth by not trying to enforce it set a standard for that kind of behavior," Radder said. "I don't like paying for this."
The 15-year season ticket holder said he's skipping the next two home games as a health precaution, but said that with the new vaccination requirements, he and his wife are more likely to attend future home games.
Raccuia responded to the criticism, saying, "That's an impossible ask of our staff to manage 65,000 people with masking, with every other thing we've got going on."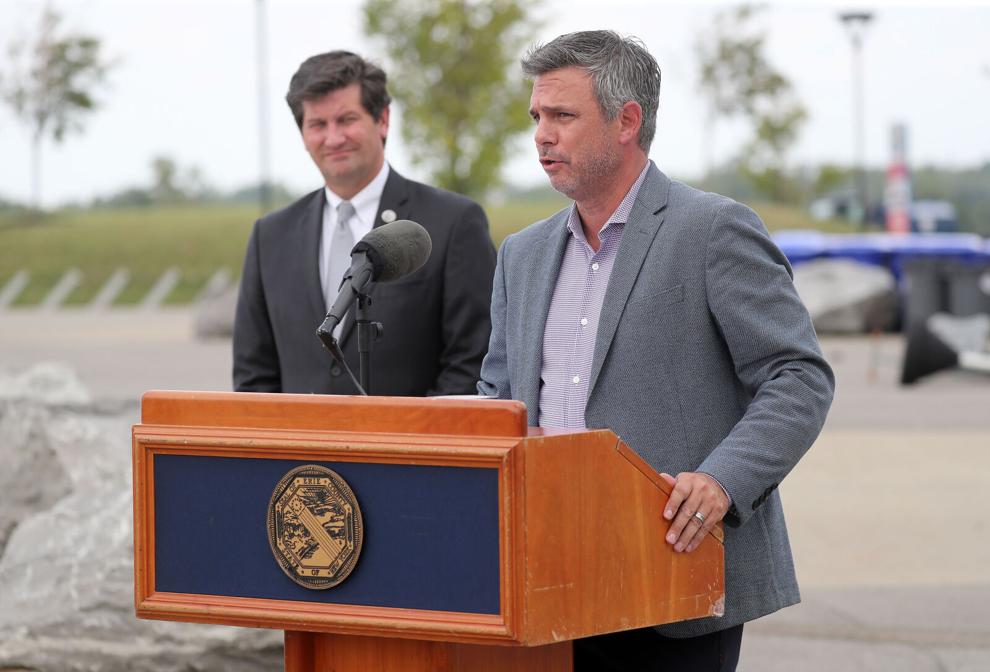 Not all fans think the new Bills and Sabres vaccine mandate is a good thing. Poloncarz was lambasted by some on social media who likened him to a dictator. They also criticized what they consider a double standard since NFL players aren't required to be vaccinated, and neither are other contractors and employees at the stadium who have employment or union contracts that prevent such requirements.
Before Poloncarz was even done speaking at Tuesday's outdoor press conference, an uninvited man who happened to be nearby and overheard the press conference yelled at Poloncarz from the nearby parking lot.