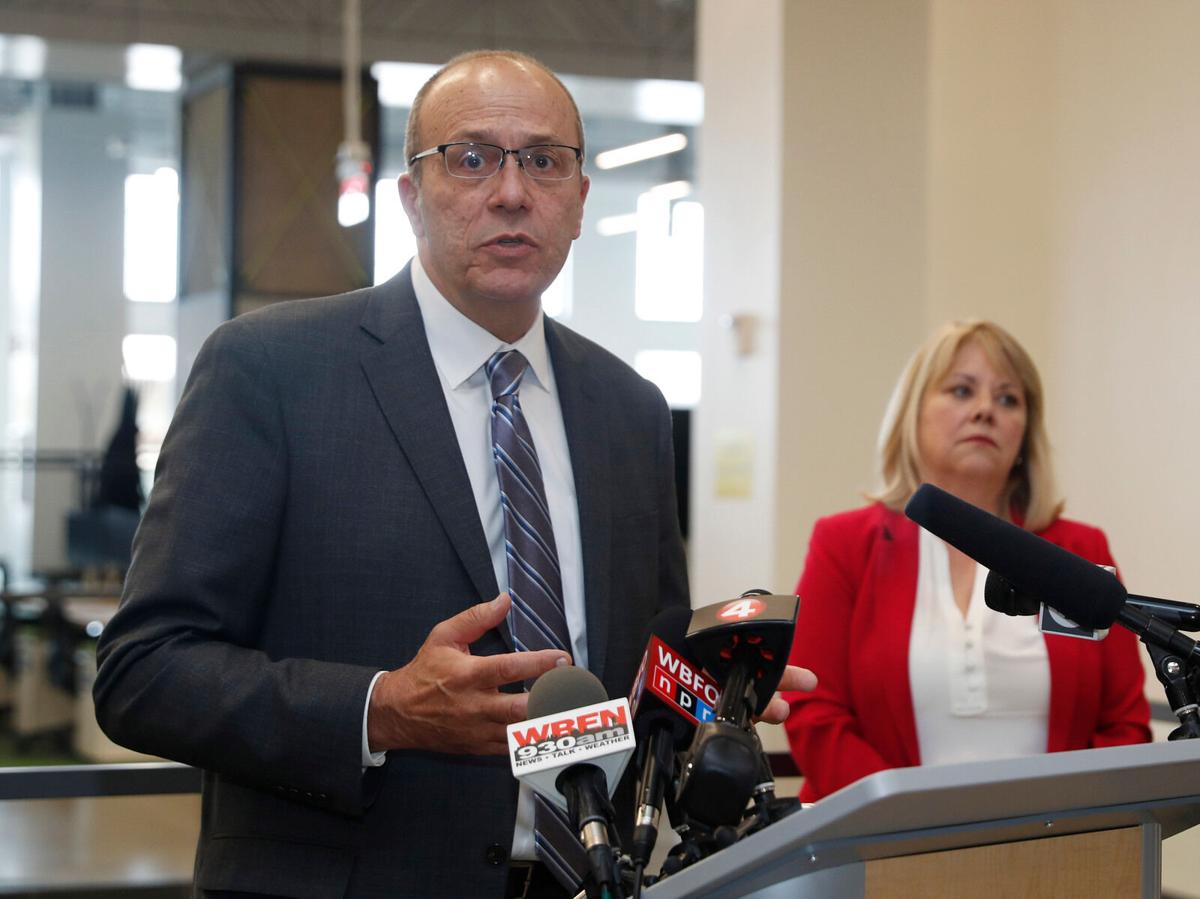 WASHINGTON – The Buffalo business community has been abuzz about the possibility of a federally funded tech hub in the region, which could sprout new businesses and jobs for decades to come.
But the bill that would create those tech hubs is producing a different kind of buzz all around the world – because it aims to beat back China's technological challenge through a revival of innovation in the American heartland.
The $10 billion tech hub initiative, aimed at communities that aren't remotely like Silicon Valley yet, comprises a relatively small part of what's now called the U.S. Innovation and Competition Act, which passed the Senate with bipartisan support this week and is headed toward likely passage in the House.
The $250 billion bill also aims to turbocharge scientific research in America, solve the microchip shortage that's plaguing American industry and finally get tough on China's tendency to flout trade regulations and norms.
On top of all that, it's Charles E. Schumer's first major bipartisan victory as Senate majority leader – and to hear him tell it, a big victory for his home state.
"It's vital to the future of America, and has an enormous potential for Western New York and the upstate New York region in terms of tech and science and, most importantly, jobs, jobs, jobs, jobs – a four-letter word that sums up the value of this proposal to Western New York," Schumer, a New York Democrat, said in an interview this week.
The bill drew some criticism from Republicans about its cost, but the most pointed objection came from the Foreign Affairs Committee of China's National People's Congress, which said in a statement: "The bill is full of Cold War mentality and ideological prejudice. It slanders China's development path and its domestic and foreign policies."
Much more common in Washington were comments like that of Rep. Ro Khanna of California, a Democrat and the bill's House sponsor.
"Bipartisanship is rare in Washington, but this filibuster-proof vote shows there is wide support, not just from the White House or congressional Democrats, but from the many Republicans who want to see this vision for America's innovation future become a reality," Khanna said. "This legislation will become the law of the land."
The bill would create 18 "tech hubs" across the country, which would receive seed money aimed at growing new industries there. While the Commerce Department would manage the program and select the sites for the new tech hubs, a joint Buffalo-Rochester bid is widely seen as a strong contender, especially given Schumer's influence.
But the tech hub provision isn't just about spurring the growth of new tech industries in one area; it's about spreading economic growth far beyond where the tech industry is now concentrated.
Doing so will boost the entire American economy, said Henry Cialone, president and CEO of EWI/Buffalo Manufacturing Works.
"The creation of multiple regional hubs across the country will provide productive internal competition that in turn advances the nation's overall competitive strengths," he said.
Sen. Todd Young, the Indiana Republican who worked with Schumer to develop the legislation, stressed in a Senate floor speech this week that the bill's passage comes "at a time when so many of our citizens feel overlooked, when the intimate communities that they call home feel hollowed out."
The bill establishing the new tech hubs could revive such places, he said.
"This legislation ... aims to tap into that imprisoned lightning of people across the heartland, to ensure that they can stay part of the economic game in the 21st century, and they help us out-compete, out-innovate and defeat the Chinese Communist Party," Young said.
While the tech hubs could boost a number of communities like Buffalo, many of the bill's supporters see another provision as hugely important: the part that turbocharges federal investment in scientific research.
"I think there's going to be all kinds of innovation opportunities unlocked by this," said Dottie Gallagher, president of the Buffalo Niagara Partnership.
Most notably, the bill creates a new directorate for technology and innovation at the National Science Foundation and directs more than $100 billion over five years to those efforts, which will focus on cutting-edge fields such as artificial intelligence and quantum science.
That new research money is likely to spread across the country to universities that haven't gotten their fair share of it in the past, said Sen. Roger Wicker, a Mississippi Republican.
"It's an opportunity to have a game-changer in terms of geographic diversity in our research efforts," Wicker said.
The University at Buffalo already garners upwards of $200 million annually in research funding. But given its strengths in research areas that will be central to the new tech directorate, that figure is likely to increase after the U.S. Innovation and Competition Act becomes law, said Venu Govindaraju, vice president for research and economic development at UB.
"This is definitely a great opportunity for all universities, but you know, I cannot run away from the fact that Sen. Schumer, the original sponsor for this bill, is our state's senator," Govindaraju said. "So you know, our hopes are already up that maybe we will get our fair share, at least, of this pie."
While most of the bill focuses on economic gains far into the future, a $52 billion chunk of it aims to address a current crisis: the semiconductor shortage that has hobbled auto manufacturing and prompted price increases for many tech-oriented consumer products that rely on those microchips.
That new federal money essentially aims to "reshore" the computer chip industry – which, according to the Semiconductor Industry Association, now produces 88% of its product overseas, largely because of subsidies provided by other countries.
Asian chip producers – who dominate the market – have had a hard time keeping up with a sudden jolt in demand as the pandemic eased. That has prompted many in American business and government to think that maybe it's not such a good idea to rely on foreign suppliers for a part that's essential to many sophisticated modern products.
That's why John Neuffer, president and CEO of the Semiconductor Industry Association, called on the House to quickly pass the bill the Senate passed.
"Enactment of these investments would help strengthen America's economy, national security, technology leadership, and global competitiveness for years to come," Neuffer said.
Could all that money for the semiconductor industry benefit Western New York in some way? It's hard to say – but remember that Schumer has been pushing Samsung to build a $17 billion semiconductor plant in Genesee County.
"I stand ready to help Samsung harness all that the federal government has to offer to continue to lead the tech industry and position New York as a global hub of semiconductor manufacturing," Schumer said earlier this year.
All those efforts are, in one way or another, backhanded attempts to make sure that the U.S. doesn't lose its technological edge to China, which has dramatically increased its research efforts while cornering the market on the manufacture of many tech products.
But the Schumer-Young bill also challenges China more directly with provisions aiming to curb its unfair trade practices and its longstanding disrespect for intellectual property protections.
"The bipartisan support for those provisions demonstrates a shared commitment to advancing U.S. economic competitiveness now and for years to come," said Brian Pomper, executive director of the Alliance for Trade Enforcement.
The measure also makes it easier for the U.S. government to impose sanctions over China's human rights violations, calls for a study on the origins of the novel coronavirus and even suggests a diplomatic boycott of the 2022 Winter Olympics in Beijing.
Schumer has been talking tough on China and its trade practices for years, and now, as majority leader, he finally got a chance to put his words into action. 
And he did it, he said in that interview, with places like Buffalo in mind.
"For decades, Western New York lost jobs because China didn't compete fairly," he said. "This bill is going to make it a much more level playing field. We're not going to let China get away with what they've gotten away with in the past – and that is also going to help us save existing jobs and create new jobs."