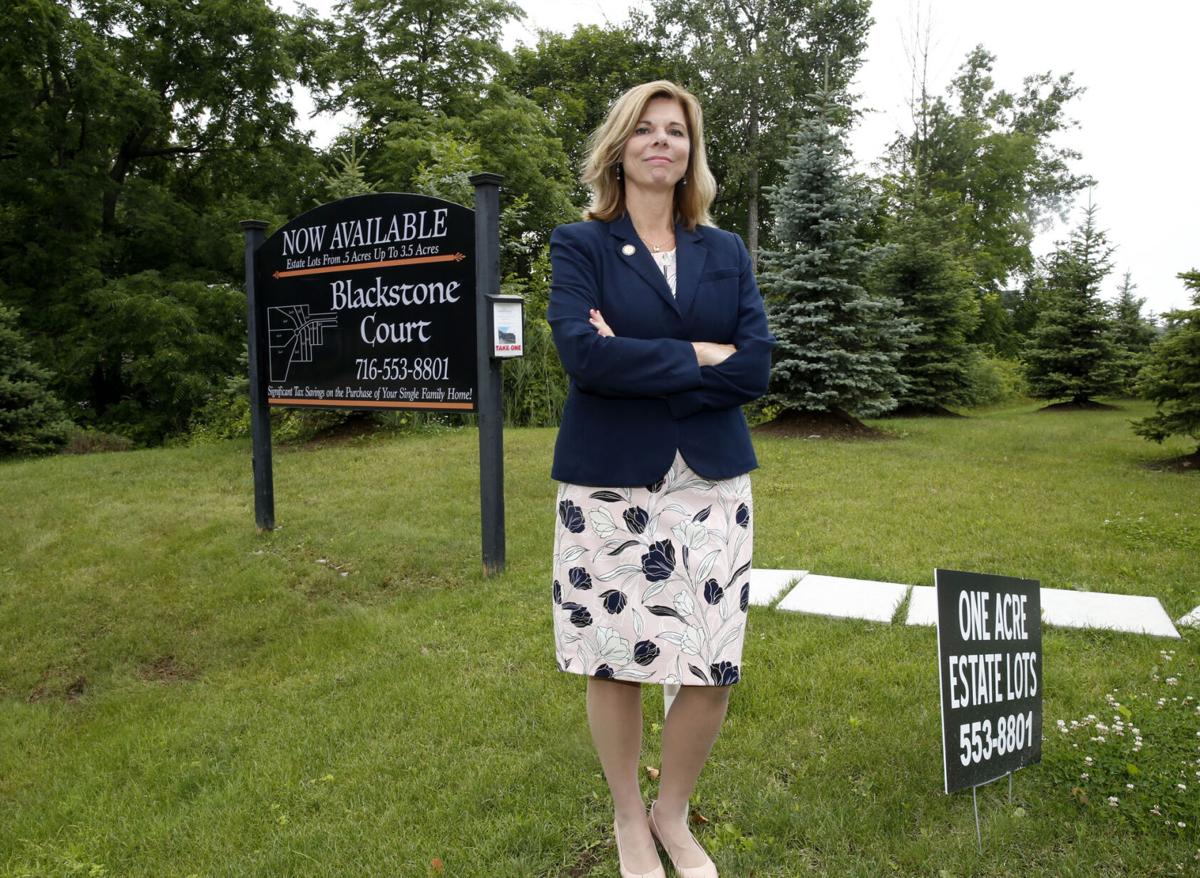 ALBANY – In response to the Andrew Cuomo book scandal, state legislation has been introduced to make it abundantly clear that state officials cannot influence their workers to help them with money-making projects or side business dealings.
The legislation, introduced Friday in the State Senate, seeks to address allegations in an Assembly Judiciary Committee report that found Cuomo had numerous senior and junior staffers helping with his $5.1 million book deal, including people researching, writing and helping promote the book during work hours.
"The law should have already been clear that this was not allowed. I believe what happened was already illegal, but this makes it evidently clear that employees shouldn't be doing that," Assemblywoman Monica Wallace, a Lancaster Democrat, said.
Wallace is sponsoring the bill in the Assembly; State Sen. Todd Kaminsky, a Nassau County Democrat and former federal prosecutor, introduced it in the Senate on Friday.
Wallace is a member of the Assembly Judiciary Committee that recently released a report on various allegations against Cuomo, including sexual harassment previously investigated by Attorney General Letitia James. The Assembly report included a number of new details about the vast extent of state resources, including state employees' time, on Cuomo's book, which detailed his efforts in the early days of the pandemic when New York City was one of the first global Covid-19 hotspots. One person interviewed said the book work took away from time he needed to be spending on Covid responses. Other employees dealt with Cuomo's agent and some were involved in marketing the book.
Cuomo officials have maintained nothing was illegal, and that all people who helped did so on a volunteer basis.
But lawmakers say Cuomo's vast influence over his staff – before he resigned from office in August – gave employees little choice but to help when they were asked or told to assist with the book, whether by Cuomo or high-level members of his staff.
Cuomo officials say it's the same practice that lawmakers engage in when using public employees on their re-election campaigns. Lawmakers, in turn, say those staff members are supposed to work after hours and away from official government facilities, unlike what Cuomo did with the book. They also say Cuomo was personally benefiting to the tune of millions through the use of state resources.
The former governor has been given 30 days by the Joint Commission on Public Ethics to turn all the proceeds to the state Attorney General's Office. Cuomo's lawyer, in response, said that's not going to happen.
A state ethics agency recently ordered Cuomo to repay the $5.1 million. Cuomo's lawyer has vowed the matter will end up in court if the state does seek to claw back Cuomo's profits. The New York attorney general this week said further investigation is required by the state ethics agency before she could undertake any seizure process of the Cuomo book profits.
"Anybody who worked on that book knew they weren't supposed to be working on it, or should have known," Wallace said.
The lawmaker said besides the impropriety of using state resources for his book, Cuomo also had some of the same people engaged on that work who were involved in controversial decisions about nursing home policies during the initial months of Covid. She called those situations "an inherent conflict."
Lawmakers say the new bill is meant to go after what they called Cuomo's "volun-told" methods that played out with his staff during the book project days.
Blair Horner, executive director of the New York Public Interest Research Group, called the new legislation "a piece of the big puzzle dealing with overhauling New York's notoriously weak ethics standards and enforcement."
Ex-Gov. Andrew M. Cuomo on Monday was accused by Assembly investigators of potentially manipulating nursing home death data at a time he was winning a $5.1 million book deal to write about his experiences leading the state's pandemic response in 2020.
The legislation adds to existing law that states no state employee or officer shall use their official position "to secure unwarranted privileges or exceptions" for themselves or others, including use of staff or other resources to help with their private business dealings.
The new bill adds language to that stating that state officials are explicitly banned from using their "authority or official influence to compel or coerce subordinates to use resources of the state unrelated to the discharge of the subordinate's duties" to help their boss in a private business venture. That could include everything from the Cuomo book project to outside jobs that many of New York's legislators have as private practice lawyers or business owners.
"The concept of superiors compelling public employees to 'voluntarily' assist with outside projects or business endeavors is clearly unethical. When public officials use state resources for personal gain it is unfair to taxpayers," reads a bill memo Kaminsky and Wallace authored accompanying their legislation.