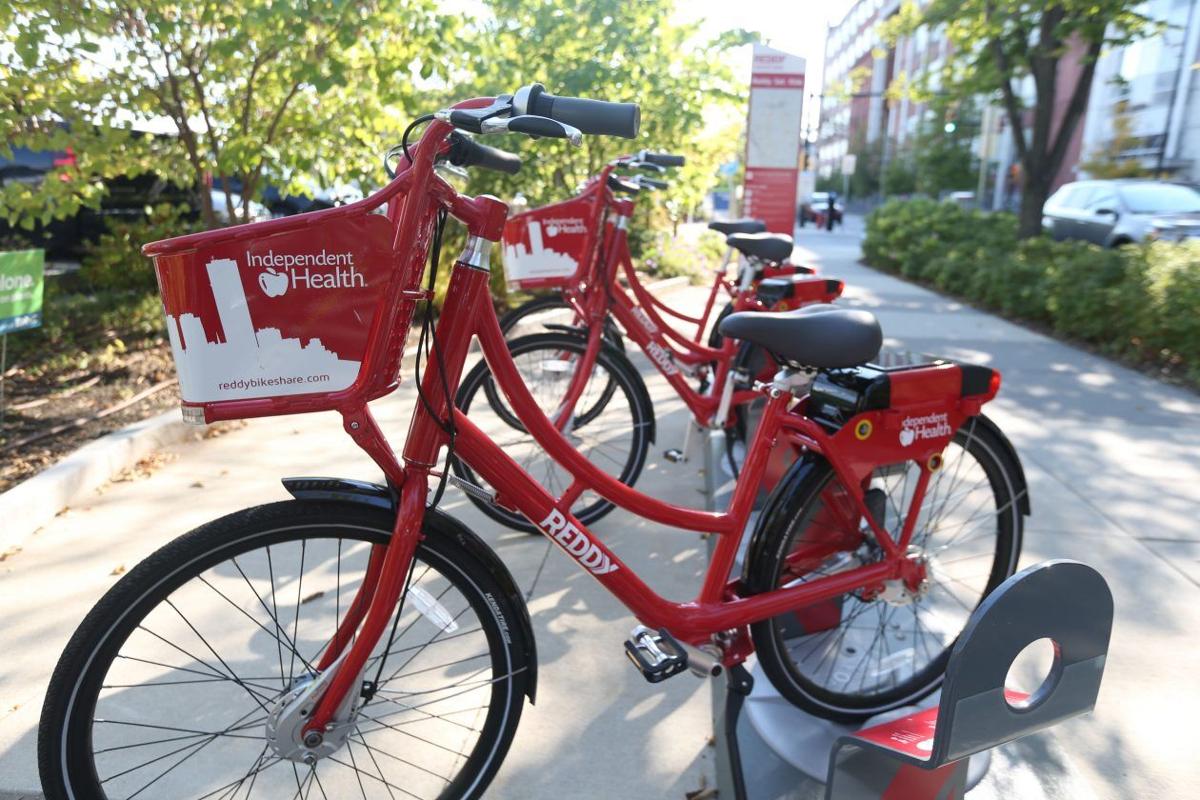 Reddy Bikeshare expanded its rental bicycle fleet in Buffalo this week, at a time when the novel coronavirus pandemic helped launch a national summer biking explosion and Black Lives Matter demonstrations underlined racial disparities.
The organization had both in mind when announcing the opening of 11 new bike-sharing locations, most of them in multicultural East and West side neighborhoods.
Despite a Covid-19-related dearth in tourism this year, Reddy Bikeshare – which already had 74 rental stations in Buffalo and Niagara Falls – has seen a 114% increase in ridership, thanks to heightened interest in bike riding.
Company leaders also saw the greater awakening to racial injustice as an opportunity to fulfill its mission to improve biking opportunities in all parts of the cities it serves.
 "We're nonprofit and we believe that we should be serving more communities in Buffalo, which is why we specifically looked at neighborhoods in the East Side and West Side for this expansion," said Jennifer White, Reddy Bikeshare co-founder and communications director.
Chief partner Independent Health and other corporate supporters helped fuel the expansion by helping Reddy Bikeshare provide discounted access to a bike-sharing program already among the most affordable in the nation, White said.
Annual membership costs $55, but Reddy Bikeshare offers $20 memberships for those who sign up online by Aug. 15 at reddybikeshare.com, or by smartphone on the Social Bicycles app, using the promo code BIKEBOOM2020.
The organization also will host two free annual membership drives for East Side residents from noon to 3 p.m. Aug. 15 and 22 outside the Varsity Theatre, 3165 Bailey Ave.; the second will include a 1 p.m. physically distanced group ride for adults, making 10 Reddy bikes available free, first-come, first-served, and inviting others to bring bicycles.
The University District Community Development Association and New York State Homes and Community Renewal support these gatherings, which include instruction about how to access bike-sharing, as well as free bike helmets, T-shirts and sunglasses while supplies last.
"If you haven't been on a bike in years – and there are people who haven't since they were children – once you sign up, get it unlocked and have your first ride, you're good to go," White said.
The pop-up membership drives are part of a larger effort to add more of those with limited means to the Reddy bike rider ranks. More are planned. They will be promoted on the Ready Bikeshare Facebook page.
"Supporting the expansion of Reddy Bikeshare access to better serve diverse communities, particularly on the East and West sides of Buffalo, is an important part of our overall efforts to create opportunities for all Western New Yorkers to have a fair and equal chance to lead the healthiest lifestyle possible," Independent Health President and CEO Michael W. Cropp said.
The health insurer has bolstered efforts of the bike-sharing organization, which included offering lower-cost memberships for more than 500 essential workers in the spring.
Buffalo Niagara Medical Campus Inc., a planning agency, helped Reddy Bikeshare offer free memberships to those who work on the sprawling campus and live in the surrounding Fruit Belt neighborhood.
M&T Bank is among companies that provide free memberships as part of health and wellness packages for their workers. M&T workers have logged 13,000 miles on Reddy bikes during the last three years.
"We believe that community engagement and partnership and collaboration when promoting bike-sharing is important so that we can help reduce barriers to access these bikes … and promote healthy behavior change," White said of the four-year-old company.
Reddy Bikeshare will provide 40 new bikes at the newest stations, bringing its total Buffalo fleet to 240 at 55 stations. It has 145 bikes at 30 stops in Niagara Falls, where the most popular site sits in Niagara Falls State Park.
Reddy Bikeshare already had rental stations in Buffalo outside the Broadway Market, in Martin Luther King Jr. Park and along the Fillmore Avenue bike lanes. New East Side locations sit in the Fruit Belt, Kensington-Bailey and Jefferson-Utica neighborhoods, including outside First Centennial Missionary Baptist Church, the Varsity Theatre, Frank E. Merriweather Jr. Library and Northland Workforce Training Center.
The new West Side locations are at Niagara and Jersey streets, Grant and West Ferry streets and in a former parking space on the Richardson Olmsted campus.
The last new station will open soon near Lakeside Bike Park on the Outer Harbor, which Reddy bike staff expects will rival popular sites at Canalside, Delaware Park and along Bidwell Parkway.
Members provide credit card information and punch in account and pin numbers to free locked bikes at bike-sharing stations and use the rental vehicles as they will for 1 cent each minute. They can return the bikes to any other sharing station free or lock them up for $2 in a public place anywhere in the city; Reddy Bikeshare staff will use GPS tracking technology to retrieve them. A grant from the Better Bike Share Partnership, while supplies last, helped provide hand sanitizer on each bike.