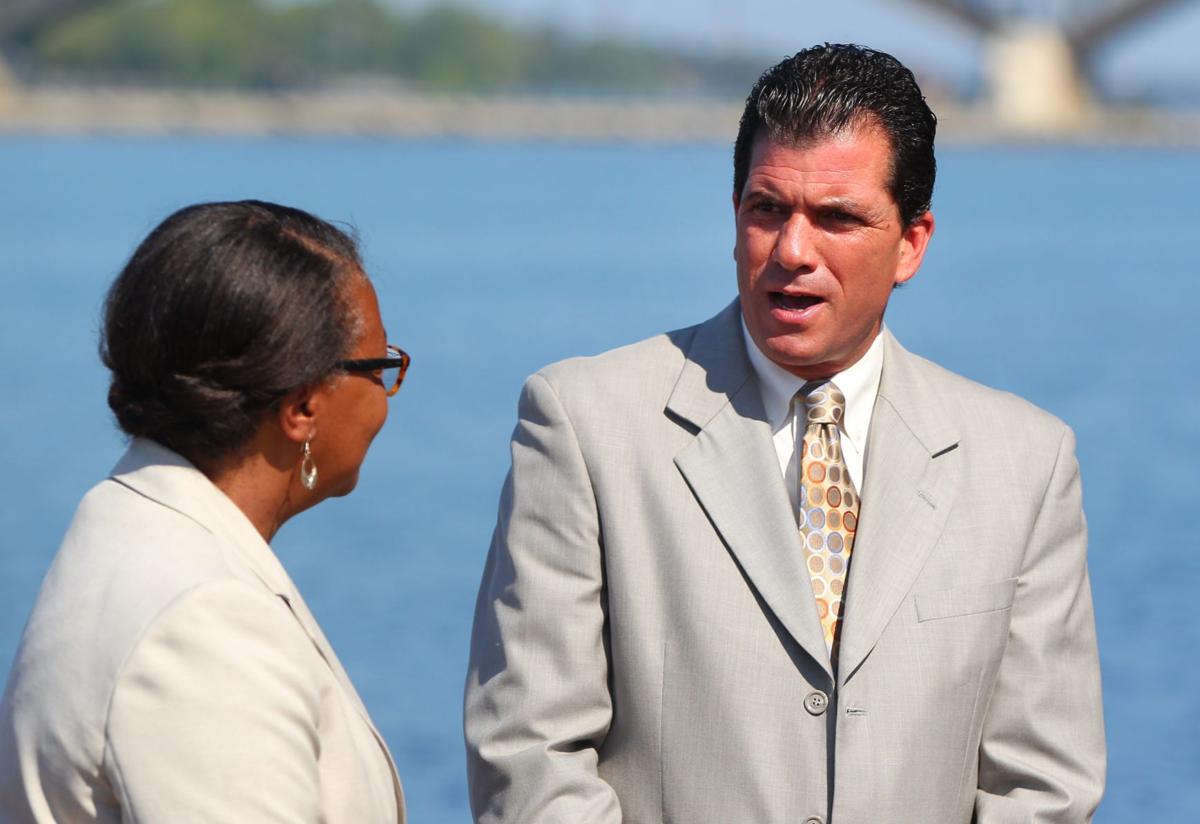 In the final weeks of the State Senate race in the 60th District, Republican candidate Kevin T. Stocker is turning to television for the first time, while Democratic candidate Marc C. Panepinto continues getting support from a teachers union, and incumbent Mark J. Grisanti remains the top benefactor of a statewide conservation group.
The result is hundreds of thousands of additional dollars poured into the three-way race in the last month – a general election campaign that is now edging toward $2 million. But beyond that, the big-money donation made to the conservation league by a splinter Democratic group is raising questions about whom Grisanti would caucus with if he wins – Republicans or the splinter Democrats.
Beyond ruling out sitting with the traditional Democrats, Grisanti, who is running on the Independence Party line after losing the Republican primary to Stocker, isn't saying which caucus he would join. "Whoever will be the best for Western New York," he has said.
The Independent Democratic Conference, or IDC, isn't saying whether it endorses Grisanti. But the Senate group in recent weeks gave the New York League of Conservation Voters $350,000 to spend on the league's own political agenda, which includes working to help re-elect Grisanti.
A conservation league spokesman said the organization has discussions with its donors but ultimately decides itself how to spend donations it receives. He declined to say how the IDC wanted the money spent, but a Democratic source familiar with the donation said the money was donated with the expectation that it would be used to support Grisanti.
The conservation league, which earlier in the general election campaign spent $480,358 supporting Grisanti, spent an additional $100,966 last week supporting the Buffalo incumbent – bringing its total spending for Grisanti to more than $581,000.
Campaign spending by the League of Conservation Voters has gone almost toe-to-toe during the general election race with the New York State United Teachers, which Monday disclosed an additional $163,890 in spending for Panepinto. That's in addition to $533,573 that NYSUT previously spent in the general election, bringing its total to almost $700,000.
The NYSUT and conservation league donations are part of independent efforts that are exempt from contribution limits, and cannot legally be coordinated with the candidates.
Contributions made to candidates themselves are subject to legal limits. Such contributions are included in financial disclosure reports the candidates file periodically with the state Board of Elections. The most recent reports were due last Friday.
The filings for both types of spending – independent campaign and candidate campaigns – show that Panepinto was the stronger fundraiser in recent weeks but that Grisanti has picked up steam since the initial weeks after his GOP primary loss to Stocker.
The reports show that while NYSUT and the conservation league wage their own Grisanti and Panepinto independent campaigns, Stocker continues to generally finance his own race. His campaign spent $110,810 in the last month, with about $23,000 going to buy TV advertising time. A larger chunk – $68,000 – went for his printed materials and mailings.
"I didn't want to be 70 years old, looking back, saying I didn't give it my all," the 50-year-old candidate said when asked why he now decided to include TV ads in his largely door-to-door campaign. I go door-to-door and feel how many people support me. I feel I am going to win this," Stocker said.
For the primary and general election campaigns, he has spent about $330,000, campaign records show. He has raised about $6,000 and lent his campaign $160,000. He expects to personally pay most of the rest of his campaign's current and upcoming costs, he said. "I got a home equity loan I'm using to help pay the campaign costs," the Kenmore attorney said. "I don't cater to special interests. I don't want their donations. I want to work for hardworking families. They are my future boss."
Grisanti's campaign raised $181,000 since Oct. 7 and spent $173,232, most of it for TV ads. He had $54,000 remaining 11 days before the Nov. 4 election, campaign reports show. His biggest contributions in this campaign period include $10,900 from the Buffalo Niagara Partnership, $10,000 from Buffalo developer Louis P. Ciminelli and $10,300 from former New York City Mayor Michael R. Bloomberg.
Bloomberg has been a Grisanti supporter since the GOP senator voted for same-sex marriage. In addition to that $10,300 contribution to Grisanti's campaign, Bloomberg two weeks ago donated $350,000 to the conservation league. That donation, like the IDC money, was given with an expectation that it would be used to help fund the league's Grisanti fund, the Democratic source told The Buffalo News.
Panepinto has been a strong fundraiser throughout the campaign, and that continued in October, when he raised $307,445, records show. Panepinto's campaign spent $290,432 in that time – about $200,000 of it on TV advertising – and had $128,026 remaining 11 days before the election. His biggest contributions in this filing period included $10,300 each from New York City financier Robert Soros, New Jersey-based realtor David Lichtenstein, the Albany-based New York State Laborers Political Action Committee, and Democratic Senate Conference leader Andrea Stewart Cousins.
When asked about the recent spending being done by and on behalf of the candidates, Panepinto spokesman Conor C. McMahon responded: "Looks like the competition to buy Sen. Grisanti is heating up between extremist Republicans, New York City real estate barons, and billionaire Michael Bloomberg. Fortunately their money won't matter when the people of Western New York vote Grisanti out of office."
Grisanti spokesman Douglas J. Currella Jr. responded: "As Marc Panepinto's campaign contributions reflect, he is bought and paid for by radical downstate special interest groups. These New York City extremists have spent over a million dollars in this race to lie about Sen. Grisanti's record, even going as far as to use a depiction of a battered women in a mailer for political gain. Both Marc Panepinto and the New York City teachers union have reached a new low for politics."
Curella said Grisanti has worked well with Republicans and the IDC. He declined to discuss speculation over which caucus Grisanati would join if elected. He called such talk a diversion at a time when Grisanti is focused on issues in the 60th District.
After Grisanti's loss in the primary, however, sources told The Buffalo News, the Buffalo Republican reached out to Klein, who flew to Buffalo in September to meet with Grisanti. A Democratic source, who spoke on condition of anonymity, said Grisanti was upset that two GOP senators – Catharine Young from Olean and Michael Nozzolio from the Finger Lakes region – urged Grisanti to quit the general election race after his primary loss to Kevin Stocker. They talked to Grisanti about a judicial ballot line to clear him from the Senate line.
But Grisanti was upset with that idea, a feeling the source who knows Grisanti said only intensified over the weeks as Grisanti did not hear from the Senate's top Republican, Dean Skelos, who serves as co-leader of the Senate along with Klein.
Enter Klein into the picture, who characterized a way Grisanti could still win running on the minor Independence Party line.
Skelos, meanwhile, has told The Buffalo News he'd prefer Grisanti over Stocker. Republicans, however, are not throwing any money directly behind Grisanti. Instead the state GOP has run anti-Pantepinto ads, and sent out anti-Panepinto mailings aimed at helping both Stoker and Grisanti.
Get local news delivered to your inbox!
Subscribe to our Daily Headlines newsletter.