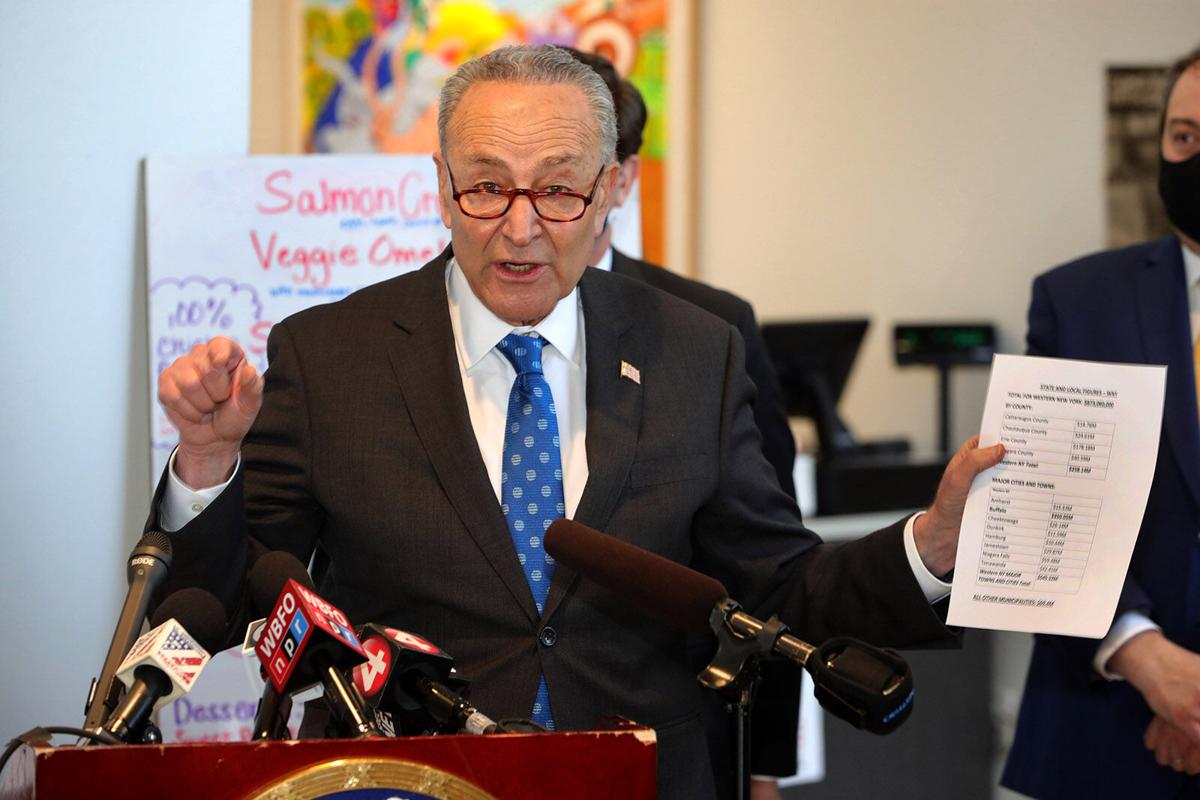 WASHINGTON – President Biden calls his $1.9 trillion stimulus bill the American Rescue Plan, but it could just as easily be called the "I Love New York American Rescue Plan."
The 232-page measure showers money on the Empire State in myriad ways, some obvious and some not, that go way beyond the $12.6 billion in direct aid that will flow into state coffers.
Senate Majority Leader Charles E. Schumer, a New York Democrat who's now in an unprecedented position to help his state, appears to have done so – and then some. Schumer puts the total amount of money that the bill will send flowing northward to his home state at $100 billion.
And even those who question the long-term impact of giving the state and local governments so much money – such as E.J. McMahon, founder and senior fellow at the conservative-leaning Empire Center for Public Policy – acknowledge the size of the state's bounty.
"There's never been anything like this," he said.
To hear Schumer tell it, the rescue plan is simply what's needed as the economic response to the yearlong Covid-19 pandemic. New York's unemployment rate remains twice what it was before the pandemic, and other states are suffering, too. And to Schumer, that justifies bold congressional action.
"It comes just in time, because Americans and New York still need real help to get through this," Schumer said.
New York will get plenty of that real help. Here is Schumer's item-by-item look at the money coming to the state and its residents under the stimulus bill:
• $22 billion in $1,400 stimulus checks to the state's residents.
• $21.7 billion in enhanced unemployment benefits.
• $12.6 billion in direct aid to the state.
• $10.8 billion for counties, cities, towns and villages – including a whopping $350 million for the City of Buffalo.
• $9 billion for K-12 schools.
• $7 billion for New York City transit.
• An estimated $7 billion in child tax credits for moderate-income families.
• Roughly $4 billion to expand coronavirus vaccinations.
• $2.6 billion for colleges and universities.
• $1.8 billion in child care grants.
• $1 billion in extra Medicaid funding, on to of the $2.1 billion Schumer previously secured.
More than any other line item, that extra Medicaid money appears to illustrate how the stimulus bill goes out of its way to help New York. That provision increases the federal share for Medicaid's home- and community-based services program, which provides at-home care for seniors, the disabled and those suffering from mental illness.
While the bill boosts federal payments for all states under the program, the increase is far more significant to New York than any other state simply because the at-home Medicaid services program is bigger in New York than anywhere else. In fact, in 2016, New York accounted for 18% of the entire nation's spending for home- and community-based Medicaid services, said Bill Hammond, senior fellow for health policy at the Empire Center.
What's more, the provision appears to have been written by someone in a New York state of mind. Hammond noted that the one-year increase in that one category of Medicaid funding is timed for between April 1, 2021, and March 31, 2022. That just so happens to be New York's fiscal year, one that's shared by no other state.
"I'd be interested to hear what the rationale is for this, if there is one," Hammond said regarding the at-home Medicaid expansion.
The rationale is a simple one, said Schumer spokeswoman Allison Biasotti. Democratic senators from across the country wanted the provision included to boost the home-care program.
"Chuck was certainly supportive of it, and his record shows that he has long been a champion of helping frail seniors and those with disabilities access the care they need," Biasotti said. "Few communities have struggled more during this pandemic and it was vital that this provision was included in the bill."
As for the April 1 start date for the aid boost, it simply reflects the fact that April 1 will mark the start of the first month after Biden signed the stimulus bill, Biasotti added.
That Medicaid boost comes with one other difficult reality: like the state and local aid and all the other provisions in the bill, the extra money will stop flowing after a year.
For that reason, Cuomo has been warning that the state and its localities need to use their newfound federal aid wisely.
"It's what they used to call a one-shot," Cuomo said last week. "It's a sugar high. It is nonrepetitive. So how you spend it, where you spend it, how quickly you spend it is going to be very important, because this is not a sustainable level of spending."
State Comptroller Thomas DiNapoli agreed.
"The state and city must now use this aid as a bridge to put their finances on sustainable fiscal paths, to be prepared once this emergency federal relief ends," DiNapoli said.
McMahon's worry is that the state and its local governments, with unprecedented amounts of federal aid heading their way, will do just the opposite.
"The political pressure is enormous to spend like there's no tomorrow" – and that, he said, would leave state taxpayers holding the bag and paying the bills for program expansions once the federal money runs out.
For now, though, DiNapoli said New Yorkers should be thankful that the bill sends so much money to the state to help with the recovery from the pandemic-inspired recession. Without the money, "harmful cuts" likely would have resulted at state and local governments, he said.
"Majority Leader Schumer never gave up the fight and his persistence led to a relief plan that will help our nation through this crisis," DiNapoli said.