Residents of the Central Park area of Buffalo are getting heated over a proposal for a new residential complex in their neighborhood, which would include both affordable housing and a separate supportive facility aimed at helping pregnant women and mothers facing substance abuse issues.
BestSelf Behavioral Health and Savarino Companies are proposing to erect a pair of four-story residential buildings behind Robert Rich Sr. All-High Stadium near McCarthy Park, just east of Main Street.
The project was reviewed for the first time by the Buffalo Planning Board on Monday.
The combined $24 million development would include the new Manhattan Village, with 60 affordable apartments in a 67,000-square-foot building, and the Lighthouse Women's Residence, with 10 independent living apartments and 12 congregate living units in another 57,200 square feet of space.
Lighthouse is a 20-year-old residential rehabilitation program designed to help women with children up to age 11 to escape drug abuse and integrate back into the community. The program – currently located in cramped space in the Langfield public housing project – includes counseling and nursing staff who work with the women to stabilize the families.
The affordable units in the adjacent Manhattan building – a mixture of one- and two bedroom apartments - would be aimed at those earning no more than 30 percent to 50 percent of the area median income, with rents ranging from $650 to $795 per month.
Half of the affordable units would be reserved for those with substance abuse or mental health disorders – including those coming out of Lighthouse after six to nine months in the program – while the other half are open to the community.
"We're hoping to have an opportunity to develop this site from the ground up, where we can meet the needs of the families we serve," said Kelly Dumas, BestSelf chief strategic initiatives officer, who has overseen the Lighthouse program for the past eight years. "We really want to be in a community that fosters family and that will be safe."
But the project at 389 Manhattan Ave., at the corner of Hill Street, is drawing criticism from neighbors, who praise BestSelf's work but flatly voiced that they don't want it in their community.
"It's a good project, but I'm not sure if this is the right place for it," said Mickey Vertino, president of the University Heights Collaborative.
"I just want to make sure that we are respected rather than penalized for choosing to stay and invest in our community," said Dawn Berry-Walker, who lives on Mercer Avenue, immediately adjacent to the project site.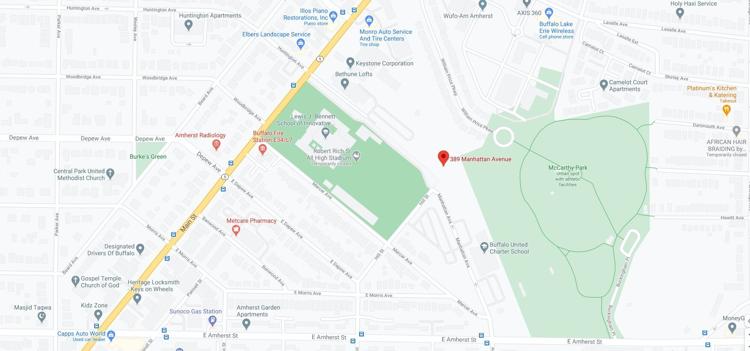 They've expressed worry about the facility's impact on their quality of life and ultimately their property values, noting that the surrounding neighborhood is a dense area of homeownership and fretting that they could be harmed by the new project.
"I am really impacted, myself and my family, regarding maintaining our quality of life as well as our privacy," said Tanya Staples, who lives on William Price Parkway, behind the proposed project at the corner of Manhattan and Hill. "This is a residential community. These are homeowners. And we are looking at bringing in apartments and apartment complexes that are low-income. I need to understand about my property values and whether or not my property values are going to decline as a result."
Some also say the location is completely inappropriate because it would be sandwiched between two schools – Lewis J. Bennett High School Of Innovative Technology and Buffalo United Charter School – and a public park. That could expose children to the drug problems of those living in the facility, and potentially even put their safety at risk if it draws criminals, said one area resident, Sarah Guitart, who has lived on East Depew Avenue for over 35 years.
"It's just right in the middle of all those areas where there are so many children all the time," Guitart said. "I know the children are walking home down the street. It's just not appropriate."
"I love the Lighthouse project, and what it does for women in need," said Terrance Heard, an at-large board member of the Buffalo Public Schools. "I urge this panel to rethink this plan of putting it on Manhattan Street. I don't think this plan was vetted thoroughly."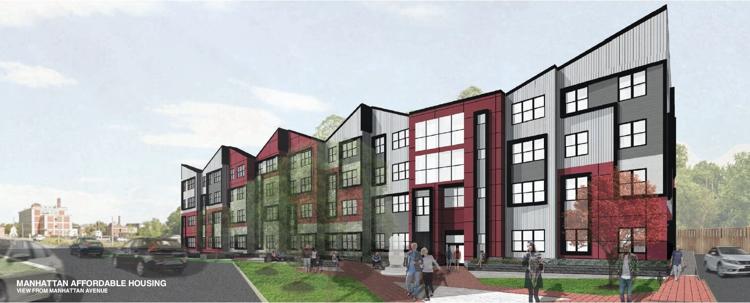 Many residents complained that they had received little or no advance notice about the project or prior community meetings – either from the city or the developers.
Pamela Harris, of Manhattan Avenue, also noted that the neighborhood has already seen several other construction projects, so "to get another two four-story buildings put up, I have a problem with that."
Dumas and developer Samuel Savarino – who will co-manage the affordable housing building – sought to reassure neighbors, noting that the complex would be fully gated, with cameras throughout the property and a 24-hour staff of 28 that would monitor not only the Lighthouse facility but also the Manhattan building.
At the urging of not only the residents but two Common Council members – because the project effectively straddles the Masten and University districts – the Planning Board agreed to table the project for another two weeks, to allow more time for the community and legislators to meet with the developers and understand the proposal.
Dumas voiced her own frustration at that, saying the nonprofit has been talking to the community for some time already. She said she has personally offered to meet with anyone, only to be "blatantly told there is nothing further to discuss and we don't want this here."
"I'm definitely open to continuing the dialogue," she said. "But I feel like many members have made it clear that regardless of tabling it, they're not accepting it and they have told me they don't want to discuss it."
"We are respectful and we do understand the concerns of the neighborhood and we're happy to address them," Savarino agreed. "But if the concerns are to find another place, you won't find us agreeing to that."
The Buffalo News: Good Morning, Buffalo
The smart way to start your day. We sift through all the news to give you a concise, informative look at the top headlines and must-read stories every weekday.