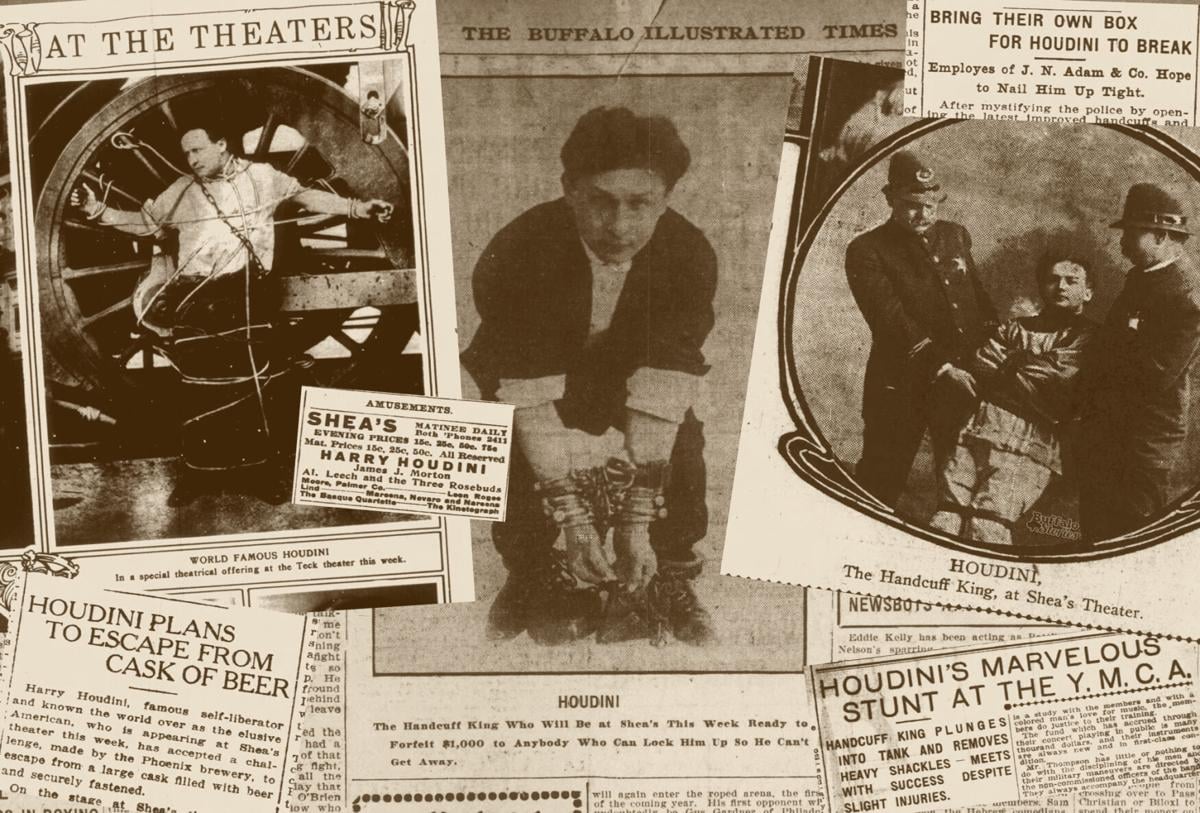 From his first visit to Buffalo in 1900 until his death in 1926, master illusionist Harry Houdini visited Buffalo at least seven times. That first visit came "at the personal invitation of Michael Shea" and came well before Houdini was a household name.
That first visit was also the first time that Houdini completed amazing feats off the stage to promote his appearances. At a patrol barn on Henry Street near the Terrace (on a spot today covered by the Skyway on-ramp), the illusionist amazed gathered patrolmen and police drivers by escaping from nine pairs of locked handcuffs shackling his hands and feet.
Then billed as "The King of Handcuffs," he was originally engaged for a one-week stay at Shea's Garden Theater, but he proved so popular the stay was extended a week at the Pearl Street venue that was Buffalo's first vaudeville theater.
That visit left an impression. Weeks later, when a prisoner tried to escape a straightjacket, the Courier reported that the man "gave an impromptu entertainment that threatened to eclipse the recent performances of Houdini."
By the time Houdini made it back to Buffalo in 1905, he was an international sensation and escaping from handcuffs in a police horse stable wouldn't be up to his reputation.
First, he defeated the lock that held William McKinley assassin Leon Czolgosz, and then escaped a giant wooden trunk created by the shipping and packing men of Buffalo's JN Adam department store.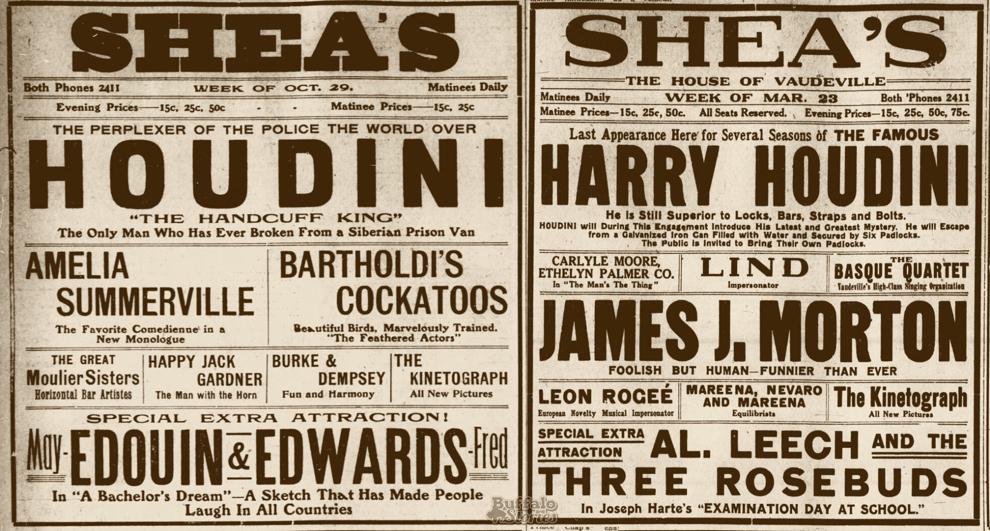 He returned to Michael Shea's stages again in 1906 and 1908. When he added an element to his act – unlocking the handcuffs while inside a giant tank of water – he surprised swimmers at the Central YMCA one Wednesday morning before a show. Manacled in 20 pounds of handcuffs, he threw himself into the deep end of the pool at the Y.
When he emerged from the water – free of shackles – one minute and four seconds later, he said, "Gentlemen, that's about as near as I care to come to death when I'm entertaining my fellow athletes."
"When I dove, I didn't know the water was so shallow," said Houdini, as quoted in the Buffalo Commercial. "I struck my head on the bottom and I was stunned for six or eight seconds. It's a wonder I didn't knock my brains out."
Four sailors from Buffalo's Seaman's Union sealed the magician in a sea bag, "used on the insane at sea" during a 1911 appearance here. Coming back to Buffalo in 1916, Houdini engaged employees of Buffalo's Phoenix Brewery to seal the cask after he jumped into 100 gallons of beer during his show at Shea's Vaudeville Theater.
"Houdini feels positive that he will be able to free himself and appear before the audience within a very few minutes of the time that he is imprisoned," wrote the Buffalo Enquirer, the morning before the beer stunt. "He assured the management when he accepted the challenge there was no fear but that he would be out and able to appear for the remainder of the week."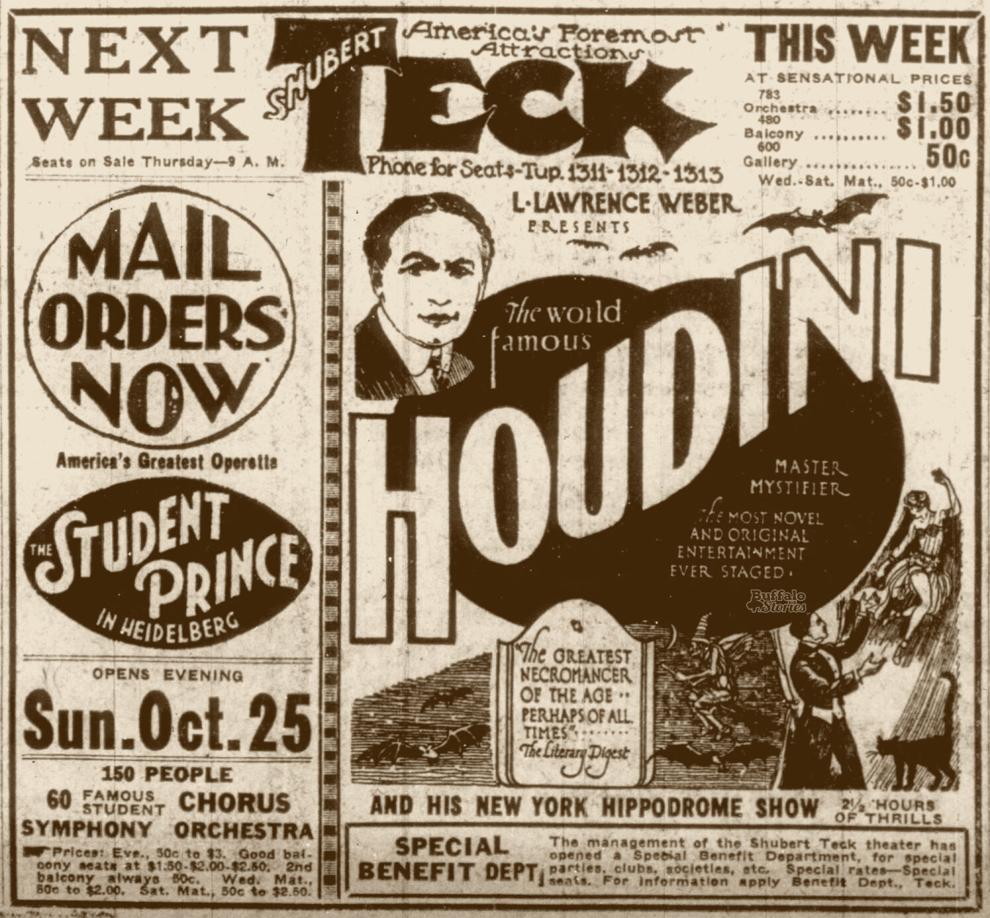 On his final trip to Buffalo, a year before his death, "Houdini the unconquerable" was as much a celebrity as he was an illusionist. All the papers covered his visit to the Meyer Motor Company showroom at 1275 Main St., where he checked out "the clever performance" of the "Talking Studebaker," which sang, played songs, and told the age of passersby. Later that night, he escaped from a crate built and nailed shut by the employees of the Pierce-Arrow Motor Company.
At an appearance at Canisius College, Houdini gave a lecture denouncing mediums and spiritualism, and did a show using many of the tricks used by mediums to make it appear that they are engaging in otherworldly communication.
A year to the day after his last performance in Buffalo, Houdini became seriously ill during a performance in Detroit. He died a week later, on Halloween, 1926.