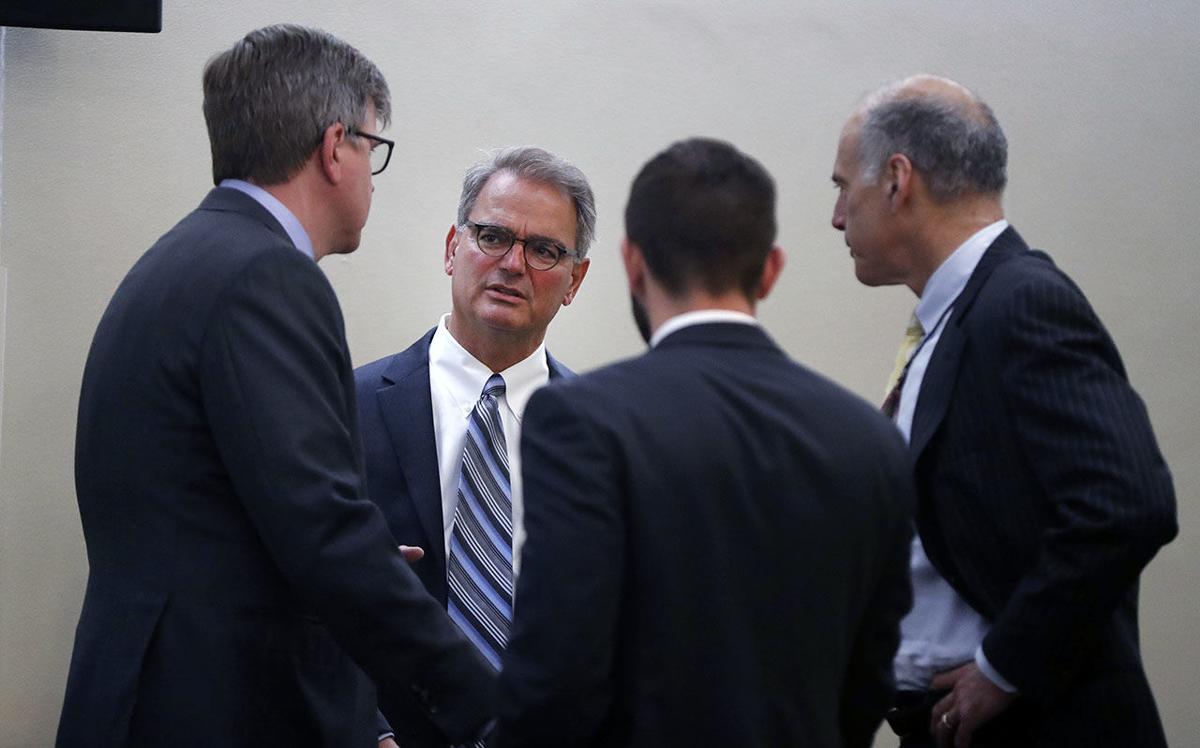 Money continues to roll in by the millions of dollars — but there's no harmony between battling law partners Ross M. Cellino Jr. and Stephen E. Barnes.
On Tuesday, Barnes accused Cellino of trying to burn the Cellino & Barnes law firm "to the ground," regardless of how many employees are hurt.
He accused Cellino of trying to hire a former information technology expert for Cellino & Barnes to steal "proprietary information" from the law firm so it could be imported into a new website for a law firm Cellino plans to start with his family.
"It is of vital importance to note that Ross, on multiple occasions, has expressed his desire to 'burn C&B to the ground,'" Barnes stated, in a court affidavit.
He added in the papers: "Ross is 60 years old; I am 59 years old. It has taken us more than twenty years to build the firm to the place where it is today."
The allegations were the latest moves in a mudslinging battle that began six months ago when Cellino filed an action seeking to break up the law firm and start his own firm with family members.
Barnes is trying to stop Cellino from leaving. He said he hopes to keep the firm together, for the good of clients and employees.
State Supreme Court Judge Deborah A. Chimes is scheduled to hear arguments from both sides Dec. 6.
Talks about a possible settlement are continuing with a court-appointed arbitrator – retired judge Jerome Gorski – but the court documents filed Tuesday gave no indication that peace is on the horizon.
Barnes repeatedly accused Cellino of leaving most of the law firm's difficult decisions to him.
"Ross knows full well that he has been voluntarily disengaged from the practice for many years," Barnes said in the court papers. He said that in 2014 Cellino admitted to him and another firm employee that he "has done nothing for the past 10 years," and was consequently "bored."
Barnes said Cellino has concentrated on other ventures in recent years, including "building and running a golf course, building a lake home, running a tree farm, and running a heavy equipment leasing business."
Robert J. Schreck, a managing attorney closely aligned with Barnes, accused Cellino of sometimes "falling asleep" or texting people on his smart phone during meetings held to evaluate the firm's lawyers.
"I have been the principal driving force behind the management and success of the firm for many years, but only because of Ross's voluntary disengagement," Barnes said. "It is my hope that post-lawsuit Ross will return as an active coshareholder and manager, and that Ross and I will be able to collaborate productively as we had for many years."
Why would Barnes fight to keep working with Cellino?
In an affidavit of more than 50 pages, Barnes proclaimed Tuesday that his sole motive for fighting Cellino's breakup effort is to protect the firm's "clients, employees, and shareholders." He said Cellino & Barnes remains a "fully functioning and efficiently managed law firm that has continued to prosper throughout these proceedings despite the efforts of Ross to disrupt and destroy the firm."
Despite publicity over the dispute, the law firm's profits continue to go through the roof, Barnes said.
He said he and Cellino will make $12 million each this year – a million a month – and added that the law firm is headed for its biggest year ever in terms of revenues, profits and payouts to attorneys. He said the firm recently settled a case for $5 million.
But there is more to a law firm than just making money, said Cellino's lead attorney, Terrence M. Connors. Cellino, who has five sons and daughters who are attorneys or law students, said he wants to begin his own firm.
"Today's filing confirms what we have said from the beginning -- it is time for Steve and Ross to go their separate ways, let Justice Chimes decide the dissolution proceeding and a receiver resolve any lingering disputes," said Connors, in a statement Tuesday evening.
"Steve and I have been partners for 25 years. We've had some amazing results for our clients," Cellino told reporters earlier this year. "But there have been serious disagreements that have occurred between Steve and I ... There's a time and a place for everything, and sometimes there is a time to move on from your partnership."
Cellino has repeatedly denied Barnes' claims that he has not done his share of work in the law firm. He said Barnes and others have blocked him from getting more heavily involved, a claim that Barnes denies.
Barnes alleged that Cellino has tried to "shut down" the massive Cellino & Barnes advertising campaign while creating commercials with other family members for his planned "Cellino & Cellino" law firm.
Despite the disagreements, Barnes said the law firm continues to make huge amounts of money and serve its clients well.
"Under the law, there is no legitimate reason for breaking up this very successful law firm," said Paul J. Cambria, an attorney for Barnes.
Barnes' latest court filing comes five weeks after Cellino accused Barnes of financial improprieties and asked Chimes to appoint a receiver to oversee the firm's finances. Barnes denies any financial wrongdoing, and the issue of a receiver is expected to be taken up by Chimes next month.
Gregory V. Pajak, a special counsel to the firm who sides with Cellino in the feud, submitted a statement describing the atmosphere at the law firm as so toxic the partnership should be ended.
"The toxicity level in Buffalo and Rochester has exploded," Pajak said. "The office stress is palpable. People are taking sides. People are at a breaking point ... The tension between Ross and Steve spills over into the entire office ... Nobody wants to work in a firm where the two owners are so antagonistic toward each other."
Schreck disagreed Tuesday, saying the firm has record revenues, record profits and "tremendous growth projections."
"I know that I speak for the majority of our attorneys and staff when I say that no one wants the firm dissolved," Schreck said. "We continue to service our over 12,000 clients on a daily basis and are conducting business as usual -- we continue to advertise, receive calls, sign and up new clients on a record pace."