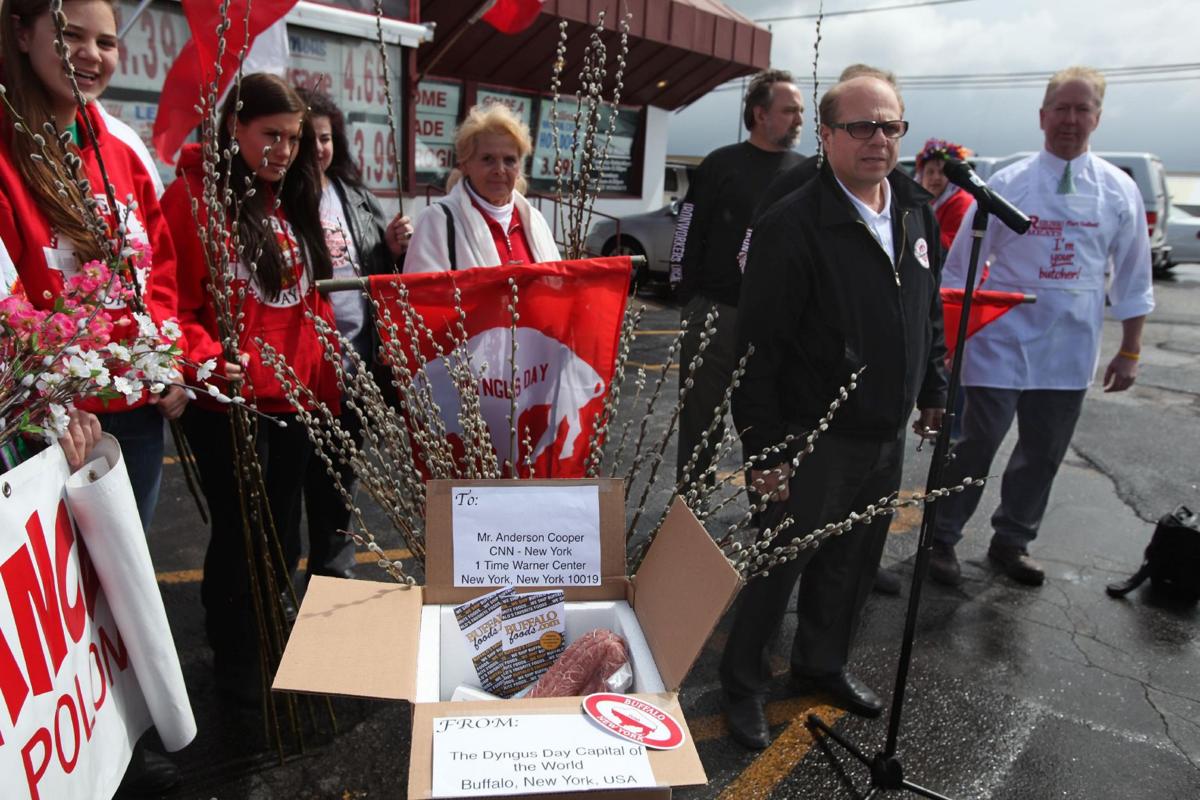 Two local television stations have suspended their relationships with "Airborne" Eddy Dobosiewicz after he said on his Twitter account that people protesting in Baltimore following the death of a black man in police custody were "acting like animals" and included a photo of baboons climbing on a car.
Dobosiewicz, meanwhile, in an interview Wednesday evening with The Buffalo News, apologized "to anyone that was offended by this" and defended the intent of his message."
"My intent," he said, "was to speak to humanity and say, 'People, let's act like humans.' I was trying to shed a light on man's inhumanity to man, not on a particular race of people."
Still, both WKBW-TV, Channel 7, and WBBZ took quick action in the wake of Dobosiewicz's social media comments.
WKBW was the first to act on the matter, announcing early Wednesday that Dobosiewicz would no longer contribute the nostalgia segment "Queen City Chronicles" to its newscasts. Then later in the day, WBBZ announced that its program "Off Beat Cinema" would move forward without him and that this week's episode would be re-edited to remove him from the broadcast.
WKBW General Manager Michael Nurse said in a statement that the comments Dobosiewicz posted on the social media network were "insensitive, inappropriate and harmful." He said the station had suspended the relationship "until further notice."
Chris Musial, vice president and general manager of WBBZ, said virtually the same thing during a phone interview: "It's just inappropriate, insensitive comments by Eddy that led us to take this step."
Dobosiewicz is a local comedian who has become known for organizing and growing the annual Dyngus Day celebration in Buffalo.
"I'm a comic. … I say things in a sarcastic way and I suppose things got taken out of context, but believe me, my intention was not to offend any one particular group of humans," he said. "My intent was to kind of jolt everybody into reality. We're doing bad things out there, folks, and the world is spiraling out of control."
His initial tweet Tuesday said, in part, "Enuf already!!! U want to be treated like people stop acting like animals." It included the hashtag #Baltimorons, an apparent reference to the sometimes violent protests that occurred in Baltimore following the death of a man who had been arrested by city police. After the tweet was posted, several people, including local blogger and attorney Alan Bedenko, took Dobosiewicz to task for it, saying that both the words and the imagery he chose were racist.
Responding the critics, Dobosiewicz tweeted: "how is it racist? the first pic was too playful n the animals that r burning the streets r not"
When reached by phone Wednesday evening, Dobosiewicz explained the motivation behind his Twitter commentary: On Tuesday, he said, a longtime colleague, who is a comedian currently working in Baltimore, posted a photo of another comic who was caught in the riots. "He posted this picture of this guy in a hospital bed with his face all bloodied and bandaged, a neck brace on, eyes swollen shut," Dobosiewicz said. "It was horrific."
Though he acknowledged that "in hindsight, I should have kept my mouth shut," he made his initial tweet, then after seeing the criticism, changed the picture and eventually deleted the post.
By then, though, it was too late.
"Regretfully, I wasn't clear in the message I was trying to get across and it came across as racist," Dobosiewicz said. "Anyone who knows me knows I'm not racist."
Dobosiewicz pointed out that his office is on the East Side, "the area of the city that has the most African-Americans. They're all over the place. They're my neighbors. I've lived next door to an interracial couple for 30 years.
"Anyone who knows me – my friends, my family, people that I've worked with – they're absolutely clear that there's not a racist cell in my body. For someone to take things out of context simply for the attention that has been garnered by this thing, it's regretful. I truly regret causing any upset to anyone, but that was not my intention. My intention was to shine a light on what craziness is out there in the world."
As for whether he'll have the opportunity to return to the airwaves, Dobosiewicz said he isn't sure.
"I would hope it's an open question," he said. "I would hope that cool heads and common sense prevail. I don't know that yet."