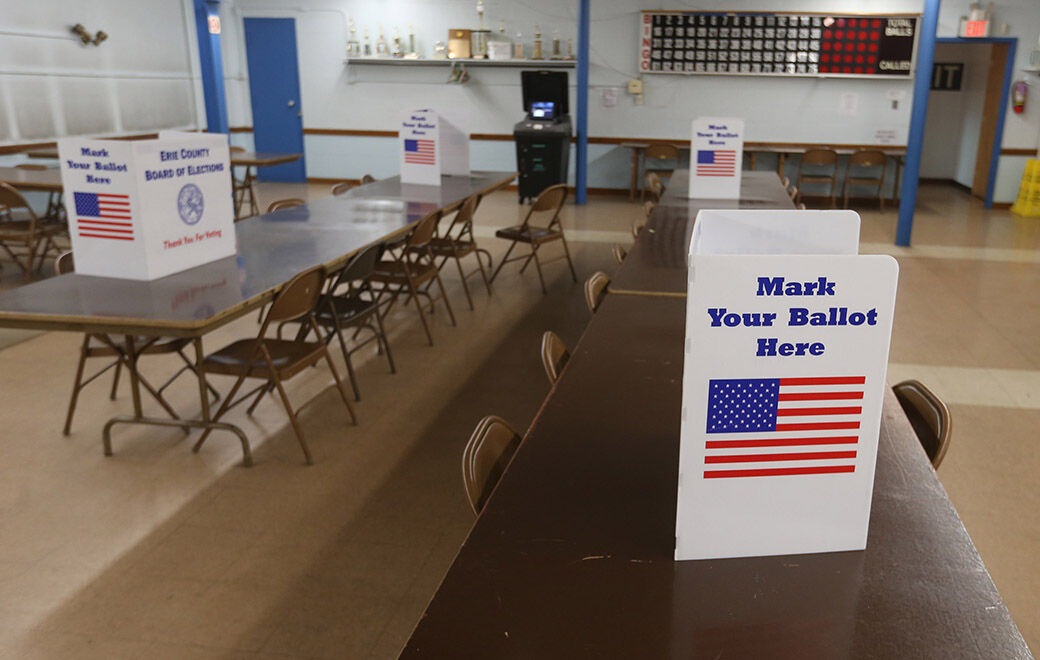 The Covid-19 pandemic upended this year's primary election season, and the strange state of the campaign continued through election night.
Instead of candidates glad handing at the polls and election night winners celebrating with rousing speeches and cocktails at an evening victory party, uncertain candidates offered some short words of thanks on Zoom and waited for someone else to say something.
"If we were at the election night party, the bar would be getting ready to close soon and people would be heading to Founding Fathers," said Jennifer Hibit, secretary of the Erie County Democratic Party as she wrapped up the call. "But we're not going to be doing that this evening, so it's a little bit different."
The Erie County Republican Party didn't even bother getting folks together for any virtual gathering.
Meanwhile, candidates who normally would campaign outside polling places to make one last effort to reach voters were reluctant to do so because of social distancing.
Nate McMurray, the endorsed Democrat for the 27th Congressional District, and his campaign spent Election Day calling and texting supporters.
"And I'm exhausted," he said. "We made tons of calls today. We've sent tons of texts. And I think this is goingn to make the Democratic Party stronger if we really do pull this out."
After polls closed, endorsed Democratic candidates in area primaries had a virtual gathering on Zoom, which featured many candidates and supporters sitting at their own desks in darkened rooms at home.
There were long periods of awkward silence and short thank-you speeches from Democratic candidates still waiting on outcomes.
Bill Conrad, a Democratic candidate for the 140th District Assembly seat held by retiring Robin Schimminger, offered his thanks to all who have supported him in a "really weird race in a really, really weird time."
Other candidates, including Berger; Jonathan Rivera, a candidate for the 149th Assembly seat; and McMurray echoed similar remarks of gratitude and optimism.
The Buffalo News: Good Morning, Buffalo
The smart way to start your day. We sift through all the news to give you a concise, informative look at the top headlines and must-read stories every weekday.