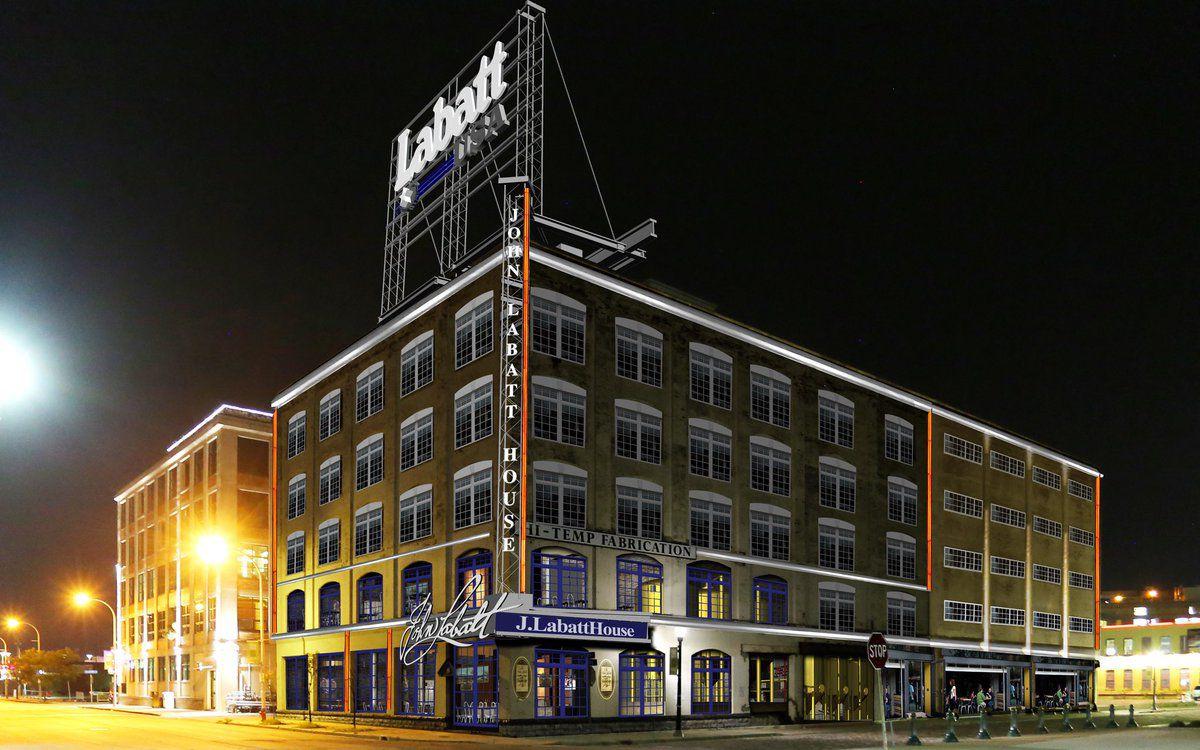 Buffalonians drink more Labatt beer than in any other city in the United States.
So what better place to highlight the brand's history with a restaurant that gives beer drinkers the chance to influence new Labatt brews?
Labatt USA said Wednesday it will open a flagship restaurant and small test brewery called the "John Labatt House" in the Cobblestone District as part of a project by Pegula Sports and Entertainment to redevelop a five-story warehouse on Perry Street near KeyBank Center.
"We want to make this a destination within the City of Buffalo," said Glen Tibbits, general manager of Labatt USA, the Buffalo-based importer of the Canadian beer brand.
Specific details are still being developed, but Labatt will be the anchor tenant in Pegula Sports and Entertainment's redevelopment of the Hi-Temp Fabrication building at 79 Perry St. into retail, commercial and residential space. Labatt will also relocate its headquarters from Fountain Plaza to the facility's second floor.
The project's total costs are still undetermined, but the first two floors are likely to cost more than $10 million, said Bruce Popko, chief operating officer of PSE. That first phase is expected to be completed by fall 2018, with the office space coming before the restaurant.
"This will be another tremendous addition to the emerging district near Buffalo's waterfront," said PSE President and Managing Partner Russ Brandon.
Citing the Pegulas' investments in buying the Sabres and Bills, building HarborCenter, and bringing various hockey and basketball events to the city, Brandon called the project "the exact vision that Terry and Kim had in making Buffalo a destination for generations to come."
The brewery will open alongside the first-floor restaurant as a pilot project to develop and test new products before bringing them to market, Labatt USA executives announced during a news conference with Pegula Sports and Entertainment on Wednesday. Both are the first of their kind for Labatt in the United States, although parent North American Breweries has similar restaurants and test sites for its other brands.
PSE's hospitality division will operate the restaurant. The company said beer drinkers will be able to "taste, experience and influence new beer development for Labatt" at the site.
Both Labatt and Pegula executives cited the two companies' long relationship as instrumental in developing the project. Labatt has partnered with the Sabres for 30 years and the Bills for 25 years and has also worked with Buffalo-based Try-It Distributing for over 70 years.
"Today, we're all getting in the beer business together, and that's going to be a lot of fun," said Kris Sirchio, CEO of North American Breweries. "I'm very excited to see where that's going to take us."
PSE will seek out other design elements to highlight the building's history. An architect will be chosen within days, and additional plans will be unveiled later. McGuire Development Co. will manage the redevelopment process for PSE.
"Success here of course means success for the city," Tibbits said. "It means new jobs, new investment and continued development of the waterfront, the Canalside area. And it's amazing to take a dream like this and make it a reality."
Located at the corner of Illinois and Perry streets, the 79,030-square-foot building was constructed in 1914 as a manufacturing plant for Peerless Mill Supply Co. That company's successor, Peerless Inc., still occupies part of the building, along with Hi-Temp, which is owned by the McKendry family.
The proposal to turn the building into a restaurant, commercial and residential space is the latest in a string of new developments in the Cobblestone District, including updates at the Seneca Buffalo Creek Casino and the redevelopment of the Fairmont Creamery Building on Scott Street. Mayor Byron W. Brown said he has tallied more than $635 million in development in the district since 2012.
"This area continues to emerge as one of the most popular destinations in this region, not only attracting people from throughout Western New York, but from around the nation and internationally as well," Brown said.
The Pegulas bought the building in February from the McKendrys, paying $7 million, but did not elaborate on their plans for it at the time. They will take possession of the building in 10 days, while Hi-Temp and Peerless will relocate elsewhere.
"Upon completing the purchase of this historic property, our team thoroughly examined the needs of the Cobblestone district and its surrounding area," Brandon said. "We determined that there is a great need for another regional attraction that also features a permanent residential component."
Pegula Sports and Entertainment, which owns the Buffalo Sabres, Buffalo Bills, HarborCenter, and other businesses, maintains its corporate offices under a lease at the nearby Fairmont Creamery Building at 199 Scott St., within sight of the Hi-Temp building. Officials said no decisions have been made about whether the Pegulas might also move their own company or the Sabres team offices.
"Being able to really connect all the parts and pieces that are going down here in Cobblestone and make this area even a bigger attraction, it was just a no-brainer for us," Kim Pegula said. "It's a great building, so strongly built. It's a huge building, with so many opportunities, and Labatt's being the anchor, it really helps get everything started."
Having residential apartments is another nice option, she said.
"What more could you want? Go to a game, drink some beer and go right into bed," she laughed. "Some of my executive vice presidents have already asked for an apartment so they don't even have to go home."
Popko called the project "the next phase" of developing the area for the Pegulas, and hinted that more was possible. "I would say that we're in constant contact with the private sector and the public sector to explore those opportunities."
Founded in Canada in 1847, Labatt has been importing beer into the United States since 1951.
Labatt USA, which has the exclusive rights to import, market and sell Labatt beer in the United States, is separate from the original Canadian company, which is owned by Belgium-based Anheuser-Busch InBev.
As part of the $52 billion acquisition of St. Louis-based Anheuser-Busch by Amsterdam-based Inbev in 2008, the companies agreed to divest the U.S. Labatt business, which was acquired by Rochester-based North American Breweries.
Labatt USA, which employs 56 people locally, has offices on the 9th floor of 50 Fountain Plaza, where it has been based since 2007. That's when it moved with 18 employees from Norwalk, Conn. Company officials at the time cited the importance of Buffalo to its national sales.
"That opportunity has allowed us to see first-hand the renaissance that has taken place here in Buffalo over the last 10 years, to live and thrive in this community," Sirchio said.
Its workforce has grown by 40 percent in the last three years.
"We are taking our decades-long commitment to the Buffalo Niagara region and creating a destination where we can have a new conversation with our most loyal beer drinkers that will influence innovation for Labatt throughout the country," Tibbits said. "This is a natural evolution for both partners, and an amazing opportunity for beer, sports and downtown Buffalo. Now, bring on the Cup!"