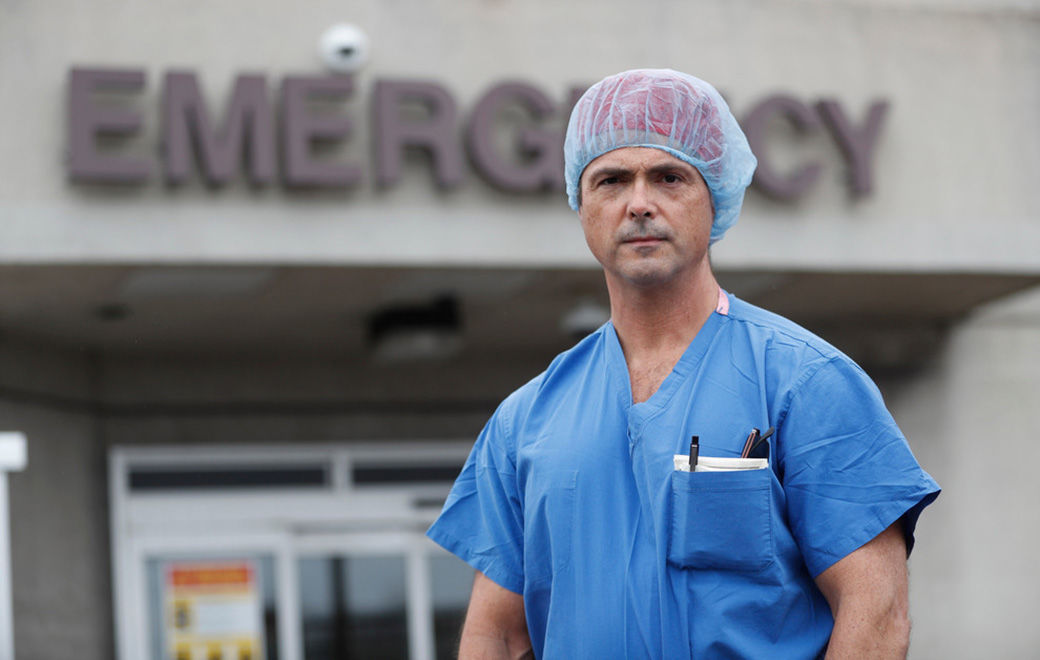 Dr. Erik Jensen went to work Friday morning as an anesthesiologist in the everyday manner that he has followed for more than 20 years. He showered and threw on his clothes at his Orchard Park home, then said goodbye to his wife, Dorinda, their three sons and two dogs before driving to the Erie County Medical Center by the same route he always uses.
It was only when he returned that his family realized nothing was the same.
"My street clothes didn't make it through the door," Jensen said. He tore them off, threw them in the washer and ran for the shower in his boxers. Once he was finished, he stood in front of the mirror and shaved off a goatee he has worn for three decades, a change that now allows a protective mask to fit more snugly.
He finally emerged in the kitchen, where Dorinda and their oldest son, Connor – a medical student himself – looked at Jensen with both awe and alarm.
"I've never seen you like this," Connor said, an observation intertwined with the reason Jensen agreed to this interview in the first place.
Friday was his first shift on ECMC's "Covid floor," which has existed for only about a week on the hospital's 12th floor.
"I was not prepared for what I saw," said Jensen, who sat down at home – shaken – and sent a text to a close friend that explained with raw emotion why he felt so stunned.
The friend transformed it into a Facebook post without using the doctor's name, a text that Jensen said has now been seen or shared thousands of times.
"These were the sickest patients I have ever cared for in 25 years of doing this medicine thing," wrote Jensen, 49, a medical school graduate from the University at Buffalo who has spent his entire life in Western New York. "The whole floor was full of sick people and absolutely shell-shocked staff."
On duty, he wore a surgical gown above his clothes, along with latex gloves and an N95 respirator — the kind that is increasingly precious in a state closing in on 60,000 confirmed cases of Covid-19, most in metropolitan New York City. Walking along that floor, surrounded by nurses, physicians and support staff for whom he has tremendous love and respect, Jensen felt an emotion in the air he has never sensed so keenly before.
There is a shared awareness among his colleagues, he said, "that these people are sick from something that can make us all sick," and the alarm he picked up from others on the staff was about something far beyond themselves.
It involves anxiety about what could happen to patients at the hospital if too many nurses and doctors were to become sick, as well as the knowledge of exactly what staff members might potentially carry home to those they love.
"You can read about this, you can see it on TV, but you've got to feel it to understand it," Jensen said.
Earlier in the week, he said, the floor was empty. There are now 33 patients, according to Dr. Sam Cloud, ECMC's associate medical director. Twenty-two have results pending for Covid-19 tests. Eleven have already tested positive, and four of those patients are on ventilators, of which ECMC has 74, if needed.
Twice on Friday, Jensen said, he either performed or assisted on "intubations," which means running ventilator tubes through the mouths and to the airways of patients struggling to breathe.
One young person who needed intubating, Jensen said, later tested negative for the virus – a result that came as a welcome surprise. But there was also an elderly man "who was fully alert and struggling to breathe" before a nurse anesthetist working with Jensen began the process.
"They knew what was going on," Jensen said of the patients.
The anesthesia procedure with Covid-19 reflects both the urgency and the unknowns with this virus, he said. Typically, anesthesiologists administer a drug that sends patients into a sleeplike state, then use a muscle relaxant to make it easier for the tubes to go down the throat, while a mask helps patients breathe until that drug takes full effect.
With Covid-19, because every patient could potentially exhale clouds of virus onto the floor, the process is faster and even more urgent than usual, Jensen said. There is no breathing with the mask after the muscle relaxant starts to work, an accelerated intensity he has not experienced before.
"It's a trade-off," he said, "and it's difficult."
Jensen, the son of a Buffalo bank teller, said he aspired to be a doctor since childhood, a dream now shared by his own sons, Connor, Brady and Caden. They are familiar with his accounts, from ECMC, of urgency and trauma.
He has been on duty when young people were brought in from catastrophic automobile accidents. He has treated teenagers critically wounded by acts of violence on the streets.
While he has seen events that many of us would find unbearable, he has always managed to reach the kind of equilibrium that allows people in his profession to do their jobs.
Yet what he saw Friday on the 12th floor involved an unsettling level of the unknown, a measure of fast-moving uncertainty and risk at such a point it made it difficult for him to sleep that night.
The lesson he draws from all of it is simple, a message also shared by Cloud, who spoke with respect about the way the staff shows up in force each day despite the hazards. Jensen has listened to all the arguments about measuring the degree of community risk against the danger of economic paralysis, and all he knows is this:
While most who contract Covid-19 will recover, the greatest threat from this pandemic lies in swamping the intensive care system with too many patients. The fear is that any person requiring life-saving intervention would suddenly need to be measured as a choice, an option, against a flood of others in similar crisis on the floor.
For everyday Western New Yorkers, that means the definition of heroic behavior is reversed. What is demanded is not the fearlessness to run toward danger but the glacial patience to stay at home for many weeks, maybe longer. It is the opposite of the usual instincts in times of communal need, but the stakes are as high as they can be.
The risk of spreading this virus is not only about infecting those we love the most. It is about trying to avoid a situation where the medical staffs at our hospitals would need to make choices and decisions on saving lives that no one wants to be forced to make.
"This is no joke. This is not a drill," Jensen wrote in his text. "The economy doesn't matter much when you're dead, and this kills people."
His friend, deeply moved, copied that message onto Facebook, where it exploded without using Jensen's name. The doctor read through many subsequent replies. Some noted optimistically that "we'll all get through this," a sentiment Jensen understands - even if his job is built around a harsher reality.
"We won't all get through it," he said.
Eight residents of Erie County had already been lost by Monday to Covid-19, and the central challenge for our community is whether we can make a collective difference in holding down that number. Jensen, who routinely joins his worried colleagues on a floor he hopes you never have to see, shared a seven-word request in his text that he equates to our best hope.
"Help where you can," he wrote, "but stay home."