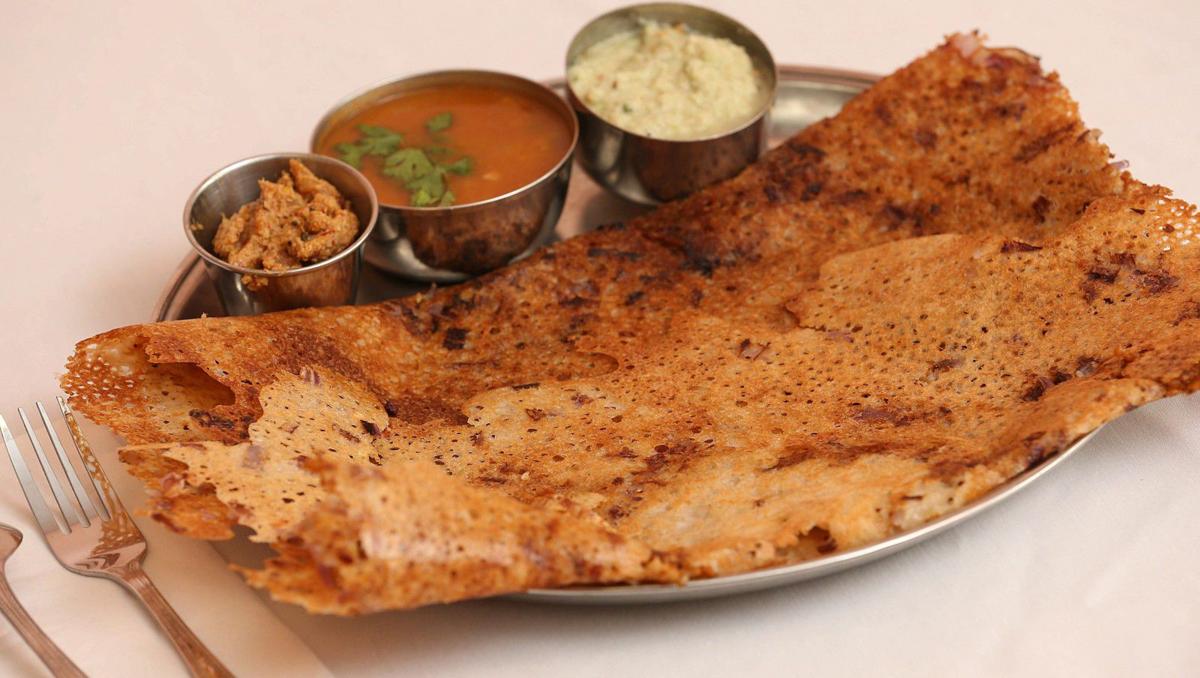 For a guy who loves vegetables, I'm oddly ambivalent about vegetarian cuisine. To me, the word carries undertones of abstemiousness, of lack, of a missing ingredient. I want to blame early childhood exposure to tofu, but it's more likely a deeper, genuinely American shame. Decades of pervasive advertising has successfully embedded the notion. Meat: it's what's for dinner. ¶ So when I ventured to the South Indian vegetarian restaurant Dosa Place for dinner, it would be putting it kindly to say I was ignorant of what was coming. I left full and happy, thinking of Christopher Columbus, aiming for India, and discovering a continent new to him that was there the whole time. ¶ Dosa Place has been open in University Plaza, downhill from the University at Buffalo's South Campus, for a few months now. Sri Lankan owner Nick Emmanuel last operated Palace of Dosas on Millersport Highway, between campuses. He was offering a similar "pure vegetarian" menu, meaning no meat and no eggs, just vegetables and milk products like cheese and butter. I ate there two or three times, and wasn't stirred to return even though it was within walking distance.
The new place has the same menu, just more seats. Still no alcohol license. What it does have is solid versions of dishes that are the hamburgers and chicken soups of Indian vegetarians.
First, consider the appetizers with names like "Star Trek" races. Vadai are doughnuts of lentil batter, spices and curry leaves. If you like gravy on your mashed potatoes, get the vadai in sambar ($4.55), where the doughnuts are soaked in sambar, which is lentil soup tangy with tamarind. It's a hearty, warming snack, even before you apply the accompanying coconut-chile chutney, a fresh tropical elixir that somehow heats and cools the palate at the same time.
Iddly are spongy steamed cakes, rice-based, plain by themselves but available soaked in sambar or fried, chopped and browned up slightly with onions, curry leaves and more spices ($4.55). Like every appetizer that doesn't come soaked already in sambar, it comes with its own little metal bowl of the stuff, and more of that chutney.
Aloo bonda ($4.55) are non-greasy baseball-sized fritters of spiced mashed potato, carrots, onions and peas, with sambar and chutney.
Emmanuel, who had identified me, brought two house-made hot sauces with the appetizers. Tamarind-chile added tangy heat, but lemon-ginger added interesting aromatic implications.
Dosa you might already know from Chennai Express or Kabab & Curry. They're drink-tray-sized crispy-edged crepes. Dosas can be plain, buttery, spicy with chile, savory with caramelized onion, or all of the above. Many versions are gluten-free, since most are made with lentil and rice batter.
A Mysore butter plain dosa ($7.55) tastes like buttered toast crumbs from a richly spicy loaf. But it's better because you can tear off crepe shards and dunk them in the accompanying sambar and chutney that come with all dosas.
We ordered two rava dosas, which are not gluten-free since they're made with wheat and rice. Onion rava Mysore dosa ($9.55) is a crepe that emphasized lacelike caramelized onion crispiness. The rava masala dosa ($9.55) was more lacy crispiness around a spiced potato and pea mixture.
By that measure, the Dosa Place special – iddly, vadai, plain masala dosa and dessert – is quite a deal at $9.95.
Emmanuel didn't have a tandoor oven, so there was no naan bread, but we enjoyed the chewy charms of griddled wheat chappati ($2.95 the pair) and deep-fried fried poori ($4.95 for 2).
Thus did I discover that the South Indian menu means eaters can reach satisfaction without even getting to curries. The Dosa Place curries, served with basmati rice, didn't seem like the star to me. But they were competent and flavorful, lighter and less heavily creamed than most in town. Palak paneer ($9.95) was fresh cheese cubes in a loose sauce with spinach in it, rather than the pale green pudding seen elsewhere, and paneer tikka masala ($9.95) was its more assertive cousin.
Vegetable korma ($8.95) was carrots, peas and other vegetables sauced in fresh-grated coconut and gingery coconut milk with spices, for an effect that's almost refreshing, for a curry. Alu gobi ($8.95) was almost-mushy cauliflower and potato in tomato sauce.
For dessert, carrot halwa ($3.55) was buttery shredded carrot with nuts and lots of cardamom. Galub jamun ($3.55 for 2) were golfball-sized fritters soaked in warm syrup.
Nick Emmanuel's last place never thrilled me, but that was five years and a restaurant ago. After a thorough meal at his new place in University Plaza, I can report something has changed. Maybe it's his cook. Maybe it's his attention to detail. Maybe it's me.
All I can tell you is that it was a simple, satisfying meal that exorcised the ghost of tofu past. Mysore butter dosa: it can be what's for dinner. Columbus aimed at India and found an America full of wonders. So can you.
All-vegetable South Indian restaurant proves vegetarian eats can satisfy.
HOURS: 11 a.m. to 9:30 p.m. daily.
PRICE RANGE: Appetizers, $3.95-$6.95; dosas, $5.95-$9.95; curries, $6.95-$9.95.
Dosa Place: South Indian vegetarian cuisine proves to be a revelation » Continued on Page Xx