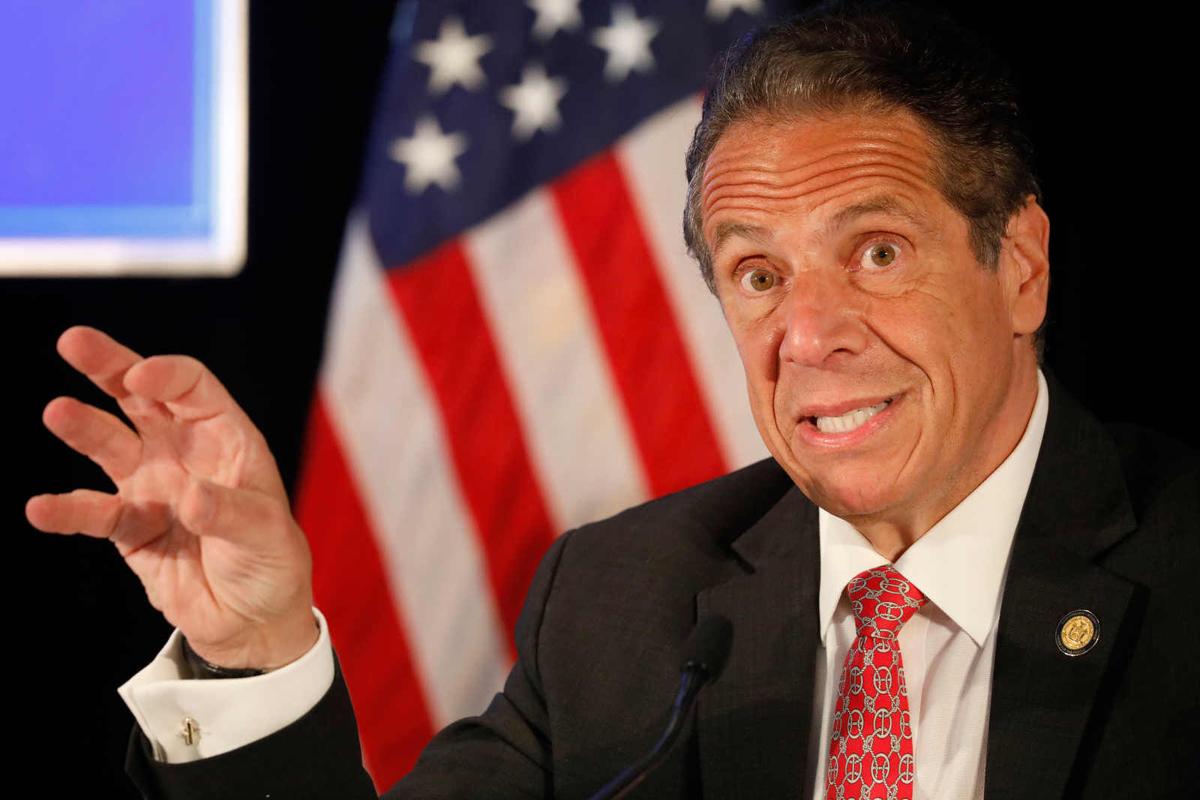 ALBANY – A 60-page state Assembly report about Andrew M. Cuomo's time as governor, which accused him of sexual harassment, misuse of state resources and manipulation of nursing home death data during the Covid-19 pandemic came to a simple conclusion:
If Cuomo had not resigned in August, he would have been impeached.
Critics said the Democratic-led Assembly, however, failed to properly investigate Cuomo nursing home policies during the early months of Covid that, they believe, played a part in the deaths of many people. Some called for Cuomo to still be impeached to block him from ever seeking another elected post.
In an extraordinary set of revelations about the extent to which Cuomo relied on staffers to help with his 2020 book, the Assembly Judiciary Committee report said information about "misuse" of state resources has been turned over to law enforcement agencies.
The report said the governor "utilized the time of multiple state employees, as well as his own, to further his personal gain during a pandemic – a time during which the former governor touted the 'around-the-clock' state response to the crisis."
The investigation said senior Cuomo aides attended meetings with agents and publishers, while also helping with everything from drafting portions of the book to helping Cuomo promote the book. The publisher stopped publicizing or printing any further versions after sexual harassment complaints began being lodged against Cuomo earlier this year. One "senior" Cuomo official sent more than 1,000 emails about Cuomo's book during a six-month period last year.
The investigators said work on the book by state employees "was done as part of the regular course of work" in the Executive Chamber and that book-related assignments were given by senior officials to their subordinates – "and the work was not voluntary." One official complained to another state employee that work on the book was "compromising" that person's ability to work on Covid-related matters.
Assembly officials also said the report found disturbing patterns in Cuomo's actions involving sexual harassment of workers, the book deal and twisting of Covid data.
"The former governor's conduct – as shown in this report – is extremely disturbing and is indicative of someone who is not fit for office," said Judiciary Committee Chairman Charles Lavine, a Long Island Democrat.
Assembly Speaker Carl Heastie, a Bronx Democrat, called the events leading up to Cuomo's departure "a profoundly sad chapter in New York's history." He said the Assembly continues to cooperate with law enforcement agencies that can receive evidence Assembly investigators have collected.
Details about Cuomo's book deal were extensive in the new report. It said, for instance, that a literary agent for Cuomo spoke with a publisher on July 1, 2020, about Cuomo's desire to write a book about Covid. At the time, Cuomo already had 70,000 words written – 10 days before he obtained approval for such non-state work by a state ethics agency.
The report showed that Cuomo and a senior Executive Chamber official had a meeting with a Penguin Random House representative July 6. That was the same day Cuomo's health agency issued a controversial report that investigators said was meant to combat criticisms of Cuomo's Covid nursing home policies.
Two days later, an "auction process" for the book began; Penguin Random House's bid started at $750,000 and bidding then rose into the $5 million range. On July 10, Penguin won the book deal – the same day Cuomo went on a public radio interview to say he was "thinking about" writing a book on Covid.
The report described a frenzy – a "complete scramble" in the words of one staffer – among staff to help Cuomo write the book on state time. A member of a special task force to deal with the Covid response recalled being given book tasks at the same time as duties related to the public health crisis facing the state in the early months of the pandemic.
Public relations and promotions then became front and center. Cuomo's publisher, "anticipating criticisms" that Cuomo could face about how he found time to write a book during a pandemic, suggested limiting acknowledgements in the book to editorial team members from the publisher – and not the governor's own staff, the report said. The publisher said it would be an "elegant" way to "proactively answer" questions about the book's work.
The advice was followed: The book's acknowledgements recognized only four publishing house employees and no state staffers.
While no state property was to be used, according to the ethics agency's approval letter, that was violated on numerous occasions, including seven recording sessions – assisted by Cuomo staffers – held at the Executive Mansion near the Capitol.
Richard Azzopardi, a spokesman for Cuomo, dismissed the Assembly report as politically biased. He countered a number of claims in the report, and said Assembly members turn to staffers to help with their political campaigns and called on lawmakers to disclose such information.
"The truth will come out," he said of the report's various criticisms of Cuomo.
Senate Minority Leader Rob Ortt, a North Tonawanda Republican, on Monday blasted the Assembly for its "slow-walking" probe of Cuomo. "This report is no profile in courage. It's a profile in cowardice," he said.
Ortt criticized the Assembly for not moving to impeach Cuomo as a way to prevent him from ever seeking elected office again.
But the Assembly report Monday said there is no legal route by which lawmakers could impeach a former governor.
Assemblyman Michael Norris, a Lockport Republican and Judiciary Committee member, said the report speaks for itself: Cuomo "betrayed the public trust."
Cuomo, who has been trying to mend his soured image by scathing attacks on Attorney General Letitia James and lawmakers, was earlier this year accused by the attorney general of undercounting by 50% the number of Covid-related deaths in nursing homes. In all, it was found that 3,800 nursing home residents were omitted from data about nursing home Covid deaths; Cuomo has said it was because their actual deaths occurred in hospitals, but it came at a time when he was also getting national media attention for nursing home deaths that appeared to be lower than some other states.
The panel, which hired an outside law firm – Davis Polk & Wardwell –- for about $5 million so far, began what was originally termed an impeachment investigation in March. When Cuomo announced his intention to resign, Heastie said the committee's work was over. But public and legislative outrage pushed him to have the panel finish its work and release a public report.
The Assembly report said Cuomo directed a report – issued by the state Health Department – intended to push back against criticism of a March 25, 2020, order that nursing homes must admit Covid-positive patients coming from hospitals. The Assembly report noted that top Cuomo aides "influenced" the DOH report, which DOH officials later said was neither "scientific or medical" in nature, despite the public relations spin at the time.
The push to keep the lid on Covid nursing home deaths reached deep, the report said. In August 2020, a senior DOH official sought to prepare a letter to lawmakers detailing the extent of nursing home Covid deaths. The letter was not sent, which the report said appeared to be the doing of Cuomo's office. Lawmakers got the Covid death data the following February.
The Assembly investigation collected 600,000 documents, including photographs, texts, emails, phone recordings and interviews, depositions or reviews of interviews of more than 200 people. Cuomo did not participate in an interview for the Assembly investigation.
Harassment allegations confirmed
Assemblywoman Monica Wallace, a Lancaster Democrat and Judiciary Committee member, said she agrees with the report's conclusions about Cuomo. She thanked the women who came forward with the sexual harassment allegations, saying she is sorry they had to "endure months of victim shaming while you waited for this process to conclude."
"I hope this report, which supports the conclusions of the Attorney General, provides you with the vindication that you deserve," she said.
Like James' August report, the Assembly investigation found "overwhelming evidence" that Cuomo engaged in "multiple instances of sexual harassment" of staffers. The report focused on a couple of the cases, including a state trooper and another involving Brittany Commisso, an executive assistant in Cuomo's office who accused Cuomo of groping her in an incident last year at the Executive Mansion in Albany. The Assembly probe provided a number of pieces of evidence to show that the incident occurred on Dec. 7 and said it uncovered evidence to back up Commisso's memories about that day. Cuomo has denied ever sexually harassing anyone.
The report noted that Commisso, as well as the trooper, had no plans to come forward with allegations against Cuomo, but their names were mentioned by other state workers during the course of investigations into Cuomo. The report said that Cuomo has since "attempted to sully Ms. Commisso's reputation" by suggesting she "has a motive to lie"; the Assembly report said there was "no credible evidence to support these suggestions."
The Assembly said it turned that information over to law enforcement officials; Cuomo already has a January court appearance date after misdemeanor criminal charges were recently filed by Albany County Sheriff Craig Apple in that matter.