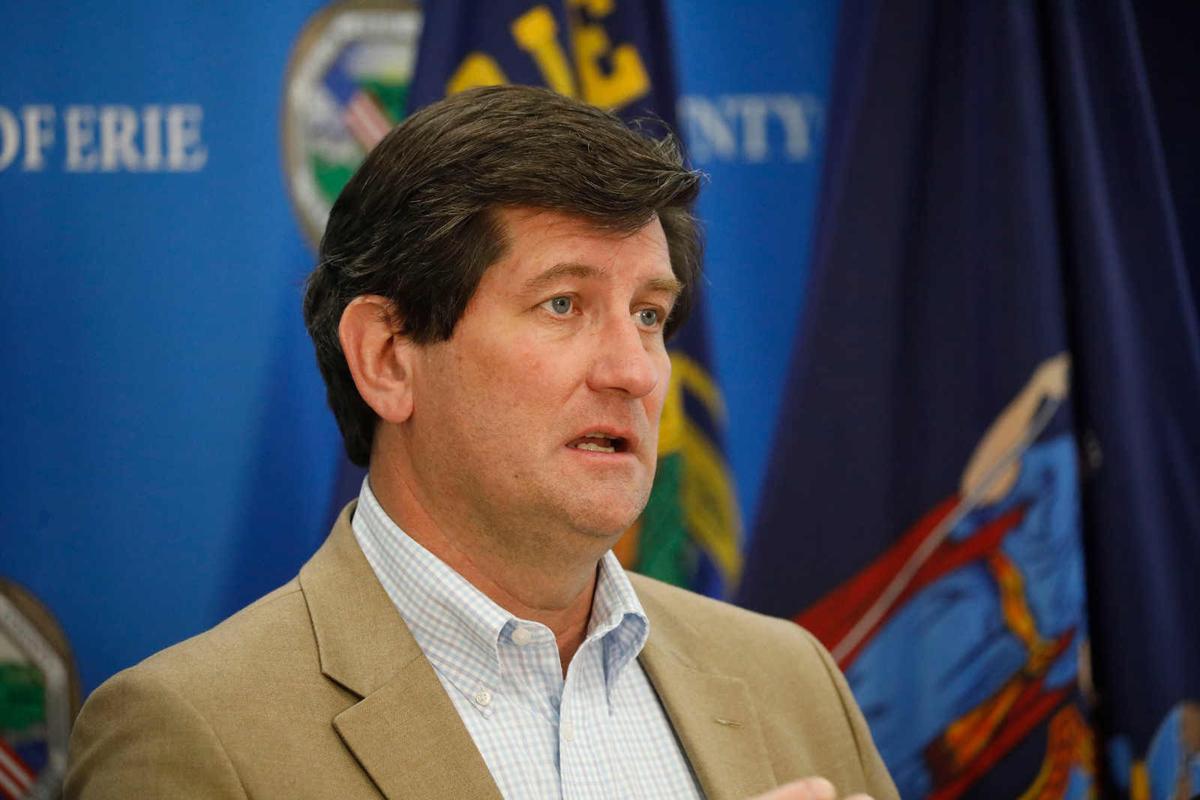 In the face of rising Covid cases, local officials from Buffalo to New York City began taking matters into their own hands Monday and started urging vaccinated adults to get booster shots to protect themselves amid growing worries about worsening pandemic problems.
Erie County Executive Mark Poloncarz said there would be "no questions asked" if time-eligible adults want to get a booster, no matter what federal guidelines suggest about who is and who is not yet eligible.
With health officials worried that people vaccinated earlier this year are seeing their Covid protections reduced, local officials say boosters for adults 18 and over – those who have gotten the Pfizer or Moderna shots more than six months ago and the Johnson & Johnson shot more than two months ago – should be gotten as soon as possible.
The Buffalo News asked the Hochul administration Monday if the state could move ahead with such a program, given both guidance from Washington about who should be eligible – such as those in certain occupations and with certain health conditions – and whether New York State has the supply to meet such an increased demand for boosters.
After the moves by local officials Monday, Gov. Kathy Hochul added her voice to the booster push, saying she is "strongly encouraging all New Yorkers who live or work in a high-risk setting to get the booster." She said her view is that "no one who feels they are at risk should be turned away" from getting a booster.
"If you feel at risk, please get the booster," she said in a statement.
The state Health Department has been advising which New Yorkers are eligible for vaccine boosters. They have included people 65 and over, younger people with certain underlying health conditions – from cancer to hypertension to pregnancy – and people in certain occupations, including first responders, health care workers, education workers like teachers and those employed in manufacturing, agriculture, public transit and grocery stores.
The governor's statement, taken on its face, would represent a major change in policy that would take away any reason a health care provider would have to ask if an adult qualified for a booster – beyond the time lapse needed between someone's full vaccination earlier this year and a booster shot.
The governor's comments came as government and hospital leaders in Erie and Monroe counties on Monday afternoon held a joint, online briefing to highlight soaring Covid-19 cases and hospitalizations in their communities and to urge people to follow basic health and safety measures.
Poloncarz and his counterpart in Monroe County, Adam Bello, warned that positive Covid-19 tests and hospitalizations have risen to their highest levels since the surges of last spring and winter.
In Erie County, for example, 714 new cases were reported on Friday, the highest single-day total since January. And though the number of new cases has dipped slightly since then, the positive rate remains as high as it's been in many months – 9.7% as of Sunday, Poloncarz said.
"We are in a fourth spike, no doubt about it," he told reporters.
Poloncarz, Bello and medical officials from both counties urged people to get vaccinated, if they haven't already; get the booster shot if they are eligible; wear masks when in public places or at indoor gatherings; stay home if they're sick; and get tested for Covid-19 if they show symptoms of the virus.
They said they knew the start of the school year, the continued presence of the Delta variant, the arrival of cold weather and the looming holiday season would bring a rise in cases, but they didn't expect such a sharp spike in recent weeks.
"This is a life or death situation," said Dr. Gale Burstein, Erie County's health commissioner, who added the benefits of vaccination are clear.
Covid-19 cases are straining hospital systems in the Buffalo and Rochester areas, officials said. Dr. Michael Mineo, the chief medical officer for several Kaleida Health hospitals said: "The system can't handle any more," he said.
Poloncarz and Burstein said Erie County vaccine clinics are making booster doses available to all who qualify based on the length of time that has passed since their initial doses of the vaccine. They said there's more than enough vaccine supply in the county and they want to make everyone as safe as possible given research showing the effectiveness of the vaccine does diminish over time.
"We will give you the booster," Poloncarz said. "We are turning no one away."
Since Nov. 8, 700 Erie County residents have gotten a booster shot and 450 children ages 5 to 11, the group that most recently became eligible, got their first vaccine dose, Burstein said. But the number of adults and older children getting a first or second dose has slipped.
Bello, whose county is in the state's Finger Lakes region, and Poloncarz did not announce any new mask mandates or vaccine requirements. While the executives didn't rule them out, they said they preferred to raise the alarm about rising caseloads before taking those steps.
"It's an action I'm willing to take," Poloncarz said.
Earlier, New York City Health Commissioner Dr. Dave Chokshi said he has issued an advisory to permit the issuance of booster shots to all time-eligible adults. Parts of Western New York have seen Covid positivity rates eight or so times higher than New York City in recent days.
Still, Chokshi said there has been an uptick in the positive cases in New York City – the epicenter of the nation's Covid outbreak in the spring of 2020 – and that boosters can "provide one more layer of reassurance, allowing us to breathe a bit easier, either for ourselves or our loved ones, particularly as we gather and travel around the holidays," he said on Twitter Monday.
On Monday, while she was in Washington with President Biden touting a new infrastructure spending measure, Hochul released updated Covid numbers for the state. They were not good: statewide, 4% of the 114,000 people tested on Sunday came back positive. That's a percentage that has been steadily on the rise recently.
The number of people hospitalized ticked upward again, to just under 2,000 statewide.
And at least 27 people died in hospitals and nursing homes from Covid-related illnesses, not including those who died in their homes or hospice settings or prisons; 12 of those deaths came in Western New York counties.